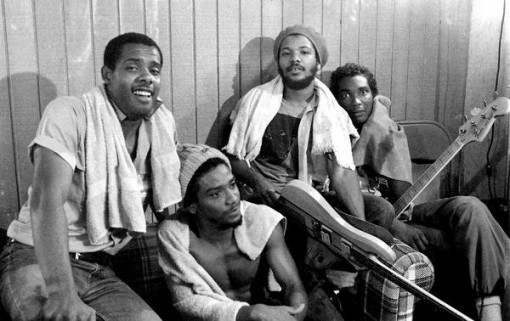 The Silverdocs Documentary Festival on Tuesday, May 29 announced the lineup for its 2012 festival, set to take place June 18-24. Now in its 10th year, the festival will showcase 114 films and honor filmmakers Joe Berlinger and Bruce Sinofsky as 2012 Guggenheim Honorees. The Washington Post's Ann Hornaday rounded up some of her picks from the festival, which included BAD BRAINS: A BAND IN DC, about the hardcore punk band Bad Brains, and DON'T STOP BELIEVIN', about a Filipino fan's transformation into the lead singer of the band Journey. Kelly Anderson at Reelscreen also took an in-depth look at the festival's slate.
Directors Heidi Ewing and Rachel Grady grabbed some digital ink this week after launching a kickstarter campaign to independently distribute their film DETROPIA. The pair are looking to raise $60,000 "into regions, theaters and venues that want to see the movie but can't—unless we bring it directly to them with your help." Tom Roston talked to the filmmaking duo for the POV blog about their decision to take on the task of distribution.
Freelance film writer Anthony Kaufman started a new documentary column on the SundanceNOW blog titled Docutopia. In his inaugural post, Kaufman took a look at the films 5 BROKEN CAMERAS and THE LAW IN THESE PARTS, both of which examine the ongoing tensions between Israel and the Occupied Territories.
POV this week announced its first-ever hackathon, which aims to pair documentary filmmakers with developers and designers to give films a web presence. The Hackathon is set to take place over the weekend of August 11-12 in Brooklyn. The deadline for submissions from filmmakers, whose films can be in any stage of production, is June 29.
POV also celebrated its 25th anniversary this week with a video that looked back at its broadcasting history as public television's longest-running documentary series.
Basil Tsiokos of the What (Not) to Doc blog presented an overview of the docs featured at this year's Brooklyn Film Festival, which started June 1, and will run until June 10. Among the film's that caught Tsiokos' eye were Katie Dellamaggiore's BROOKLYN CASTLE, about a New York City public school's chess team, and Su Friedrich's GUT RENOVATION, about the costs of redevelopment in Kings County. Tsiokos this week also highlighted filmmaker Anne Aghion's TEDx talk about the practice of using films to address unanswerable questions.
The June theme of the SundanceNOW Doc Club curated by our own Thom Powers is "Up Close & Personal," highlighting a selection of films in which the filmmakers themselves, and sometimes their families, become the subject of filmic observation.
News broke this week that director Steve James, whose 2011 film THE INTERRUPTERS was among the most highly regarded doc released last year, was working on a new project about food production titled GENERATION FOOD. Christopher Campbell of the Documentary Channel Blog took a look at some of the people James has brought onboard his production team.
Nick Dawson at Filmmaker Magazine got a chance to glean 10 web tips from director Gary Huswit. One important tip was for filmmakers to cultivate a following on social media based on themselves, and not on individual projects.
Independent Lens this week held a live online screening of Danfung Dennis' powerful film HELL AND BACK AGAIN, which allowed viewers to ask questions of film subjects Sgt. Nathan Harris and his wife Ashley while the film screened. The show's blog recapped some highlights from the evening's dialogue.
About.com doc writer Jennifer Marin wrote about the news that the International Documentary Film Festival Amsterdam (IDFA) was for the first time charging a fee to filmmakers submitting their projects to the well-regarded program. The announcement followed earlier news that IDFA had cancelled a round of its filmmaking grants due to government budget cuts.
And Sophia Loukaides at DocGeeks reported on a panel discussion held in LA between filmmakers Nick Broomfield and Carol Morely, led by London Film Society President Ben Gibson.
Lauren Donia, writing for the Center for Social Media blog, explained the benefits offered to filmmakers by the social media/blogging platform tumblr, noting that it was a great way to engage with and build audiences.
Filmmakers should take note of the 2013 Alfred I. duPont-Columbia Awards, which honor outstanding broadcast, digital and documentary journalism. Submissions are being accepted until July 1, you can find complete details here.
Christopher Campbell has this week's theatrical releases, which include PINK RIBBONS, INC. by director Lea Pool, who examines the corporate culture that has subsumed the breast cancer activist movement. The New York Times called the film "a head-reeling, hot-button mess" that left the audience "many more questions than answers," but concluded that the film "nevertheless deserves to be seen." The Times also spoke with KUMARE director Vikram Gandhi, whose film showed at last year's DOC NYC festival and is slated to start a theatrical run at the IFC Center on June 20.
As always, please send any tips or recommendations that you have for the Monday Memo .(JavaScript must be enabled to view this email address), or tweet them to @GuerrillaFace. Thanks, and have a great week!