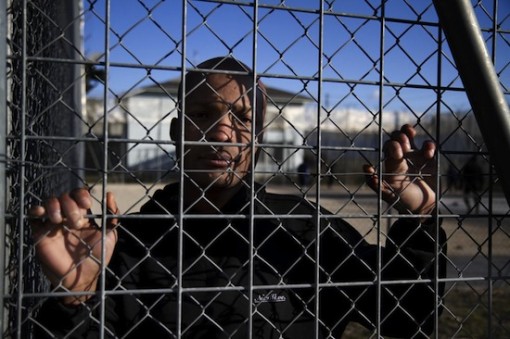 The Full Frame Documentary Film Festival on Sunday, April 15—the final day of the festival—announced the recipients of its awards. Taking home the Grand Jury Award was SPECIAL FLIGHT (VOL SPECIAL), Fernand Melger's look at migrants being held in Switzerland's Frambois detention center. A special jury award was also given to THE LAW IN THESE PARTS, directed by Ra'anan Alexandrowicz. Andrew Garrison's TRASH DANCE took home the Audience Award, while the Jury Award for Best Short went to THE TIME WE HAVE (DEN TID VI HAR), directed by Mira Jargil. The Garrett Scott Documentary Development Grant was also awarded to two recipients at Full Frame this year: Ben Powell for BARGE and Jason Osder for LET THE FIRE BURN. The grant provides filmmakers with money for travel and lodging to attend Full Frame, and gives them access to master classes and mentorship.
The New York Times on Monday April 9 reported that the National Endowment for the Arts (NEA) had proposed budget cuts that would strip PBS shows of $1 million in production aid. According to the report, "The independent documentary series Independent Lens was told it would get $50,000, down from $170,000, while the documentary series POV learned it would receive $100,000, down from $250,000." However, the cuts would not officially take effect until April 25, according to the Times. The article sparked a Twitter back-and-forth between Chicago production house Kartemquin Films and Alyce Myatt of the NEA over comments Myatt had previously made regarding the term "documentary." On a related note, the Center for Social Media on Tuesday, April 10 released a report on the public's reaction to changes in PBS scheduling credited for resulting in a sharp ratings drop for Independent Lens.
Canada's storied National Film Board (NFB) on Wednesday, April 4 had announced that it would suffer C$6.68 million in budget cuts and the loss of 73 full-time positions. The news sparked a number of protests in Canada, and many of which were centered in Montreal, Quebec.
News last week that director Laura Poitras (MY COUNTRY, MY COUNTRY and THE OATH) has been targeted for extra scrutiny by Department of Homeland Security (DHS) officials when returning to the US drew the concern of a number of documentary filmmakers and other free press supporters. The board of the Cinema Eye Honors on Monday, April 9 issued a statement decrying the treatment Poitras has received at the hands of the DHS. The statement read, in part: "Nonfiction filmmakers perform a vital role in a democratic society, serving as observers and investigators of the world around us. It is unacceptable for any American nonfiction filmmaker or journalist to be treated in this manner. They must be able to return to their own country without fear of arrest or fear that their work product will be seized, solely because they are investigating or chronicling subject matter that may be sensitive or controversial." Among those who expressed support for the the Cinema Eye Honors board statement were D.A. Pennebaker, Michael Moore and Albert Maysles.
At the New York Times, Stephen Holden previewed the Tribeca Film Festival, which runs April 18-29. Holden highlighted Jeroen van Velzen's WAVUMBA as a film to keep an eye out for.
Filmmaker Andrew Jarecki on Monday, April 9 reflected on his 2003 film CAPTURING THE FRIEDMANS in an interview with Indiewire, noting that he believed that the film was now due for a sequel.
Over at the Documentary Channel blog, Christopher Campbell spoke with director Mark Meatto (HOW TO GROW A BAND) about the influence that Richard Leacock had on him, as well as his attempts to play with the conventions of cinema verite.
The Washington Post interviewed Judith Hetherington, mother of the late director Tim Hetherington (RESTREPO) about her son's film and photojournalistic work in advance of his one-year death anniversary, on April 20. Hetherington was killed while covering the overthrow of Col. Muamar Qaddafi by Libyan rebels. The first major posthumous solo gallery exhibition of Hetherington's photo work began April 12 at the Yossi Milo Gallery at 245 10th Avenue in New York City, and is set to run until May 19.
Sean Gandert of Paste Magazine on April 7 released a lists of nine docs that changed the world. Topping the list was the Errol Morris classic THE THIN BLUE LINE, while Leni Riefenstahl's Nazi propaganda piece TRIUMPH OF THE WILL took the final spot.
The New York Times Media Decoder blog on April 9 reported details of their analysis of a block of Motion Picture Association of America data, finding that independent films were being released in larger numbers, but with exposure to smaller audiences overall. Much of the increase in distribution was driven by two companies, Magnolia Pictures and IFC Films.
Julia Halperin of Artinfo this week issued two posts examining the recent wave of documentaries about artists, and spoke with a number of the films' directors. Among those films examined in the write-ups were AI WEIWEI: NEVER SORRY and GERHARD RICHTER PAINTING.
Patricia Aufderheide, the head of the Center for Social Media at American University, shared with the Interactive Documentary Association a great, comprehensive recap of her experiences at this year's South by Southwest festival. Aufderheide participated in a number of panels about new modes of interactive doc/multiplatform storytelling.
Indiewire on Monday, April 9 took a look at the Mozilla Foundation's Living Docs project, asking a Mozilla rep questions about its Popcorn.js HTML-coding platform that has already been used as the basis for several interactive doc projects.
Interactive fever has also taken root at the Tribeca Film Festival, which announced that its Interactive Day would take place on April 23, and feature a number of panel discussions with content creators and programmers.
At Filmmaker Magazine, David Leitner has a great recap of large sensor cameras that were released in the last year, including the Canon EOS 5D Mark III, Canon C300 and the Sony NEX-FS100.
Christopher Campbell at the Documentary Channel Blog has this week's theatrical releases.
This week Stranger Than Fiction is hosting the Stanley Nelson-penned doc JESSE OWENS, which had its premiere this weekend at the Full Frame Festival in Durham, North Carolina. Director/producer Laurens Grant will be in attendance for a post-screening Q&A, so get your tickets now. You can find more information and purchase tickets here.
As always, please send your tips and recommendations for the Monday Memo .(JavaScript must be enabled to view this email address). Have a great week everybody!