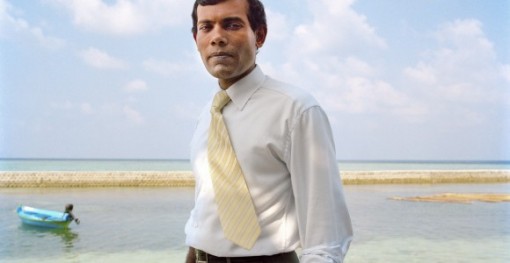 The International Documentary Association dug up a August 2011 interview with filmmaker Robyn Fryday, who, along with the late Gail Dogin, directed Oscar-nominated short THE BARBER OF BIRMINGHAM. Fryday in the interview said she had less than $1,000 to finish post-production work after getting accepted to Sundance, but was saved by funding by Chicken and Egg Pictures, who stepped in as executive producers. Also, Ty Burr at the Boston Globe gives us a short breakdown of all the Oscar-nominated doc shorts. New York City residents can check out four of the five shorts at special screenings hosted at the IFC Center.
At the Documentary Channel blog, Christopher Campbell had his own interview with another Oscar-nominated director, Marshall Curry, who's up for his feature IF A TREE FALLS: A STORY OF THE EARTH LIBERATION FRONT. Curry during the talk weighed in on the changes being made to the Oscar nomination process, saying he realized there was no "perfect solution," and that he expected "more popular films shortlisted and nominated than in the past."
Yet another Oscar-nominated doc, UNDEFEATED, by Daniel Lindsay and T.J. Martin, this week picked up a new executive producer in rap mogul Diddy (is it just Diddy now?). UNDEFEATED, which is set for a February 17 theatrical release through the Weinstein Company, is also to be remade into a feature narrative.
The doc community on February 4 suffered the loss of cinematographer Mike DeGruy, who had worked on a number of nature documentaries, and Australian writer-producer Andrew Wight. The pair, who had worked with director James Cameron on LAST MYSTERIES OF THE TITANIC, were killed in a helicopter crash in eastern Australia. Our thoughts and condolences go out to the friends and families of DeGruy and Wight.
POV blogger Tom Roston this week also took a more skeptical look at the arrest of GASLAND director Josh Fox at a congressional hearing. Roston wrote, "I'm not one to advocate for Republicans or evil environment-spoiling conglomerates, but I want to put the whole incident in perspective. First, Fox had gone and got himself arrested just five months earlier, in D.C., when he took part in a sit-in with the likes of Daryl Hannah and author Naomi Klein, to protest a proposed tar sands oil pipeline." He added, "The fact is that Fox had made requests to film the hearing, and was denied. This was widely reported, as well as the allegation that such a restriction was rare, so folks could choose if Fox was being unfairly gagged or if it was just House rules being tightly enforced."
Over at the Hufftington Post, Govindini Murty, the co-editor of Libertas Film Magazine, examined the Sundance-selected film ½ REVOLUTION by directors Omar Shargawi and Karim El Hakim about the overthrow of autocratic Egyptian President Hosni Mubarak. Murty writes:
The seemingly intractable rage captured in the film—both from democratic protesters righteously angry over the suppression of their human rights, and from entrenched government elites determined to hold on to power at any cost—highlights the central challenge facing the Egyptian people today. How will they overcome this bitterness and anger—these scars from decades of violence, repression, and authoritarian rule—in order to build a peaceful democracy?
This week, Stranger Than Fiction is paying homage to Valentine's Day with a screening of Woody Allen's ZELIG, a strange love story told as a mockumentary. ZELIG will be joined by the short AARON BURR PART 2, a contemporary re-imagining of the duel between Alexander Hamilton and Aaron Burr that explores the idea of history as a contested narrative. Director Dana O'Keefe will be in attendance for a Q&A. You can pick up tickets here.
As always, please send your tips and suggestions to .(JavaScript must be enabled to view this email address). Have a great week!