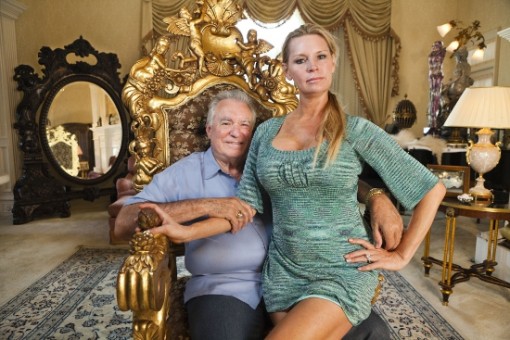 The doc that seemed to have a stranglehold on media attention this week was far and away Lauren Greenfield's THE QUEEN OF VERSAILLES, a portrait of timeshare mogul couple David and Jackie Siegel. At Indiewire, Nigel Smith on July 18 posted an interview with Greenfield. At the Documentary Channel blog, Christopher Campbell pointed readers toward a Doc Talk profile of the film. In this week's Docutopia blog, Anthony Kaufman drew some parallels between the content in Christopher Nolan's last installment of his Batman trilogy THE DARK KNIGHT RISES, and the doc. Filmmaker Magazine played host to a Susanna Locascio-penned review of the film, which it described it as "a complicated, fascinating, and humbling film, perfectly calibrated to the zeitgeist." And the film's DP, Tom Hurwitz, was kind enough to share some cinema verite shooting techniques he employed on the film.
The Sundance Institute on Monday, July 16 named 11 projects to its summer creative producing labs, five of which were documentaries. Those docs selected for the program were DIRTY WARS: THE WORLD IS A BATTLEFIELD with producing fellows Anthony Arnove and Brenda Coughlin; SOLARIZE THIS (working title) with fellow Shalini Kantayya; THESE BIRDS WALK with fellows Omar Mullick and Bassam Tariq; THE NEW BLACK with fellow Yoruba Richen; an Untitled Gay Retiree Project with fellow PJ Raval; and WHO IS DAYANI CRISTAL? with fellow Lucas Ochoa. The fellows will be able to avail themselves of intensive workshops and meetings with executives for feedback and pitch sessions.
Filmmaker Magazine this past week also loosed its list of the 25 New Faces of Independent Film on the world. Included in the tally were a number of doc filmmakers, including Drea Cooper and Zackary Canepari (California is a Place); Penny Lane and Brian Frye (OUR NIXON); Alexa Karolinski (OMA & BELLA); Chris Dapkins (THE SWELL SEASON); Omar Mullick and Bassam Tariq (THESE BIRDS WALK); Jason Tippet and Elizabeth Mims (ONLY THE YOUNG); Terence Nance (AN OVERSIMPLIFICATION OF HER BEAUTY); Wu Tsang (WILDNESS); and Katherine Fairfax Wright and Malika Zouhali-Worrall (CALL ME KUCHU).
It was a mildly active week on the distro front. Kino Lorber on Wednesday, July 18 announced that they had snagged U.S. and Canadian rights for the Scott Thurman-directed THE REVISIONARIES, an exploration of the Texas State Board of Education's internal battles. Kino Lorber also announced that it had hooked up with on-demand content provider Hulu this week, making a total of 35 of its shorts and features available for streaming on the site.
Katie Dallamaggiore's SXSW award winner BROOKLYN CASTLE was picked up by the Producers Distribution Agency for theatrical release. Chris Campbell had a more in-depth look at the details.
Brooklyn-based Icarus Films also brokered a deal with dGenerate Films to bring a host of Chinese independent films, including both documentary and fiction, to American audiences. Christopher Campbell saw the timing as impeccable, given the recent success of films with Chinese subject matter, such as Alison Klayman's AI WEIWEI: NEVER SORRY.
Stranger Than Fiction regular Jonathan Goodman Levitt recently launched a Kickstarter campaign for his film, FOLLOW THE LEADER, which profiles three boys with presidential aspirations, but needs help as he closes in on the finish line. If you're reading this before 11 a.m. on July 23, you can also help out by voting for the project to become Indiewire's project of the week here. Levitt kindly lauded STF as his foundation in finding a new community of doc filmmakers in New York, after relocating from London. "There's just nothing else in New York that compares in terms of a supportive environment and ability to meet other filmmakers – and the fact that the best films of the year and past gems happen to be showing isn't even its best selling point," he said.
Peter Hamilton of the Documentary Television blog broke down a list of takeaways gleaned from the Sunnyside of the Doc international market held in La Rochelle, France. Of no surprise to anyone with a pulse is Hamilton's conclusion that the Chinese market for docs is going to be massive (as is its market for pretty much everything else).
The anti-Obama doc 2016: Obama's America turned some heads this week (but mostly within the Beltway) after it grossed a respectable $36,000 over three days from just one theater in Houston, Texas. There was, no word on whether movie-goers held an impromptu rally demanding the release of Obama's long-form birth certificate. If you live in a progressive center and are dying to see the film, you may be in for a tough time; its distro strategy seems to rely heavily on small- and mid-sized red state cities.
Canada's POV Magazine turned its focus on the state of Canadian docs, finding that claims that the Canadian doc is dead may have been premature, but that filmmakers still face substantial challenges in funding and finding viewers.
After a rash of reviews of Bart Layton's THE IMPOSTER expressed ire toward con man subject Frederic Bourdin, Christopher Campbell wondered if doc reviewers should extend their criticism to the subjects of non-fictional film. Campbell, for one, expressed fatigue at reviewers who express derision at subjects, concluding that real life was too nuanced for such Manichean verdicts.
The DocGeeks site on July 18 posted six tips for projects looking to stockpile cash on Indiegogo, and then in a July 22 post expounded on them, sharing a number of techniques that could apply to any crowdfunding project. The major takeaway was that crowdfunding is itself a full-time job, and that projects should have videos, perks and other content ready to go, and then update their campaigns with regularity.
Films about the nature of class stratification are not limited to Greenfield's oeuvre, as was noted in a post on Indiewire that highlighted a clutch of 10 films about the 1% that it considered fascinating.
Writing for About.com, Jennifer Merin took note of the role that animation can play in docs as a neat tie-in to the massive San Diego Comic Con
At the POV blog, writer Tom Roston had a bit of a challenge on his hands coming up with a list of docs that featured romance. (I would humbly suggest PLANET OF SNAIL.) Roston also sat down for an interview with his friend Laila to discuss issues of identity, gender and religion presented in the film THE LIGHT IN HER EYES, directed by Julia Meltzer and Laura Nix.
Tickets for the International Documentary Association-helmed DocuWeeks program went on sale this week. You can check out the lineup and purchase tix for your picks here.
The Bay Area Video Collective's Katherine Saviskas rounded up a litany of advice that she wanted to share with new doc filmmakers. One key idea: filmmakers need to enjoy both the technical and creative sides of doc filmmaking.
At the New York Times, writer Larry Rohter captured the route filmmaker Alison Klayman took in making AI WEIWEI: NEVER SORRY, her profile of the dissident Chinese artist. Rohter also wrote up Malik Bendjelloul's SEARCHING FOR SUGARMAN.
The New York Times also reported that the show Frontline had an heir apparent in an executive producer in Raney Aronson, who was promoted to deputy executive producer. And in yet another write up in the Times, Jodi Rudoren shared her experience at the Jerusalem Film Festival.
Thom Powers noted in a tweet that KUMARE director Vikram Gandhi would be a guest on The Colbert Report this week, so get your DVRs ready in case he shows up in character.
Christopher Campbell has this week's theatrical releases, which include THE QUEEN OF VERSAILLES and PLANET OF SNAIL.
As always, tips and recommendations for the Memo can be emailed .(JavaScript must be enabled to view this email address), or sent via Twitter to @GuerrillaFace. Have a great week all!