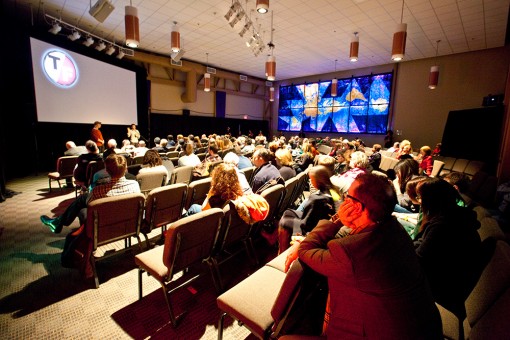 The True/False Film Fest, Columbia, Missouri's most famous documentary festival, concluded yesterday after four days of screenings (and at least one parade). The festival launched with a screening of UNDEFEATED that honored the recent Oscar win of co-director Dan Lindsay, an alumnus of the University of Missouri. Christine Benedict at Indiewire's Press Play blog also had highlights from days one and two of the festival. The transportation-conscious minds behind the festival this year also debuted a new bike-sharing system to facilitate the flow of doc heads around Columbia's streets.
Efforts to combat the Motion Picture Association of America's R rating for Lee Hirsch's doc BULLY hit the grassroots this week, after self-professed bullying victim Kay Butler, 17, started a petition at Change.org asking the MPAA to change the rating to PG-13. As of March 4, the petition had drawn more than 198,400 signatures, and was drawing ever-closer to its goal of 200,000 signatures. The MPAA's decision had drawn criticism from those who said it would limit the ability of teachers and administrators at high schools and middle schools to share the film's anti-bullying message with students. The Weinstein Company (TWC) Co-President Harvey Weinstein, who is distributing the film, had previously threatened to withdraw its films from the MPAA rating process.
The seemingly omnipresent Basil Tsiokos has a great overview of docs that will soon be showing up at South by Southwest, which runs March 9-17. If you're in Austin for the festival, you can catch Tsiokos in person at the Beginners Guide to SXSW Film panel on Friday, March 9 at 2 pm.
HBO this week announced that it had picked up "Witness," a documentary series following photojournalists working amid violent conflicts around the world. Directors Michael Mann (HEAT, THE INSIDER) and David Frankham will reportedly produce the series for the cable channel.
For those in New York City, the New Directors/New Films program, hosted by Lincoln Center and the Museum of Modern Art (MOMA), on February 23 announced its full lineup. Among the docs showing during the series, to be held March 21 – April 1, are Mads Brugger's THE AMBASSADOR, which has been gaining attention following screenings at both Sundance and True/False. Also in the lineup are Emad Burnat and Guy Davidi's 5 BROKEN CAMERAS, which won the World Cinema Documentary Directing Award at Sundance, and David France's HOW TO SURVIVE A PLAGUE, which traces the history of the AIDS activism movement.
The International Documentary Association (IDA) posted a recap of its DocuDay LA event, during which all of the documentary features and shorts that had been nominated for an Oscar were screened. Directors in attendance for Q&As included Marshall Curry and Wim Wenders.
Following the Oscars, POV took an opportunity to rejigger it's formula-derived best docs of 2011 chart to account for Dan Lindsay and T.J. Martin's Academy Award win for UNDEFEATED. Despite the new hardware, UNDEFEATED finished at 18th on the list. Top honors remained with Steve James' THE INTERRUPTERS, which did not receive an Oscar nomination.
This week Polish-born documentary filmmaker Mira Hamermish passed away at the age of 88. Hamermish fled German-occupied Poland as a teenager, eventually landing in Britain. There she made several films for the BBC, among them MAIDS AND MADAMS (1985), an investigation of race and class among black housemaids and their white employers in South Africa.
The folks at DocGeeks this week highlighted i-Docs, described as the first symposium in the United Kingdom dedicated to interactive documentaries. The i-Docs event is scheduled to take place March 22-23 in Bristol, England.
Sony Pictures Classics picked up distribution rights for Amy Berg's WEST OF MEMPHIS, about the recently freed West Memphis Three. The film gained attention in December after the New York Times reported that Berg's project had signed agreements with some subjects that prevented them from talking with Joe Berlinger and Bruce Sinofsky, whose PARADISE LOST trilogy is widely credited for drawing attention to the miscarriage of justice at the heart of the case.
Over at the Documentary Channel Blog, Christopher Campbell spoke with Philadelphia-based filmmakers Don Argott and Demian Fenton about LAST DAYS HERE, their portrait of doom metal pioneer Bobby Liebling. Fenton and Argot, both admitted metal heads, said they believe the film transcends the limited confines of the "rock doc" subgenre.
While at the Documentary Channel blog, be sure to also check out Campbell's list of this week's theatrical releases.
We here at Stranger Than Fiction are working on a list of the doc world's favorite/best Twitterers. We're looking for people who live, breathe and die docs, as well as others who have an interest in nonfiction film, but tweet about other things as well. Have suggestions? Please feel free to list them in the comments section, or e-mail them .(JavaScript must be enabled to view this email address).
Stranger Than Fiction this week is hosting Leon Gast's SMASH HIS CAMERA, a look at old school papparazo Ron Galella, famous for his run-ins with everyone from Jackie Onassis to Marlon Brando. You can find more info about the film and get tickets here.
Got tips or recommendations for the Memo? Please e-mail them .(JavaScript must be enabled to view this email address). As always, have a great week!