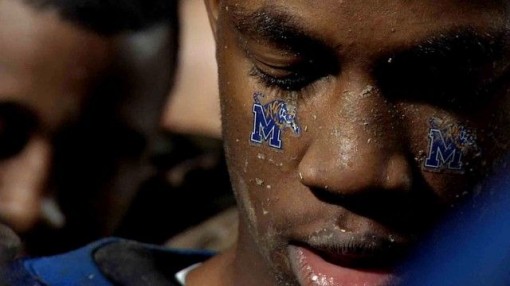 Stranger Than Fiction and DOC NYC alums T.J. Martin and Dan Lindsay emerged from the Oscars with the statuette for best documentary feature for UNDEFEATED (hopefully guaranteeing them entry to the infamous Vanity Fair party). The pair no doubt benefited from distribution through The Weinstein Company (TWC), well known for its Oscar campaigns. UNDEFEATED was considered something of an underdog against Joe Berlinger and Bruce Sinofsky's PARADISE LOST 3: PURGATORY, which documented the release of the West Memphis Three. The Oscar win caps off a great start to 2012 for Martin and Lindsay, who picked up Sean "Diddy" Combs as an executive producer on the film a few weeks ago, and also got word that plans for a narrative remake of UNDEFEATED was in the works.
Also last night, Sharmeen Obaid-Chinoy and Daniel Junge won the Oscar for best documentary short for their film SAVING FACE, about a plastic surgeon who helps women in Pakistan attacked with acid recover from their injuries. With the win, Obaid-Chinoy became the first Pakistani to receive an Academy Award.
In other awards news, Steve James continued to add to his pile of accolades for THE INTERRUPTERS, winning the Film Independent Spirit Award for best documentary on Saturday. James said he felt the award was "a great endorsement from the independent film community on the value of the film."
The Motion Picture Association of America (MPAA) on February 23 denied an appeal made by the The Weinstein Company (TWC) that the rating for Lee Hirsch's doc BULLY be changed from R to PG-13. The MPAA cited the film's use of "some language" in its rationale. TWC co-chairman Harvey Weinstein harshly criticized the decision, which would prevent it from being shown in schools. Weinstein later released a statement saying TWC was "considering a leave of absence from the MPAA for the foreseeable future," adding that the BULLY decision was "a bridge too far." The ratings disagreement brings to the fore criticisms regarding what some see as the MPAA's arbitrary ratings criteria, a position explored in the Kirby Dick-directed doc THIS FILM IS NOT YET RATED.
Sundance Selects on February 21 picked up North American distro rights for the Alison Klayman-helmed AI WEIWEI: NEVER SORRY. Those in Miami can catch the film, which profiles Chinese artist and political dissident, and the upcoming Miami International Film Festival, which will run from March 2-11, and will feature films programmed by our own Thom Powers.
Katherine Fairfax Wright and Malika Zouhali-Worrall, directors of CALL ME KUCHU, a profile of Ugandan gay rights activist David Kato, provided Filmmaker Magazine with a chronicle of their Berlin International Film Festival experience. The pair took the film to the Berlinale for its premiere, and left with the festival's Teddy Award for best documentary.
Indiewire this week got a chance to sit down with HBO documentary films head Sheila Nevins, and get her take on the PARADISE LOST trilogy, as well as the Oscar doc rule changes. Nevins said her plan is to take films intended for distribution on HBO and "try to find a way to release them theatrically, correctly, appropriately and obeying the rules."
On the Independent Filmmaker Project (IFP) blog, first-time director Adam Bowers (a self-described "D" macroeconomics student) broke down the distribution model he embraced for his film GET LOW. Although his film is a fictional narrative, much of what Bowers shares applies equally to docs, and the post makes for an interesting read. Amanda Lin Costa at PBS also provided a look at how digital is shaking up distro models with several case studies, concluding that there is no longer any one prototypical distribution model. Costa in January had also spoken with six doc filmmakers regarding how digital was changing how they made and distributed films.
Flaherty NYC announced its Spring 2012 lineup, with screenings/discussions beginning March 6 and lasting for six weeks at the 92YTribeca. This year's programmers are Kathy High and Jim Supanick, both artists in their own right.
Also, filmmaker and University of Pennsylvania J.D. candidate Tom Isler wrote an incredibly thorough examination of the ramifications of filmmaker Joe Berlinger's tussles with oil company Chevron over his film CRUDE. In the case, a federal court ruled that Berlinger lacked the editorial independence to qualify for journalistic privileges that would have allowed him to protect his sources and maintain control of his raw footage.
Christopher Campbell at the Documentary Channel Blog has this week's theatrical releases, among them THIS IS NOT A FILM, by Jafar Panahi and Mojtaba Mirtahmasb, a depiction of Panahi's legal troubles and the artistic constraints enforced under Iran's government.
This week, Stranger Than Fiction is hosting THE PROMISE: THE MAKING OF DARKNESS ON THE EDGE OF TOWN, Thom Zimny's film about Bruce Springsteen and The E Street Band's recording of the seminal album. Zimny will be in attendance for a Q&A following the screening. You can get more info and tickets here.
As always, please send your tips and recommendations to .(JavaScript must be enabled to view this email address). Have a great week!