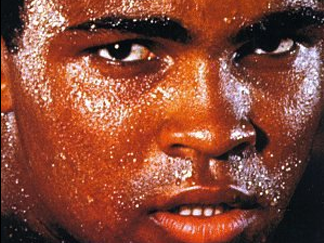 By those standards of competition, why not include SPELLBOUND or WORDPLAY?
Off the top of my head, here are other contenders for a Top 10 of sports docs:
a) BLINDSIGHT (dir. Lucy Walker)
b) FALLEN CHAMP: THE UNTOLD STORY OF MIKE TYSON (dir. Barbara Kopple)
c) FOOTBALL (aka MOONEY VS. FOWLE) (dir Jim Lipscomb for Drew Associates)
d) HARVARD BEATS YALE 29-29 (dir. Kevin Rafferty)
e) THE HEART OF THE GAME (dir. Ward Serrill)
f) MORE THAN A GAME (dir. Kristopher Belman) – coming to theaters this fall
g) MUHAMMAD ALI, THE GREATEST (dir. William Klein)
h) RANK (dir. John Hyams)
i) SNOWBLIND (dir. Vikram Jayanti)
j) SURFWISE (dir. Doug Pray)
k) SWEET DREAMS (dir. Eric Latek)
Readers, please use the comment section to name your own favorites.