(Photo of Hugo Perez and Peter Davis)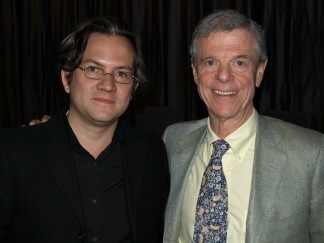 All of this is a long way of saying that those who attended the Peter Davis Tribute last night were lucky to have a truly rare chance to see Davis film "Second Time Around" on the big screen.  An intimate portrait of divorcees David and Elaine, "Second Time Around" follows the couple in the weeks before they marry each other, an emotional rollercoaster as they face the pragmatic, financial, and personal hurdles they'll have to clear to make a true partnership work.  Masterfully shot by John Lindley and edited by Tom Haneke, Davis film is a textbook example of how to make a great verité film.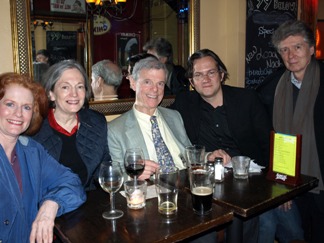 L to R: Members of the MIDDLETOWN series team: Susan Baum, Terry Simon, Peter Davis, Hugo Perez (guest host of STF), and E.J. Vaughn
The screening led to a lively discussion between Davis and an audience that included filmmakers Nick Broomfield, Susan Meiselas, Bill Jersey, and members of the MIDDLETOWN team Tom Haneke, Terry Simon, Susan Baum, and E.J. Vaughn.  Davis discussed the production of MIDDLETOWN for most of the Q&A; the challenges he faced not just in funding and producing the series, but also in shepherding the films (5 of the 6 anyway) to their broadcast on a nervous PBS.  Just as our time at the IFC was running out, Davis threw down the proverbial gauntlet by voicing the opinion that many filmmakers today are relying too heavily on the artifice of re-enacting or recreating scenes.  To paraphrase Davis, some filmmakers today are taking real people and turning them into actors, a process that he feels diminishes the power of the stories told.  In the last few minutes before we were forced to give up the theater, the Q&A became a genuine debate about the limits to how much a documentary filmmaker could or should "stage-manage" reality for their film. The discussion ended before we could go very far down the road of answering this question, but all of those present are certainly better off for Peter Davis' visit with us.

For those with educational or institutional budgets, the MIDDLETOWN series is distributed by Icarus Films.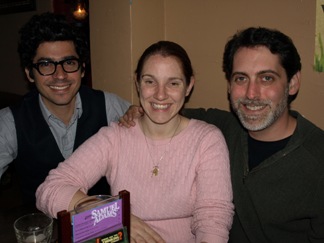 L to R: STF regulars Alejandro Martinez, Erin Marie Osner, and Evan Schlossberg at the post-film reception at 99 Below.
Related Film