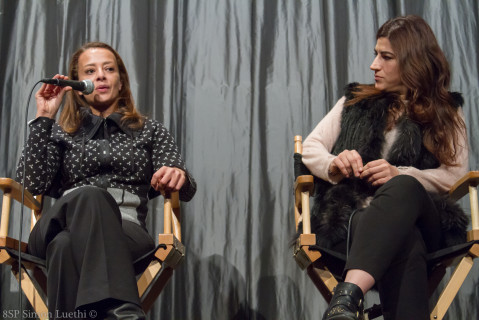 It's unclear whether the titular character in Rafea: Solar Mama would personally identify as a "feminist." Still, the women in Jehane Noujaim and Mona Eldaief's documentary are certainly committed to advancing the roles of women in otherwise male-dominated cultures. The film follows Rafea and her aunt, Umm Badr, as they leave their families in Jordan and travel to The Barefoot College in India to study solar engineering alongside women from Kenya and Colombia. They are determined to develop skills that will allow them to better their own lives and the lives of those in their village, but the men at home remain unconvinced that this is the correct goal for women to pursue. The challenges that Rafea and Umm Badr face are ongoing, well past the narrative depicted in the film, but their ambition and desire for a better, more sustainable future is clear. Rafea: Solar Mama, which won the Audience Award at DOC NYC last fall, demonstrates that while no advancement in gender equality comes quickly and easily, hope and perseverance is what makes change possible.
After Tuesday's screening, STF's Thom Powers led a discussion with Noujaim, Eldaief, and a special guest.
Stranger Than Fiction: So, Mona and Jehane, can you tell me what your entryway was into this story?
Jehane Noujaim: I was at Sundance Film Festival, and I met [Barefoot College founder] Bunker Roy because Sundance and the Skoll Foundation were doing a partnership where they were introducing filmmakers to social entrepreneurs that were changing the world in some way, hoping that there would be a story. And when Bunker told me of these grandmothers he was selecting from Guatemala and Colombia and all around the world, I thought this was fascinating. Then when he said he was going to the Middle East next, I was thinking, "This is going to be amazing to see some woman trying to convince her husband in a village someplace that she's going to India to six months to learn how to be a solar engineer." So I asked him if we could come along, and I called up Mona, who's one of my best friends for many, many years, and she thought that it was an interesting idea.
Mona Eldaief: She got me with the word "grandmothers." (laughter)
Noujaim: That's exactly right. And so that's how we started. Bunker let us go with him. We actually went to Palestine first, then Egypt, and then in Jordan he actually found Raouf from the Ministry of Environment and started seriously looking for people in Jordan.
STF: So Mona, you were the camerawoman on this. There are a lot of starts and stops to this story. What was your experience going along? How much time were you actually there?
Eldaief: I have 10 stamps from Jordan in my passport and three visas from India. Originally when Rafea called Jehane and I and said that she was going to return to Jordan, we were actually shocked, because when we were first interviewing her, you could tell that she was a person that was born with such extreme potential, that she was sheltered and didn't have many opportunities but this trip to India would make her shine. So we were actually really shocked that she was going to go back. She didn't reveal the fact that her husband was going to steal her children away if she didn't return until Raouf left the car in that scene. So we actually did not expect twists and turns, but they happen.
STF: Can you bring us up to date on where these characters are today?
Noujaim: Mona's spoken to Rafea most recently…
Eldaief: I speak to Rafea endlessly. (laughter) She had a bit of a struggle when the equipment first came. You see in the last scene of the film that Rafea actually took charge and decided to solar power her own house, but there was a bit of a struggle with the men in the village because they couldn't imagine, as you can tell, that women would be earning an income and basically taking charge of the community and the village. So they tried to sabotage a bit, but Rafea and Umm Badr persevered and went on to solar power 80 houses. But what happened after is Rafea's uncle and Umm Badr's husband, Abu Badr, actually went around to each house and took a flat rate. And what was supposed to happen is that each house, instead of paying electric bills, they were supposed to give basically 10 dinar a month. So by taking a flat rate, he got rid of the idea of sustainability and a sustainable income for these women. So The Barefoot College was kind enough to donate 100 solar lanterns, but they've only sold 10. So now in the next few months, we're actually going to have a screening in Jordan and try to raise funding to get them to open a training center and get many more women involved throughout Jordan, because they really do need alternative energy sources in their country. They're devoid of energy, and the Ministry of Environment has been dissolved at this point.
STF: Can you talk about what other efforts there are to show this film in Jordan and other places in the Middle East?
Eldaief: Well, I just found out this morning that on March 8, UN Women will probably sponsor a screening. We're going to hire an outreach person and hopefully start a lot of community screenings throughout the Middle East.
Noujaim: We did a screening in Egypt, and a couple of people from a very low income neighborhood in Egypt came up after the screening and said, "If I could just get this film to my mom, and my sister, and my grandmother, I just know that it would change their lives." We got an amazing reaction and have had an amazing reaction from people in the Arab world, so that's exciting, and we really want to take it to community centers, schools, and villages like Rafea's, to as many places as we can, once we figure out the outreach plan.
Audience: What is the sustainability model that The Barefoot College imagines will allow these women to support themselves, and how are they supposed to get more equipment?
Noujaim: In other places that have worked quite well, the model is that Bunker goes and chooses the women, and usually he's working with an organization that is in very close contact with the women in the village all the time, an NGO. It was a difficulty when he decided to work with the Ministry of Environment, because they were changing the Minister every few months because of everything that was happening politically in the Arab world. So he had a partner in Raouf, but Raouf didn't have a boss that was committed like his first boss was. So that was a problem. But in other places like Kenya, many places across Africa, there's a Center that's set up and the whole community decides that they're going to give monthly fees in order to keep the women employed and pay for the parts and pay for this to be ongoing. And, as Mona described, that hasn't happened in Jordan.
Eldaief: The fee would cover maintenance, installation, putting water in the batteries, and so on. So it's really supposed to be a community-based organization, and controlled by the community itself. But in this village, it looks like they have electricity, but they basically steal the wires from households, and if they actually do have an account, it's closed constantly because they can't pay the bills. So they're in desperate need of this.
Audience: What kind of food did the women from all over the world eat while they were in India?
Noujaim: That's a good question, because many women can't take the spicy foods. So when we first got to India, there were lots of complaints about the spicy food in India. But it was Indian food: rice…
Eldaief: Vegetarian, mostly. There was one house that cooked chicken or meat on Thursdays.
STF: I can imagine that there were probably a lot more stories that you could have followed inside The Barefoot College. Can you elaborate on your experiences there?
Noujaim: There were many stories that we could have gone on tangents with about the women. They weren't used to the amount of bugs that were there, because in the desert they don't have the same amount of crazy insects.
Eldaief: There were the other women from Kenya and Guatemala and Colombia and this and that, but because we speak Arabic, we had a very intimate relationship with Rafea, and what we were getting from the Kenyan women – through a really bad translator – were stories similar to Rafea's, but they happened in the past, and Rafea's story unfolded while we were there. When Bunker Roy watched the film, he cried, because he said that there are so many women who go through this same exact thing. So it really represents the women and the transformation that happens at this college when potential is given an opportunity. So that was a beautiful thing.
STF: There are points in this story where it feels like you might not have a story. And lots of filmmakers go through this, though this film is quite a dramatic case. I wanted to know how you coped with those periods as filmmakers.
Noujaim: When Rafea decided to go back to Jordan, we thought, "Oh gosh, this is going to be a really short film." (laughter) We were a little bit worried. Then Mona went to Jordan and came back with the most incredible footage, and we knew that Rafea had to get back to India. This is where, as a filmmaker, you like to not think that you have this effect on your subjects and the story, but you do. And I think that the camera and Mona's presence back in Jordan when she went to see Raouf was majorly helpful in giving her confidence. She also had this incredible spirit, and you see that from the very beginning, so we knew that it didn't have to be such a hard push on her end. But we had to talk with Raouf and say, "We can find the extra money to get her back again." So you don't like to have influenced the story, but at the same time, it's like you see this incredible woman and you know she has this amazing potential and wants to do things so badly that if you can do just a little bit to help that along, you'll do it.
Audience: What's Rafea's relationship with her husband? Is he still in jail? Was there any threat to him after he angered Raouf? Did he go to jail because of Raouf?
Eldaief: No, he absolutely did not. The only thing was that Raouf wouldn't help me enter the prison. He wanted nothing to do with it. I went there with a camera and begged him for an official letter from the Ministry. "Please, this is going to be a great ending scene! She's going to give him money from her work!" (laughter) And she actually went there and I was outside – they wouldn't let me in. Also, because the prisons in Jordan are partially funded by the United States, I think they thought I was there to expose the cleanliness factor or whatever. So they wouldn't even let me say hi without the camera. But I don't think there were repercussions from Raouf. Raouf is a very gentle soul and he's a lot of bark; he's like a Jordanian cowboy.
Rafea actually felt really bad when her husband went to prison. She felt really guilty that her pursuing work led him to try to step up and be a man and try to earn an income, which is not that uncommon, and of course there are people running around the desert who get these people who are unemployed and say, "I'll give you 1000 if you cross the border to Syria and take something in the back of your truck." But unfortunately, he's getting out in July.
STF: Mona, it's such a chauvinistic culture; at least that's the impression we get from the film. One might think that being a woman filming there would be a disadvantage, but as I've heard you talk about it before, I feel like it may have been an advantage.
Eldaief: I always find it a great advantage in these situations, because I don't come in as a threat. I mean, I think there was a bit of a fear, because when I first met the husband, I met him with Raouf from the Ministry, and they thought I was some sort of official. But me being a woman, playing with the kids constantly, smoking cigarettes and drinking tea like everyone else, I think they kind of forgot it, and I blended in after awhile. But it definitely was not easy. There was one time his son from another woman wanted a bicycle, so we got one, and then the tire went flat, so I tried to ride it to fix it. All the woman came running out screaming, "Don't do that! Don't do that! They're gonna think you're a prostitute!" That was a first for me. I'd never heard that before.
Audience: As the husband got more worried about her leaving, was it harder for you guys to film? Did he have more of a problem with it?
Eldaief: Well, he actually told me that if I didn't accompany her on the plane that she wasn't going. So that was his condition. I think that he was a bit intimidated, but there was definitely a bit of trust. He did have a sense of humor, a silly, boyish sense of humor, so I played with that a little bit.
Noujaim: Can I also call somebody up? Jean Tsien, our incredible editor… (applause) Do you have any questions for the editor?
Audience: I'm quite interested, regarding the editing – was the husband as bad as he comes across? I'm just curious to know if there was any light to him at all.
Jean Tsien: I know through footage that he was even worse. (laughter)
Eldaief: I remember, actually, Jean told me a couple of times that she felt sorry for him.
Tsien: I actually do feel sorry for him. I learned a lot from working with Mona and Jehane about the culture, and I feel really sorry because this man was just trying to provide, but the whole culture of chauvinism got in his way. I do feel sorry for him at the end, but I also want him to stay in jail. (laughter)
Eldaief: We all do. (laughter)
Audience: I travel often to Jordan and Palestine, and I just want to know, is there any way I could get to Rafea's village and bring gifts or visit…
Eldaief: That would be so lovely of you. Actually, you can contact one of us, and we'll put you in touch with Raouf or another woman who works with them. They live about 86 kilometers from Iraq, near Ruwaished. That's the closest town. That would be lovely.
Audience: Does Rafea still do maintenance in the village?
Eldaief: She has become the village electrician. (laughter) She fixes TV sets and irons, and she's constantly bitching to me that she's not getting paid for it. (laughter) But she knows how, so they use her. And, you know, they need water basically every five years for the batteries, but there are no issues so far.
Audience: What were the technical issues that you encountered shooting off the grid? How did you do that?
Noujaim: Many batteries.
Eldaief: Many, many batteries, a very heavy backpack, and I think you can see my computer in a few shots. Rafea would stay up all night with me while I was downloading stuff. But they do have electricity; it's just really weak. So, you know, in the middle of downloading a card, boom, we had to start again. That kind of thing. But I think the biggest technical issues were all the kids on my back while I was trying to shoot. (laughter) I was balancing a lot of babies.
Audience: It seems like Umm Badr's family was a bit more sympathetic than Rafea's. Why did you make the decision to not explore that more?
Tsien: Actually, Badr [Umm Badr's son] in India was a whole other story that unfortunately we couldn't show. It's amazing. He goes around in the village like a village idiot. (laughter)
Noujaim: I thought he was a Borat. (laughter) We filmed a lot of him, actually…
Tsien: He actually fell in love with an Indian woman.
Noujaim: We filmed all of that stuff. That's Part Two, Badr's love affair. (laughter) The other women actually were very interesting. I mean, the Colombian women were fantastic, the Kenyan women I got very close to, and they all had these fantastic stories about their love lives and their kids, and there were a lot of similarities. We actually tried one shoot where we had the Colombian woman speaking with Rafea with two people translating, but it just looked too awkward to have them in the frame. It was an interesting conversation, but it was just too awkward to edit together.
Tsien: There's also a whole lot of footage from after we came back, too. Badr got married.
Eldaief: His father married him off because he found out he was in love with an Indian girl. He wouldn't accept it, so he married him off to a Jordanian woman, and the boy had been married before and couldn't support his wife, so he started to ruin Rafea's work. There's a whole saga that went on. But that family, actually, is the one that kind of destroyed the project on the ground.
I think Rafea's family is quite stoic. I'll give you an example. When I was in Doha with them, we got 400 per day per diem for the women to pay for their own food, cigarettes, and all of that. And Umm Badr automatically ran into a store and bought a smart phone for her son, Badr, and Rafea put aside money for shoes and food and cigarettes. It's a different mentality between the two families. When Abu Badr got the money for the solar, he went around giving it away, saying "Look at me! I'm rich!" He bought things so that people would like him, so it's sad.
STF: Jehane, while you're onstage, I want to ask you about the other project you just finished or are in the middle of finishing, The Square. I think you have a Kickstarter campaign going for that that you should let people know about.
Noujaim: Why, thanks, Thom! (laughter)
STF: These things don't fund themselves, right?
Noujaim: No. Thank you. I actually didn't put him up to this, even. (laughter) We just won the Audience Award at Sundance, which is great. Mona shot on the film as well. We finished shooting right before Sundance, and we edited right until the very end. So we still want to spend another six to eight weeks editing it, and because of that, we're looking for funding. Up until now, we've taken loans from family and friends, and most people have worked for deferred or no pay, similar to how we did Control Room. The point is, we need to fund the last two years, and we need to fund the finishing of the film. So we started a Kickstarter campaign that's actually going really well, as of this last weekend. We're almost at half of our goal, so that's really exciting. So if you look up The Square at Kickstarter.com, you can find out more about the project. Every dollar counts, and if you can't contribute financially, spreading the word would make a huge difference.