The Sundance Institute will always have a place close to my heart for their crucial grant to my first outing as a producer MISS GULAG. So when they throw a fundraiser, I'm not going miss it. Last night, they held their annual New York City gala at Roseland in the heart of Broadway's theater district. They kindly offered a lower priced admission for the after party (and an extra discount to the STF email list) to make the event more accessible to the average indy filmmaker. The city's documentary community was out in full force, as pictured here: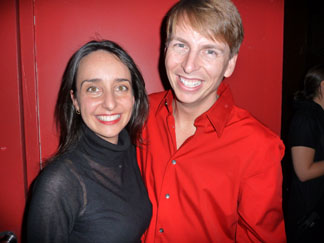 2) Now to the documentary makers: Barbara Kopple and Kristi Jacobson who collaborated years ago on the labor doc AMERICAN STANDOFF that premiered at the Sundance Film Festival.

3) Another dynamic duo of Sundance veterans, Annie Sundberg and Ricki Stern, whose new film THE END OF AMERICA, based on the book by Naomi Klein, opens at IFC Center on December 3.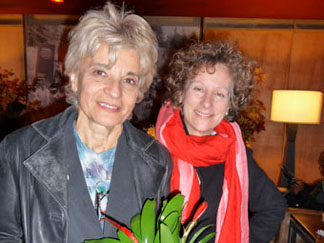 4) Rose Rosenblatt and Marion Lipschutz of Incite Pictures. Look for a special screening of their Sundance festival award winner THE EDUCATION OF SHELBY KNOX at STF in 2009.

5) From Cinetic Media, Dana O'Keefe and Matt Dentler.

6) Pamela Cohn, the doc blogger at Still in Motion, with STF host Thom Powers and Diana Holtzberg of Films Transit.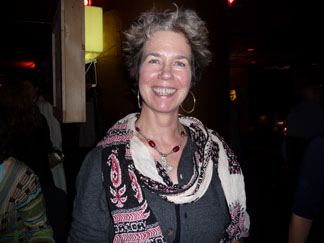 7) Lisa Jackson, director of the HBO documentary THE GREATEST SILENCE: RAPE IN THE CONGO that premiered at the 2008 Sundance Film Festival.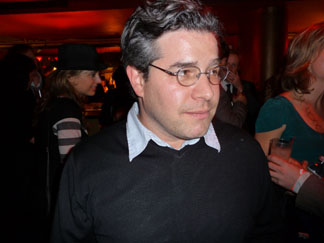 8) Ross Kaufman, the co-director of BORN INTO BROTHELS, who tells the STF blog that he's already been feeling the economic crunch affecting his fund-raising efforts for future projects. Thank god, the Sundance gala had an open bar!