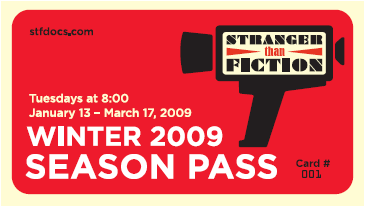 It's the perfect holiday gift that keeps on giving.
As the economy spirals downward, STF ensures you affordable entertainment every week. You get the biggest savings with a season pass.
The official Winter Season runs every Tuesday from Jan 13 – March 17.
Act now and you'll get even greater value as the STF Winter Season pass will gain you admittance to three more special screenings in December:
Tue, Dec 9 – AUTOBIOGRAPHY OF RICHARD LEACOCK
Wed, Dec 10 – PRESSURE COOKER
Tue, Dec 16 – THE GARDEN
Do the math: you get 3 special screenings in Dec, plus the 10 regular season films in Jan – Mar. That's 13 films for $95 or ~$7 per film.
But that's not all! Your Winter Season pass also gets you these great perks:
1) two free DVDs from Docurama;
2) free popcorn at every STF show;
3) assurance that you never miss a sold out show;
4) the ability to transfer your pass to a friend, if you can't come;
5) week-round drink specials at "99 Below"
Click here to buy the Winter Season Pass
Follow the link to Movietickets.com for Dec 9; click on AUTOBIOGRAPHY OF RICHARD LEACOCK; click on "8:00 pm"; select "STF season pass."
(If you're an IFC Center member, you can buy the member pass for a further discount).