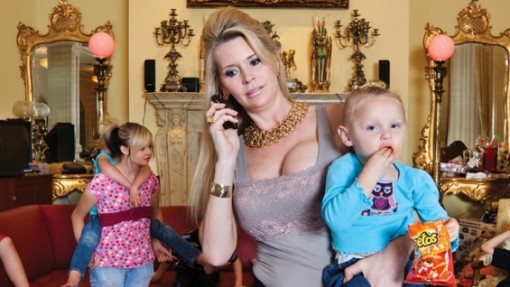 We thought we'd take a look at some of the recent reviews of Sundance docs that came out over the past few weeks. Even before the festival had begun, Lauren Greenfield's THE QUEEN OF VERSAILLES was grabbing press coverage after she and Sundance were sued by one of her subjects, David Siegel, who alleged that he had been defamed in the festival's promotional descriptions of the film. All the publicity may have helped the film, about the rise and fall of one family's economic fortune, snag its North America distribution deal with Magnolia Pictures.
The Hollywood Reporter's John DeFore described the film as "a particularly lurid look at pathological excess."
To a certain extent, Greenfield gives her subjects enough rope to hang themselves as they moan over their diminished economic clout: David paints a picture of callous bankers who, having made him addicted to cheap credit, are now yanking the rug out; Jackie whines that she thought the federal bank bailout was supposed to eventually benefit "the common people … us." The lack of self-awareness is staggering. But it's also clear that on some level Greenfield likes these boors—that she gives them more credit than they deserve for small virtues, and bizarrely views their hyperbolic selfishness as a crystallization of the American Dream.
Eric Kohn, writing for Indiewire, said the film was "glossy portrait of a billionaire too confident to face the reality of his impending financial woes."
Greenfield's documentary never breaks its generally upbeat tone to dig deeper, but it benefits greatly from a tight structure and bountiful footage. It's not the first documentary to chronicle the coping process of rich people turned poor by hard times: The Danish documentary "The Good Life" followed a mother-daughter duo going through the same motions. However, that project takes place entirely post-downfall, while "The Queen of Versailles" tracks the Siegel family's experience before, during and after they hit a wall. The second, darker half owes much of its appeal to the stark juxtaposition it has to the scenes preceding it.
Over at Variety, Justin Chang said the film was "a story of financial turmoil told from the perspective of the 1% (make that 0.01%)."
But once the bubble bursts and Greenfield's interviews with both David and Jackie Siegel take on deeper intimacy, the film shifts almost imperceptibly into an emotionally acute portrait of a marriage and family on the verge of collapse. Plagued by doubts and worries, the work-obsessed, emotionally distant Siegel slowly loses all affection for a wife who can't curb her outrageous spending habits even in the face of enormous financial constraints; given Jackie's behavior, you can't entirely blame him.
Another Sundance film shining a light on a story tied to the U.S.'s economic malaise was DETROPIA, a wide-angle look at the gutting of Detroit by directors Heidi Ewing and Rachel Grady.
Writing for Film School Rejects, Kate Erbland said that in the film "Heidi Ewing and Rachel Grady … attempt to tackle the many issues facing Detroit in their film, drawing from different perspectives to form a complete and complex picture of why Detroit is, as one of their subjects grimly announces, 'never coming back.'"
For their interview subjects, Ewing and Grady gathered a complex cross-section of different Detroit residents – blogger Crystal (who is obsessed with documenting the crumbling structures of Detroit's past), a pair of new residents and installation artists (who like the cheap digs that Detroit can afford them), bar owner Tommy (a former school teacher trying to make ends meet), a pack of young men who collect and sell scrap metal for cash, and Union president George (who used to work in the now-gone Cadiallac factory). The film spends most of its time with Tommy and George, relying on its other three subjects to provide visuals and to sew up a thruline involving the nearly-broke Detroit Opera House. As interesting as both Tommy and George are, the imbalance never quite sits right and we're left wanting more from the rest of the film's players.
Back at The Hollywood Reporter, John DeFore said, "What might have been a eulogy for the once-mighty city or an impassioned cry for its renewal plays more like a tone poem about where things stand."
Though demographic and economic statistics appear onscreen from time to time (distractingly, the type sometimes drifts along with the handheld image behind it), the doc's at its best when listening to a single voice—like that of blogger Crystal Starr, who, wandering through once-grand offices, feels she remembers a time before her birth when the city "was bangin'"—or avoiding language entirely, showing moody images of abandonment accompanied by Dial.81's atmospheric score.
Don R. Lewis at Film Threat said the film illustrated the dire economic straits faced by the Motor City. "I've known that the city of Detroit was under immense financial strain but had no clue how bad it was until I saw this film," he writes.
But seriously, "Detropia" captures the decimation of the middle-class on camera, which is a threat that's been bandied about in politics for a few years now. This is a reality for Detroit, not a hyperbolic talking point. I liked the film because it's not threatening something, it's showing something that's actually happening as we're (not) watching and it shows what can and will happen when American greed fails to trickle down. Any major city in America that loses its main employer can suffer the same fate as Detroit.
LA Weekly's Karina Longworth saw in DETROPIA a continuation of the city symphony genre famously depicted in Dziga Vertov's MAN WITH A MOVIE CAMERA.
Detropia is not an advocacy film; it doesn't provide solutions to the problems seen on screen, and it leaves a lot of questions unanswered. But the images speak for themselves, not least because they're so beautifully considered and composed. As handheld, faux-documentary "realism" becomes the dominant mode of indie narrative films, the standout documentaries are the ones that tack the other way, embracing the cinematic possibilities of the real.
Another film that generated a lot of buzz among Sundance attendees, earning a standing ovation at at least one of its screenings, was the Alison Klayman doc AI WEIWEI: NEVER SORRY, a portrait of the Chinese artist and politcal activist.
At Variety, Peter Debruge said Klayman had a tough row to hoe, given the nature of her subject. "As with any art doc, the film faces the challenge of communicating the significance of Ai's work while still trying to function as a compelling narrative in its own right," he writes.
Klayman also assumes too great a familiarity with Ai's work, referencing such projects as the Bird's Nest and his "Sunflower Seeds" installation without providing auds the tools they need to understand and appreciate these achievements. Still, consistent with nonfiction filmmaking in general, formal clumsiness is easily superseded by a sufficiently compelling subject, and Ai is nothing short of fascinating. Though China has blocked Twitter usage among its citizens, Ai actively interfaces with the outside world in 140 characters or fewer at a time, often posting photos of his run-ins with local authorities.
John DeFore at the Hollywood Reporter said the film "introduces viewers to a visual artist whose cultural impact in China was great enough that he spent almost three months of 2011 in jail, with two guards watching him at all times."
Filmmaker Alison Klayman gives us enough family history to make sense of Ai's reform-mindedness, and spends enough casual time with him to give us a feel for his personality. But she seems much more interested in his political actions—which, to be fair, are what has kept him in the news—than in chronicling the development of the art that brought him to prominence.
We'll take a look at some of the other reviews coming out of Sundance in the next few days, so keep an eye out.