Inauguration day and spirits were running high at the Sundance Channel party. Here are some snapshots of the happy revelers: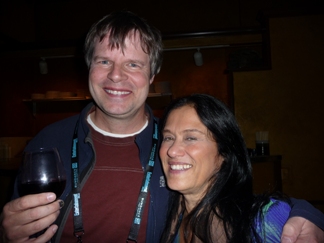 Doug Pray (whose Sundance film ART & COPY I wrote about in my
recent blog entry
) with legendary Barbara Kopple (who joined STF last spring to screen
MY GENERATION
). I overheard him telling her how excited he was to finally meet her and how thrilled he was that she attended his screening.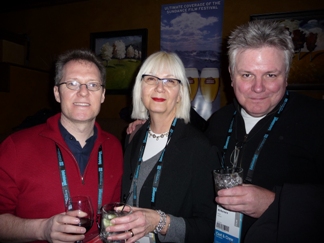 Thom with Toronto producers Judy Holm and Michael McNamara who are here to support their film
VICTORIA DAY
. I had the pleasure of seeing VICTORIA DAY this afternoon. Written and directed by my family friend David Bezmozgis, he sweetly captures the awkwardness and wonder of growing up in suburban Toronto circa 1988.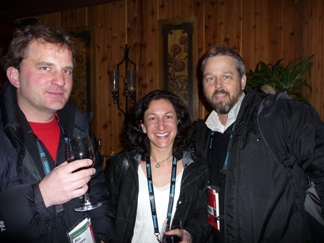 L to R: Ben Kempas (director of
UPSTREAM BATTLE
, which screened at STF two weeks ago), Patrick Creadon (director of
I.O.U.S.A.
) and on the Sundance jury this year and Joanne Feinberg (programming director of the
Ashland Independent Film Festival
).