Twenty-three films later (Thom beat me by six films with a final count of 29), I somehow made it to the closing night festivities of the 25th annual Sundance Film Festival. Despite the onset of extreme fatigue, I steered clear of the infamous Sundance flu (that takes down so many of the regulars) and somehow survived with enthusiasm intact. I even asked Thom if we could stay one additional day to watch a few of the winning films that we'd missed along the way (the answer was no). Sitting in NY (which is absurdly colder than Park City, Utah), I am flooded with warm memories of the amazing people I met and the great films I saw.
Here are few snapshots from closing night: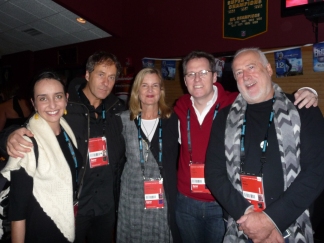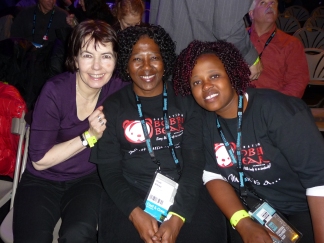 I was absolutely delighted that one of my favorite films
ROUGH AUNTIES
won the grand jury prize for World Docs. An unadorned gem, the film is classic verite – driven by the strength of the characters and Longinotto's intimate observation. No gimmicks or tinsel here – just inspiring cinema. Pictured here are Longinotto with two women from
Bobbi Bear
, the incredible organization that works with abused children in South Africa).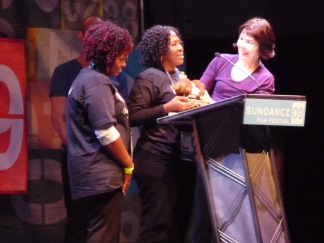 And here are the women accepting the jury prize for Best World Documentary.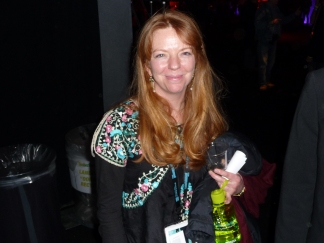 One of the few films I regrettably missed (slept through the 8:30am screening start),
AFGHAN STAR
won Best Director (Havana Marking is pictured here) and the audience choice award for Best World Documentary. AFGHAN STAR looks at four contestants on an "American Idol"-style musical TV show in a country where participation in such a program, especially for women, is a life-threatening proposition.
BIG RIVER MAN
's director/DP John Maringouin won Best Cinematography in World Docs. BIG RIVER MAN follows a Slovenian man's endurance swim of the Amazon.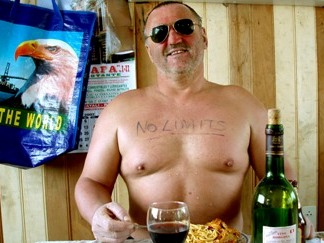 BIG RIVER MAN's protagonists: Martin Strel, the Slovenian endurance swimmer, joined by his son and a companion.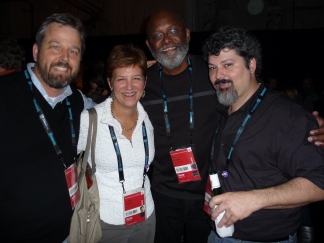 L to R: US Jury members Patrick Creadon (director of
I.O.U.S.A.
), Andrea Meditch (executive producer of two films currently nominated for an Oscar:
MAN ON WIRE
and
ENCOUNTERS AT THE END OF THE WORLD
), Sam Pollard (editor of MO' BETTER BLUES, CHISHOLM '72, and
many others
), and Carl Deal (co-director of
TROUBLE THE WATER
, also currently nominated for an Oscar). Fifth US juror Marina Zenovich (director of
ROMAN POLANSKI: WANTED AND DESIRED
) was missing for this photo.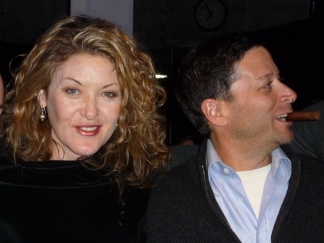 Director of US grand doc grand prize winner
WE LIVE IN PUBLIC
Ondi Timoner with the film subject Josh Harris. A controversial choice, it seems that people are either in love with this film or can't stand it. In the spirit of diplomacy, I'll refrain from my opinion. (Oops, I think I just gave it away. So much for diplomacy.) On the other hand, Todd McCarthy from Variety told me it was his favorite film at the festival.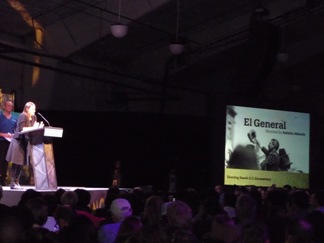 Natalia Almada accepting the U.S. best directing award for her documentary
EL GENERAL
about her controversial great-grandfather, President Calles of Mexico. A lyrical film, bordering on poetic essay, Miss Almada was very deserving of this honor.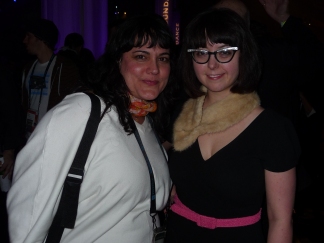 Sundance Channel's Ann Rose with Karina Longworth of
SpoutBlog
.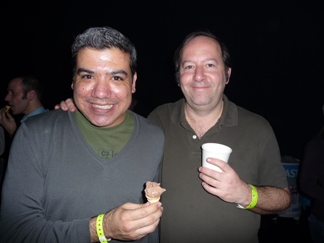 Sales Agent Josh Braun of Submarine Entertainment with
Indiewire's
Eugene Hernandez.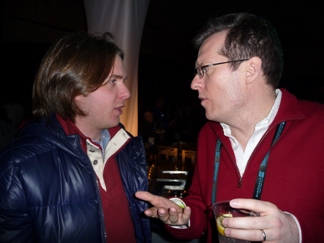 Sales agent Dana O'Keefe from
Cinetic Media
chatting with Thom Powers.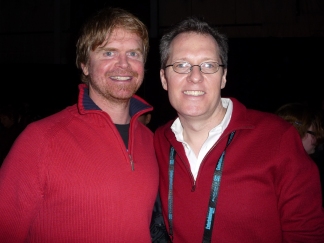 Scott Kennedy (whose film
THE GARDEN
screened a few weeks ago at STF and is currently nominated for an Oscar) with Thom Powers at the after-party.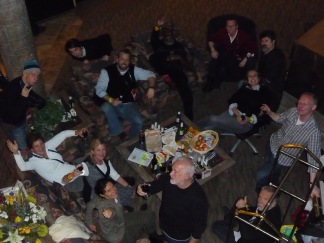 By 1am, most of the jurors ended up drinking and eating in the hotel lobby. With awards and mandatory screenings out of the way, it was nice to finally unwind. Too bad our airport pick-up was only four hours away!
2009 Sundance Film Festival Award Winners:
WORLD DOCUMENTARY
JURY PRIZE: "Rough Aunties," directed by Kim Longinotto
DIRECTING AWARD: "Afghan Star," directed by Havana Marking
EDITING AWARD: "Burma VJ," directed by Anders Østergaard, edited by Janus Billeskov Jansen & Thomas Papapetros
CINEMATOGRAPHY AWARD: – "Big River Man," cinematographer: John Maringouin
SPECIAL JURY PRIZE: Tibet in Song directed by Ngawang Choephel
AUDIENCE AWARD: "Afghan Star," directed by Havana Marking

U.S. DOCUMENTARY
GRAND JURY PRIZE: "We Live in Public," directed by Ondi Timoner
DIRECTING AWARD: "El General director," Natalia Almada
EDITING AWARD: "Sergio," directed by Greg Barker and edited by Karen Schmeer
EXCELLENCE IN CINEMATOGRAPHY AWARD: "The September Issue," cinematographer: Bob Richman
AUDIENCE AWARD presented by Honda: "The Cove," directed by Louie Psihoyos
SPECIAL JURY PRIZE: "Good Hair," directed by Jeff Stilson