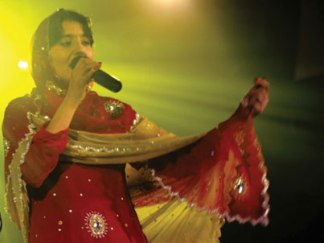 At Sundance, I served on the World jury along with Hubert Sauper, best known for the Oscar-nominated DARWIN'S NIGHTMARE, and Gillian Armstrong, whose brilliant career includes documentaries such as NOT FOURTEEN AGAIN (a project similar to Michael Apted's 7 UP series with a new installment filming this spring). The distinction between the World and U.S. sections can feel a little blurry. The World section included at least two American directors and had a heavy Anglo bias with two Canadians and four British directors. Six other directors in the section are based in Europe or the U.S. If you're searching for voices from other parts of the world, you'll find a deeper representation of Latin America from Monika Wagenberg's programming at the Miami International Film Festival and a more global spectrum under Sean Farnel at Hot Docs.
But even if the Sundance directors are concentrated in Europe and North America, their reach is far wider. Hamid Rahmanian, for instance, lives in Brooklyn (and regularly attends STF), but he has a deep feeling for Iran expressed in his film THE GLASS HOUSE. The film sensitively portrays the Omid e Mehr center for girls, run by the inspiring matriarch Marjaneh Halati. One especially striking character is the 19-year-old Nazila, who aspires to become a rap performer despite an Iranian law against the recording of female singers. Rahmanian's filming of several characters over an 18 month period offers a profound feel for the resilience of these young women.
END OF THE LINE travels as many locations as a James Bond film with a mission more urgent and real. Directed by Rupert Murray who previously made the compelling and mysterious UNKNOWN WHITE MALE, this new doc is based on the book "End of the Line" by Charles Clover. Its revelations about over-fishing will come as a shock to sushi lovers. It will make a fitting and scary double bill with FOOD, INC, based on the reportage of Michael Pollan ("The Omnivore's Dilemma") and Eric Schlosser ("Fast Food Nation") being released this spring by Magnolia.
OLD PARTNER, directed by Chung-ryoul Lee from South Korea, offered a change of pace from a line-up dominated by overt social and environmental issues. The film looks at an old Korean couple still working the land with an ox while their neighbors have moved on to more mechanized methods. The film is beautifully photographed and moves at a reflective pace reminiscent of recent European docs such as THE MONASTERY: MR. VIG AND THE NUN and INTO GREAT SILENCE.
As I said in my remarks at the Sundance awards ceremony, our jury had tremendous respect for the passion and commitment behind all the films in the section. But we were tasked with the difficult job of bestowing five awards for 16 titles.
The Special Jury prize went to Ngawang Choephel, the director of TIBET IN SONG, for his extraordinary effort at preserving the culture of his country, despite being imprisoned for six and a half years in the process.
The Cinematography prize went to John Maringouin, who also directed and edited BIG RIVER MAN. "Borat meets Herzog" is how my wife aptly describes the film. It stood out for its humor and originality. Maringouin told me after the awards that he's still not finished. He intends to go back to the edit room where I expect he'll make a strong film even stronger.
The Editing prize went to BURMA VJ, which already had collected laurels at IDFA and CPH:DOX. The axiom that a film is made in the edit room was never more true than in this case. Danish director Anders Ostergaard assembled a wide range of clandestinely shot footage of civilian unrest under the military rule of Myanmar, aka Burma.
The Directing honor went to Havana Marking for AFGHAN STAR. She was joined onstage by Daoud Siddiqi, the remarkable host of the Afghan version of American Idol, who is one of the film's subjects along with several contestants on the show. The film deftly weaves the stories from several different regions of Afghanistan to portray a society in transition, full of danger and potential.
The top prize for World Cinema went to ROUGH AUNTIES, directed by Kim Longinotto, exploring an organization of women in South Africa called Bobbi Bear that aids child abuse victims. I initially approached the subject with as much dread as anyone might feel. But I was quickly won over by the charm and resourcefulness of these women. HBO flew two of the film's subjects (pictured in an earlier post) to the festival from South Africa. After the awards, I ran into Lawrence Kardish from the Museum of Modern Art who told me that MoMA is preparing a retrospective of Longinotto's films. New Yorkers should stay alert for that one. In a better world, such a retrospective would be heralded with articles and profiles in all the city's major publications.
In case that fails to happen, stay tuned to STFdocs.com for updates.