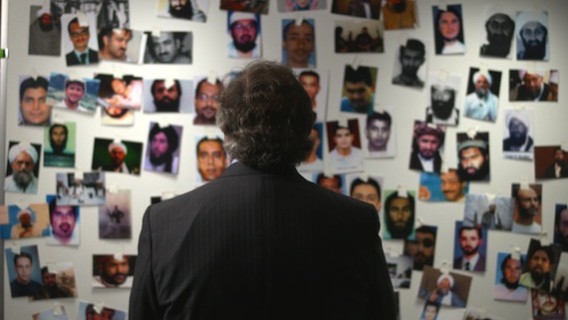 I asked filmmakers in Sundance's US Documentary Competition to describe what attracted them to their subject and what conversations they hope the film will start. Below are responses from 13 of the 16 films. As I receive others, I'll update this page. In future posts, we'll hear from directors in the World Competition and Doc Premieres section. Thanks to Erik Spink for helping me compile this survey.
Audrey Ewell, 99% – The Occupy Wall Street Collaborative Film, @99_film, @AudreyEwell
When people take to the streets en masse in your country and a national and even worldwide movement takes off, how do you NOT get interested in that? Not only has this not happened in my lifetime, it's also fundamentally different than justice movements of the past. And I'd be lying if I said that the experimental process we employed on the film wasn't also a little bit intriguing to me.
Our film not only goes behind the scenes of the Occupy movement to reveal what really happened and what it was and is all about, it also exposes the latticework of corporate, financial and political power operating behind the vestige of American democracy. Monumental economic and social decisions are being made, and if people don't involve themselves in those conversations, their interests simply aren't being protected. This film doesn't really leave any room for doubt about that. The only question is, where does it go from here?  And that's an answer that can only be answered over time. This film lays the framework for us to understand the factors that got us into such a mess in the first place, and at the explosive birth and growth of this movement, so we may better understand what comes next.

Martha Shane & Lana Wilson, After Tiller, @aftertiller
Reality is complicated. Yet when it comes to the abortion issue in America, we are often presented with two very different, black-and-white versions of what is right and what is wrong—no exceptions granted. As a result, the nation's shouting match over abortion has become increasingly distanced from the real-life situations and decisions faced by those people most intimately involved—the physicians and their patients. It was for this reason—and with a desire to shed more light, rather than more heat, on this issue—that we decided to go inside the lives of the last four late abortion doctors in America with After Tiller.
Michèle Stephenson & Joe Brewster, American Promise, @promisefilm
Sixty years ago, Ralph Ellison wrote INVISIBLE MAN – an exceptional novel that spoke to what he called the invisibility of the black man.  As he defined it, invisibility was not so much about not being seen, but rather, about being misperceived. This misperception still shapes the life experiences of African American boys and men today. Year after year, we watched our boys struggle with stereotype and identity, and as parents, this pushed us to expose the impact of the unique social and emotional needs of black boys on their academic performance. Through the power of our storytelling, we hope audiences will gain a deeper understanding of the complicated plight of African American boys. Whether as parents, educators, the larger community, or even the nation, we all have a stake in and can benefit from understanding the factors that contribute to the challenges these boys face.  We hope our film stimulates conversations and believe that the power of documentary storytelling can shift perceptions and help audiences transcend stereotypical assumptions about African American boys, hence making the American Promise more of a reality for all.
Steve Hoover, Blood Brother, @Bloodbrotherdoc
Blood Brother covers a range of topics; love, friendship, HIV/AIDS, family and death. I was drawn to this story through my personal connection with the subject of the film, Rocky Braat, who is my long time best friend.  I hope the film will encourage a lot of inner dialogue, more than conversation.  I would love for viewers to explore their lives and consider what kind of impact they're making or could make.  I really wanted to avoid controversies with this film and look more within, as I had to do while making it.
Carl Deal & Tia Lessin, Citizen Koch
In our last film, TROUBLE THE WATER, we saw up close what an America with no government services looks like—not just in the days and weeks after the failure of the levees in New Orleans, but in the years leading up to it. It was devastating to witness. Within a couple of years, though, rather than engaging in a national discourse on how to make government more responsive to the needs of the people, we saw the dialogue overtaken by extremists on the political right, promoting an ideology of eliminating government services to the benefit of wealthy interests. In no time they had taken a majority in elected offices throughout the country. We were interested in finding out how all that happened, why working-class people would organize and vote against their interests and against even the very idea of a government servicing the common good. Wisconsin and the GOP's rising star Gov. Scott Walker, backed by big monied interests like billionaire industrialists Charles and David Koch, gave us a perfect lens to do that.
Richard Rowley, Dirty Wars, @BigNoiseFilms, @DirtyWars
The Global War on Terror is the longest war in American history; it has claimed hundreds of thousands of lives; it is being fought in dozens of countries; but it is unfolding in the shadows.
A decade ago, I became a war reporter in order to cover this hidden war. I made short films from Iraq and Afghanistan, but remained frustrated by the limitations on what kind of stories I could tell. It was not enough to be an embedded journalist and see the war only through the eyes of American soldiers. It was not enough to understand this global war through the experience of a single country in isolation. It was also not enough to tell stories of a war being fought in far off places that seemed irrelevant to life back home.
Right now, across the planet, dozens of wars are being fought in our name, but we know next to nothing about them. Dirty Wars is an attempt to make those hidden wars visible.
Dawn Porter, Gideon's Army, @GideonsArmyFilm
I am a lawyer but was never a public defender, and I actually thought they were a little extreme in their devotion to their work. I still think that, but now I find that I understand their devotion and I feel the same way.  Once I went to Alabama and saw the SPDTC training program in action  I knew it was a great story; then meeting Brandy, Travis and June, I thought to myself, "these are people who are so relatable and so watchable, people will want to know why they do this tough job." They are not what people think about when they think of public defenders.
But what really inspired me is how truly awful our criminal justice system is for millions of poor people. Watching a 17 year old face a life sentence for allegedly stealing 96 dollars I thought what if that was my kid? I hope people will come away from the film and think about how they would want their son or daughter, or mother or father treated if they were arrested.  Thats the system we should have.
Roger Ross Williams, God Loves Uganda, @GodLovesUganda
God Loves Uganda is an exploration of the evangelical campaign to change African culture with values imported from America's Christian Right. I have a strong religious background, and grew up singing in the choir of my family church.  I have always been interested in the power of religion as a force for both good and evil.  My last film took place in Zimbabwe and while I was shooting there I was struck by how popular conservative Christianity is in sub-Saharan Africa.  After I read about Uganda's now famous "kill the gays" bill, I wanted to explore the religious forces behind it.  I'm not interested in films that preach to the converted.  I always wanted to make a film that starts a dialogue within the religious community. I hope US missionaries will see the film and examine what kind of messages they are preaching in Africa.  And, to realize that when you unleash a message of hate and intolerance, no one is safe.
Jacob Kornbluth, Inequality for All
The topic felt both relatable and personal to me from the beginning. My friends and I all had jobs, but we also all had economic worries that we talked about constantly.  None of us felt like we were getting ahead.  It felt like the biggest story of our times, and I also knew I didn't understand it.  I understood rising economic inequality as a political issue — the right thinks this and the left thinks that — but I knew that wasn't real understanding.  Then I read Reich's book AFTERSHOCK, and it changed everything about how I thought about the topic.  He was talking about this widening divide not as a moral question, but as a structural problem that was affecting everything — our economy, our democracy, you name it.  I remember I put down the book and thought, "I have to make this movie".  It really is an indescribable pleasure to have your mind rocked like that and to shift the way you see something, and that's what Reich's ideas did for me.  I hope audiences have that same feeling watching the film.
Andrea & Sean Fine, Life According to Sam, @finefilms
As soon as we met Sam Berns, we knew we wanted to make this film. Initially intrigued by a dramatic scientific story about unlocking the key to aging, once we met Sam and his parents, we wanted to create a film that's really a story about us all, putting Sam center stage to captivate the audience as he did with us the first time we met him. But of course, a dramatic scientific story still unfolds about two parents, who are also doctors, racing against time to save their son.
We think Life According to Sam will leave an audience reflecting a great deal on their own life. Although at the outset one might ask how this family is remotely anything like most of ours. Statistically their fate seems to have been thrown to the outer realms of possibility. Sam's disease, progeria, affects only 1 in 4 million. It is one single change in the genetic code. But in the end, this story has everything to do with us. It's a film about time, it's how we spend our time, it's a film about the decisions we make in life and it's a film about family.  In addition the film has a gripping story arc. We start the film as Sam's parents are about to test the first possible drug to help their son. The film follows the trial for three years to find out if the drug will actually work on Sam, and 28 other children from all over the world who have come to them for help. Perhaps one day we will look back and know that what cracked the code to aging, all started with this
Greg Barker, Manhunt, @gjbarker
The night Bin Laden was killed – and cheering crowds gathered outside the White House – I found myself wondering what the tumultuous, often painful years since 9/11 had meant to us as a nation.  I set out to make a film that works as a spy movie – the inside story of the hunt for Bin Laden, told by those at the heart of the manhunt — but with a reflective tone that would spark conversations about the nature and morality of new kind of covert war our nation is still fighting.
Morgan Neville, Twenty Feet From Stardom, @TremoloDocs
My producer Gil Friesen had the idea of making a film about backup singers, though neither of us really knew what that meant at the time. The idea just intrigued us. As we started talking to singers, we fell into a hidden community of incredible musicians. They're real altruists. They all knew and loved and looked out for one another. It seemed like something to celebrate for a change.  Beyond that, I hope people listen to music a bit differently. I know I do.
Marta Cunningham, Valentine Road, @martacunningha9
I first heard about the tragic murder of Lawrence "Larry" King while reading a news article. I was intrigued about the story and did some further research and was shocked at the way the story of Larry's murder was being covered by the media. The problem was not that a 14-year-old named Brandon McInerney had apparently shot Larry in the back of the head in front of his whole class. The problem was being portrayed as Larry being "too gay, too soon." In the days that followed, I couldn't get Larry out of my mind so I called the Venture County Courthouse and began the nearly four-year journey that would become VALENTINE ROAD.
Once I started to learn more about the case, I found out that there were potentially two injustices and two misunderstood and vilified juveniles. As a filmmaker, I felt it was important to tell both Larry and Brandon's stories in the film. I really hope by telling these boys' stories, that this film will serve as a catalyst for further discussion on complex topics like LGBT rights, gun control and education and the juvenile justice system.