Reported by Erik Guzinski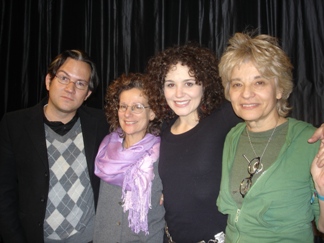 L to R: STF guest-host Hugo Perez , director Rose Rosenblatt, film subject Shelby Knox, and director Marion Lipschutz
STF celebrated Obama's inauguration day with a screening of THE EDUCATION OF SHELBY KNOX about a Texas teenager's effort to reform her high school's sex education.
Today Shelby Knox is a 23 year old. She appeared for the post screening Q&A with directors Marion Lipschutz and Rose Rosenblatt. Still charismatic and never microphone shy, Shelby laid out in no uncertain terms her position on Lubbock's conservative approach to sex-ed, "The people who were supposed to be supporting us, taking care of us, were playing politics with our lives."
Lipschutz and Rosenblatt, who followed Knox on and off for four years of high school wanted an opposing viewpoint to balance the story. Their adversary came in the form of Reverend Ed Ainsworth, who founded an abstinence-until-marriage approach to sex education, called "True Love Waits". On his own crusade to save teens from their sexual cravings, Rosenblatt said he was a "character" and "very willing to be in front of our cameras. A good catch in a small town weary of the media."
Earlier in the day, Knox had attended the inauguration in Washington, DC then drove to New York to make the STF screening. The night was hosted by filmmaker Hugo Perez, filling in while STF Artistic Director Thom Powers is serving as a juror at the Sundance Film Festival.
Perez offered this description of the night:
"While many in the NYC film community gathered in a small Utah town, and much of the rest of NYC participated in the inauguration, either in person or through the continuous round the clock TV coverage, a hardy group of STF doc enthusiasts gathered at the IFC Center. Filmmaker Rose Rosenblatt and subject Shelby Knox (who we will all hear much more about as she takes her crusading nature to the national level) joined us in the intrepid descent into STF watering hole 99 Below to quench our thirst with vividly pink "Shelby Knox" Cosmos. There we were a when the bartender chose to turn up the volume on the ring of plasma screens at the bar just as Barack Obama addressed the youngsters at the Youth Ball in DC, and all of a sudden we at 99 Below were all magically transported into that ballroom. Eyes glistened with tears as Barack spoke. People laughed and smiled, as spontaneous chants of "Yes we can!" and "Obama" loudly broke out from the STF gang (all without spilling a drop from their cosmos). As Barack and Michelle showed us all how to 'kick it old school' with a romantic dance to the soothing strains of classic New Orleans jazz, the chanting of "Yes we can!" gave way to some slow-dancing and hip-shaking by the STF gang as we all joined in. This dance was for all of us, not just Barack and Michelle. (And we chose to ignore that Barack stepped on Michelle's dress a few times.) What a night! But then again it was just what we've come to expect from Tuesday nights at STF."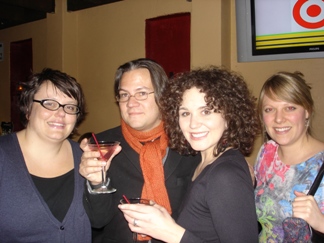 L to R: Jennifer Abbots, Hugo Perez (STF guest host), Shelby Knox, and Jessica Adler at the post-film reception at 99 Below.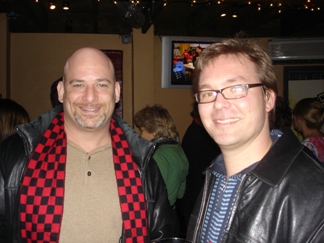 Josh Levin and Bryce Gerstenjaeger at 99 Below.