Stranger Than Fiction co-presented the film Bombay Beach at the 2011 Tribeca Film Festival.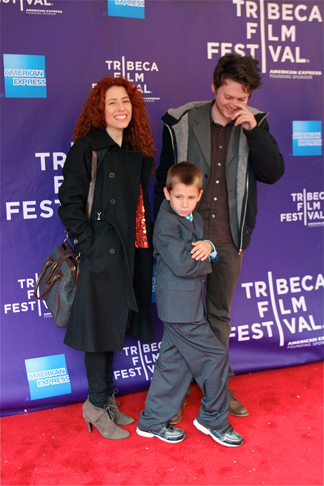 The U.S. government doesn't even consider Bombay Beach a city, instead describing it as a census-designated place (with the population in 2000 recorded at a scant 366 people) comprised of one square mile of land in the California desert that hugs the eastern shore of the Salton Sea, a rift lake whose salinity now exceeds that of the ocean. Once touted as a vacation destination for Southern California's well-heeled, the area today scans like the physical manifestation of the death of the American Dream. Alma Har'el's film Bombay Beach is an intimate portrait of those living in this impoverished afterworld, who strive mightily for survival at society's margins. In some of its most powerful scenes, the film shows the children of a post-apocalyptic landscape wandering the salt-encrusted detritus of a middle-class existence that no longer exists, appropriating from abandoned houses whatever they can to aid their amusement. The film is a needed reminder that poverty in America takes on a number of forms, and is too often ignored as a topic of discussion in mainstream media outlets. Perhaps it's the sort of story that be best relayed with clear eyes by someone like the Israel-born Har'el, someone with some objective distance on the myths of America. Following the screening, Har'el and the film's music composer Zach Condon (who performs under the band name Beirut) held a Q&A with the audience. Click "Read more" below.

[Photo: From left, director Alma Har'el, film subject Benny and musician Zach Condon, courtesy of Simon Luethi]
Question: How long were you shooting?

Alma Har'el: I moved there for about five months two summers ago, and we shot a lot of stuff. Over a year I would come back while we were editing and kind of fall on stories, film the dances, hang out, go to the beach, eat ice cream and wait for it to unfold. It was an intense period where I found the characters and the story because I didn't come there with something, and then just following it for a while. The whole thing was probably a year and a half.
Q: How did you come across that community and area?
Har'el: It was this guy here [gestures to Condon]. I was actually doing a music video for Zach, which is what I usually do with my time. He went to Coachella to perform and we were in the middle of the video and didn't know how to finish it. So I said, let's go there and we'll do a kind of back story as if you're from the desert. But then he ended up being busy and doing press and drinking and hungover in the morning. I woke up alone in the desert and decided to do a location scout, and that's how I met these guys [gestures to film subjects Pamela and Benny]. A friend of mine said, hey you've got to check out this place, it's really cool and I think you're going to like it. When I came there, Benny was with his brother Mike hanging out at the beach. I said, hey do you maybe want to be in a music video? Benny wasn't in the music video, Mike was in the music video, because Benny was a little too wild. When we finished the video I really felt that I wanted to come back there and do a whole movie about that place and keep working with Zach's music because it all felt so good. For a while, I had the idea of doing a documentary film with dance sequences in it. So it just felt like the right time and place to do it.
Q: Is this Benny's first time in New York?
Har'el: It is. It's his first time outside of Bombay.
Pamela: I'm very excited to be here. I can't wait to check out some of the sites. I'm just so excited, it's so different from where we're from. But I've enjoyed the time I've spent here, it's really amazing. We're having a great time.
Q: I was very disconcerted to see how much medication Benny is on. Who monitors that? How's he doing on those meds, and how's he doing in school?
Har'el: Unfortunately, the way it goes over there is that the doctors don't think it's really necessary to have therapy with the medication, so they just kind of try to put on a lot more medication in order to get the results they're hoping to get. Pamela's definitely been trying to get more answers, ever since we started working on the film and talking about it. There's definitely more awareness. I know that when he's in New York, when there's more to do and more to look at it's actually easier. So he's actually not on medication today, right? It's a matter of time, I think. I can only expose Pamela to things and see what she can do because it's very hard out there to get any help. I can tell you that Benny learned how to read this year, and he was student of the month.
Q: The music was so perfectly matched to the scenes. Did you have the music in mind, and then match it to the footage? Or did the footage speak to you and lead you to the music?
Har'el: I don't want to sound corny, but I always have Zach in mind. So I obviously went there and had the music in mind. Then we did the video and Zach has been the main person that I've worked with since I came to America from Israel, and I'm very inspired by his music and thought it would fit very well. What we did was kind of a process. He gave me a lot of splits of songs of his—parts of different instruments—so I could kind of use them. Why don't you tell them what we did afterwards?
Zach Condon: We met up in New Mexico where I was staying for a few months and with a laptop and microphone laid out the rest of the soundtrack within a week actually. Part of it was recorded in my parents' bedroom in Santa Fe. She definitely had songs in mind that I'd already written. The rest of it, once we got to New Mexico was a quick one-microphone, one-laptop setup, and that was that.
Har'el: There were two things, I think, that he wrote for it, and things were tweaked. It was a combination of things, but I think there's a chemistry between his music and the mood that was there naturally.
Q: Did you ask people to dance?
Har'el: Oh, I asked them. I urged them to dance. We had a choreographer, she did an amazing job. It was a different process. The dance that we did with Benny, for instance, where the two girls bug him quite a lot, we constructed the dance, we worked with him. We asked him to do all of the things he does that other kids think are annoying, or that he does when he's fighting with them, or at home and being too wild. We built the dance out of that and taught it to the other kids and tried to create something that was exploring what was going on with the kids. Then we rehearsed it for two days at the community center in Bombay Beach and proceeded to shoot it. That was a few months after the scene, so the scene was shot spontaneously. After that I would just come back and ask Pamela to find the damn clothes that they wore on the day. Then we would shoot it to look like it came out of that scene, but it wasn't really shot on the same day.
Q: What's happened with the football player?
Har'el: He got a full scholarship, and he's leaving Bombay Beach in a week to go to college, and he's the first kid in his family to go to college. So that was a good ending.