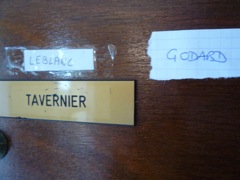 INSIDE JOB – a look at the banking scandal by Charles Ferguson, the Oscar-nominated director of NO END IN SIGHT, slated for distribution by Sony Pictures Classics.
BOXING GYM – the latest from master Frederick Wiseman, set in Texas, that will eventually cap his ongoing retrospective at MoMA later this year.
STONES IN EXILE – as in the Rolling Stones on the making of Exile on Main Street, from director Stephen Kijak (SCOTT WALKER: 30TH CENTURY MAN), coming to US television this summer. Kijak had access to tremendous archive sources including outtakes from Robert Frank's COCKSUCKER BLUES.
Other titles raising my curiosity are:
ARMADILLO – Danish director Janus Metz follows soldiers in Afghanistan. A sample that screened at the CPH DOX Forum last November made a powerful impression; and I've heard raves from Denmark.
BENDA BILILI – I know nothing about the French directors Florent de la Tullaye and Renaud Barret. All I have to go on is the description that it's about a band in the Congo. Its placement as the Opening Night of Quinzaine suggests a vote of confidence.
CLEVELAND VS WALL STREET – a French/Swiss production directed by Jean-Stephane Berthaud. Just the title intrigues me.
I WISH I KNEW – exploring the world of Shanghai by Jia Zhangke, director of DONG and STILL LIFE, who is avidly followed by certain cineastes. I'm especially keen to pay more attention to the movement of Chinese documentary after hearing distributor Karin Chien of dGenerate Films speak passionately about on the topic last Saturday at Union Docs.
NOSTALGIA FOR THE LIGHT – new work from Chile's Patricio Guzman (BATTLE FOR CHILE) always warrants notice. This one takes place in the desert where astronomers go to stargaze, while others search for buried victims of the dictatorship.
In past years, the quantity above would be a strong enough quota for docs in the official line-up. But as I go deeper into the schedule, I keep turning up more: a 3-hour epic THE AUTOBIOGRAPHY OF NICOLAE CEAUSESCU; a new look at Berlusconi and Italy's earthquake DRAQUILA: ITALY TREMBLES; and following its Sundance debut, the cautionary nukes doc COUNTDOWN TO ZERO from Lucy Walker (BLINDSIGHT; WASTELAND). That list doesn't include film history docs that always enjoy a place in Cannes; and probably others I've missed.
When people ask whether Cannes is really a place for documentary, I like to remind them that from the last 10 years worth of jury winners FAHRENHEIT 9/11 made more money than all the other 9 films combined.
Before I head out to the Croisette, I'll explain the accompanying photo: for the past 3 years, I've lodged in the same Cannes apartment building and always wondered about the mailbox marked "Tavernier." This year, the great French director Bertrand Tavernier (DADDY NOSTALGIA; LIFE AND NOTHING BUT) is back with the Cannes competition title THE PRINCESS OF MONTPENSIER, a period piece set during the religious wars of 1562. I always assumed Tavernier must be a common name. But this year, I'm intrigued by the new label taped to the box on the right. Is it someone's joke; or a coincidence; or am I sharing a residence with the subject of Richard Brody's EVERYTHING IS CINEMA?