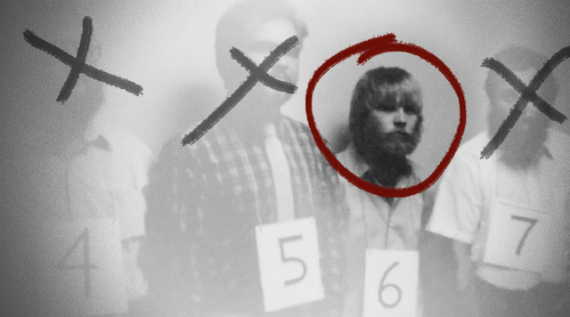 The holiday season is upon us and with it comes a hail of award season Hollywood hold-offs that generally steal the thunder of non-fiction titles just making their way to theaters (here's looking at you STAR WARS). Thus, it's been a fairly quite week for docs, though one that deserves a bit of celebration with the Library of Congress announcing their 2015 National Film Registry titles which include eight works of non-fiction, as Daniel Walber noted at Nonfics. Shirley Clarke's PORTRAIT OF JASON, Thom Andersen's EADWEARD MUYBRIDGE, ZOOPRAXOGRAPHER and Thomas Edison's EDISON KINETOSCOPE RECORD OF A SNEEZE (which can now be viewed here) are among this year's additions deemed "culturally, historically or aesthetically significant", reports Susan King for the Los Angeles Times.
There's still a solid week and a half before the bell rings out 2015, but the best-of lists continue to roll in from all sides. The Playlist have named their Top 20 Docs of the Year, LA Weekly's Amy Nicholson listed her Most Essential Docs of the Year, while at Nonfics, Landon Palmer gave an unpredictable rundown of her favorite music docs of 2015. Including a variety of non-fiction features in their general year end best-of lists, Sight & Sound and Film Comment, both of whom included THE LOOK OF SILENCE. Mixing things up a bit, Kevin B. Lee once again "attempted to account for the state of video essays" this year over at Fandor's Keyframe, gathering a variety of best of lists from key video essayists and theorists, most of which link to the video pieces mentioned.
In the Los Angeles Times, Sam Adams outlined how the best docs of the year are displaying a surprising amount of stylistic and thematic breadth within the traditionally narrow race for the Oscars. Among the Oscar short-listers is Kirby Dick's THE HUNTING GROUND, which won the Producers Guild of America's 2016 Stanley Kramer Award according to Dave McNary of Variety. Michael Moore, whose short-listed WHERE TO INVADE NEXT was talk of Patrick Mullen recent recount of this year's Toronto International Film Festival in Point of View Magazine, was also interviewed by Cara Buckley in The New York Times.
There were no higher profile titles released this week than Moira Demos and Laura Ricciardi's ten part serial Netflix exclusive, MAKING A MURDERER, which had its world premiere last month at DOC NYC. Drawing comparisons to the wild recent success of SERIAL and THE JINX, MAKING A MURDERER has gotten positive press across the board from the likes of Mike Hale of The New York Times, Lenika Cruz of The Atlantic, Mary McNamara of The Los Angeles Times, Margaret Lyons at Vulture, Bethonie Butler of The Washington Post and Variety's Brian Lowry. Additionally, Mekado Murphy spoke with the filmmakers about the 10 years spent making the project for The New York Times. Despite its length, our own Raphaela Neihausen and Thom Powers selected the series as WNYC's Documentary of the Week.
Two other films that received significant coverage this week included Michael Winterbottom and Russell Brand's THE EMPEROR'S NEW CLOTHES, which was reviewed in The New York Times by Stephen Holden, The Los Angeles Times by Martin Tsai, and The Talkhouse by Bruce LaBruce, and Jennifer Peedom's SHERPA, which was covered abroad by The Guardian's Henry Barnes (via review and feature), Little White Lies' Adam Woodward, Huck Magazine's Adam White and the BFI's Georgia Korossi, who spoke with the filmmaker about her experience.
Other theatrical doc coverage posted this week includes Tom Roston's piece on ALMOST THERE at the POV Blog, Martin Tsai's review of (T)ERROR and Kenneth Turan's brief rave of INGRID BERGMAN – IN HER OWN WORDS, both published in The Los Angeles Times, and Joe Leydon's review of SOUND OF REDEMPTION THE FRANK MORGAN STORY in Variety, not to mention a pair of pieces on VERY SEMI-SERIOUS by Steven Zeitchik of The Los Angeles Times and Variety's Peter Bart.
If you are looking for a few non-fiction shorts to fill your time and inform you about the happenings in the world right now, look no further than Brett Weiner's new Op-Doc, VERBATIM: FOLLOW THE CHICKEN, and Field of Vision's 4-part series #ThisIsACoup by director Theopi Skarlatos and producer Paul Mason. Mason wrote at length about the project at The Nation, while an in-depth interview between Skarlatos and Eric Hynes can be read at the Field of Vision page. Field of Vision also published a new short titled HOMELAND IS NOT A SERIES by Arabian Street Artists Heba Y. Amin, Caram Kapp, Don Karl aka Stone, in anticipation of HOMELAND, the television series', finale.
And to cap off this week's rundown, I wanted to share a piece I wrote for Influence Film Club as a reminder that the documentary form is not a genre, but a mode of filmmaking that encompasses something much more. As always, if you have any tips or recommendations for the Memo, please contact me via email here, or on Twitter, @Rectangular_Eye. It is likely I'll be taking next Monday off, so until my return, happy holidays!