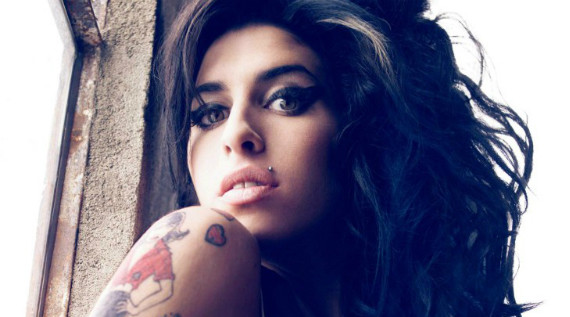 What could be more patriotic than hunkering down in a dark theater for some good, old fashioned non-fiction cinema? According to Tom Brueggemann at Indiewire, this past weekend a substantial amount of American's did just that, with Asif Kapadia's AMY taking in a commendable $222,105 on just 6 screens, with plenty more to follow. Meanwhile, in the United Kingdom the film broke records as the highest grossing non-fiction film on its opening weekend according to Catherine Shoard in The Guardian. Having premiered to rave reviews at Cannes, the film continues to garner critical acclaim. In just the past few days AMY was selected by Jonathan Romney as Film Comment's Film of the Week, Jane Giles featured the film in Sight & Sound, Joe Coscarelli wrote at length about it in The New York Times and David Edelstein said Kapadia's portrait was "alternately thrilling and devastating" at Vulture. The praise continues from Flavorwire's Jillian Mapes, The Guardian's Mark Kermode, RogerEbert.com's Susan Wloszczyna and Little White Lies' Sophie Monks Kaufman, while Steven Hyden at Grantland and Luke Goodsell at Movie Mezzanine deepened the critical conversation with their own substantial reflections on the film.
In addition to reviewing AMY for The Dissolve, Keith Phipps also interviewed by producer James Gay-Rees and director Asif Kapadia at length about how they came to know of their future subject and how they got involved in trying to tell her tragic story. Similarly, Mekado Murphy interviewed Kapadia for The New York Times, and their conversation is paired with a trailer overdubbed with a brief audio commentary by Kapadia himself. Manori Ravindran also have the pleasure of speaking with Gay-Rees about AMY at Realscreen.
While AMY continues on its accent to theatrical success, bits of film festival coverage has filtered through the cracks. Film Comment ran Nicolas Rapold's report from this year's True/False Fest, while Basil Tsiokos posted a preview of the non-fiction offerings at Czech Republic's Karlovy Vary International Film Festival at What (not) To Doc. At Realscreen, Kevin Ritchie reported that IDFA has announced that Errol Morris would be curating the festival's Top 10 program, while the filmmaker himself would receive a complete retrospective at this year's edition of the massive non-fiction festival.
Another film attracting some theatrical attention this week is Matthew Heineman's CARTEL LAND, which was selected by our own Raphaela Neihausen and Thom Powers as WNYC's Documentary of the Week! The Sundance debuted doc also was reviewed by Scott Tobias at The Dissolve, Dan Schindel at Movie Mezzanine, Godfrey Cheshire at RogerEbert.com, Variety's Ted Johnson and Katie Walsh in The Playlist.
After last year's release of the Criterion Collection's exquisite box set of the majority of Les Blank's oeuvre, it is with great thanks that Janus Films has found, restored and rereleased Blank's long thought last A POEM IS A NAKED PERSON which briefly captures the life of Leon Russell on celluloid. Angelo Muredda wrote at length about the film for at Movie Mezzanine, while A.O. Scott covered it in The New York Times. Max Goldberg also reviewed the doc for Keyframe, as did Noel Murray at The Dissolve, Joshua Brunsting for Criterion Cast, Nonfics' Daniel Walber, Andrew Barker in Variety and even Gary Hustwit, director of HELVETICA, jotted down some thoughts about Blank's rediscovered film at The Talkhouse.
Debra Granik's STRAY DOG also received some critical love this past weekend, garnering press from the likes of Tasha Robinson at The Dissolve, Nonfics' Dan Schindel, Mark Dujsik at RogerEbert.com, The Playlist's Katie Walsh and I for IONCINEMA. Jared Mobarak spoke with the filmmaker for The Film Stage, while Jamie Maleszka did the same for Nonfics. Chuck Workman's Cannes premiered MAGICIAN: THE ASTONISHING LIFE AND WORK OF ORSON WELLES hit UK theaters, receiving coverage from Georgia Korossi at BFI, The Guardian thanks to Mark Kermode, Geoffrey Macnab in The Independent and David Jenkins at Little White Lies. Donna K. also reviewed THE RUSSIAN WOODPECKER over at Hammer to Nail, and Antonio Santini and Dan Sickles' MALA MALA was covered by Jen Chaney at The Dissolve and Daniel Walber at Nonfics.
A healthy serving of doc development news hit the web this past week, including my What's Up Doc? monthly feature at IONCINEMA in which I track my top 100 docs in the making. Leah Warshawski, who appears on my list with her project BIG SONIA, wrote a piece titled "10 Things I Learned From Self-Distributing My First Documentary Film" for Indiewire. Similarly, Katie Galloway, who is currently working on a project titled THE RETURN, posted advice at Medium about adopting fictional stories into non-fictional form. The San Francisco Film Society posted interviews with Pete Nicks about his in-the-making doc THE OAKLAND POLICE PROJECT, as well as Kaspar Astrup Schröder on his own doc in development, LEARNING TO FORGET.
It was announced this week via Paula Bernstein at Indiewire that Impact Partners will be launching an Emerging Documentary Producers Fellowship at this year's edition of DOC NYC, while all film submissions for the festival itself are due next Friday, July 17th. The National Film Board of Canada posted a lengthy piece about the expansion of the program, while the deadline for this year's submission is today! Doc filmmakers may apply here. Lastly, the 31st annual IDA Documentary Awards are now accepting entries.
I'll round out this week's edition of the Monday Memo with a trio of excellent reads, two of which wrangle with Steve James' doc classic, HOOP DREAMS. At Keyframe, Kevin B. Lee posted a new written feature and visual essay titled ONE-ON-ONE, while Robert Greene's essay on the film originally included in the recent Criterion release was rerun there as well. And lastly, Adam Cook's in-depth interview with Kent Jones at Keyframe about his new feature HITCHCOCK/TRUFFAUT is a must.
Until next week, if you have any tips or recommendations for the Memo, please contact me via email here, or on Twitter, @Rectangular_Eye. I look forward to hearing from you!