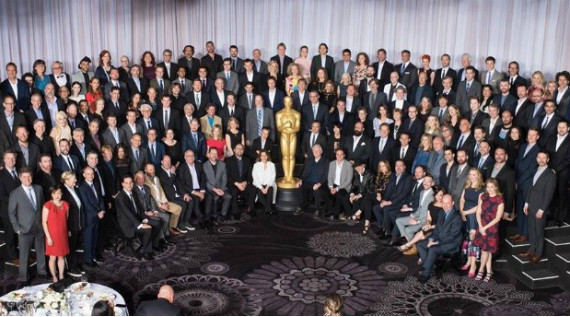 In a week relatively quiet on the doc front, the topic of diversity and gender inequality within the filmmaking community as a whole once again reared its head. A pair of pieces found in Filmmaker Magazine via Esther B. Robinson (The Data Says, "We Have a Problem") and doc filmmaker Katy Chevigny (Can She Pull It Off?) led the charge. Chevingny writes, "Just last month, in January, 2016, the Center for the Study of Women in Film and Television at San Diego State University released a new study that showed women made up a mere 9% of directors of films in 2015. Seeing that statistic — 9% — made me wonder anew: why haven't women become more prominent among the ranks of directors? And more puzzling still, even if the numbers are low, why are they not growing? The numbers are staying put, hovering between 7% and 11% each year since 1998, according to the Center's review of the top 250 top-grossing films."
Adding fuel to the conversation, Variety publishd a piece by Addie Morfoot examining gender bias in the documentary world, while Anne Thompson celebrated the female-centric activism that took place at this year's Sundance Film Festival at indieWIRE. In the same vein, Kate Erbland posted a piece titled 7 Films to Catch Up On at This Year's Female-Powered Athena Film Festival, naming STF alum TRAPPED among the listed. And on a related note, indieWIRE is also currently a news editor for its regular Women and Hollywood column.
This coming week is somewhat special for us here at Stranger Than Fiction, as we have two screenings on our docket. Tomorrow we host directors Jon Nealon and Jenny Raskin, along with video artist Skip Blumberg for a screening of their film HERE COME THE VIDEOFREEX, which charts the path of the titular underground video collective from their assignment on the counterculture beat for CBS News to their rupture with the network and creation of a radical pirate television station in upstate New York. Tickets for this screening are stil available here. On Thursday evening, Thom Powers will play host to the already sold out event, THE MAKING OF "MAKING A MURDERER", a special 90-minute interview with MAKING A MURDERER directors Laura Ricciardi and Moira Demos, accompanied by clips, on how the project came into being. They'll discuss the ten year process of reporting, editing and releasing the series.
After having debuted as the opening night film of this year's Berlinale, Gianfranco Rosi's FIRE AT SEA, about the refugee crisis on the island of Lampedusa, won the Golden Bear for Best Film according to Ed Meza at Variety. Geoff Andrew gave a first look at the picture at Sight & Sound, while Daniel Kasman included the film in his dispatches from Berlin at MUBI's Notebook, along with Wang Bing's TA'ANG and Tatiana Huezo's TEMPESTAD. Sara Jordeno's KIKI, which Fionnuala Halligan of Screen Daily called "Sad, proud, loud, funny, energetic and affecting," took home the Teddy for Best Documentary. Keeping up his incredible pace, Alex Gibney also debuted his latest in Berlin, ZERO DAYS. The film was received positively by indieWIRE's Jessica Kiang, Variety's Peter Debruge, Peter Bradshaw of The Guardian and Nicholas Barber at the BBC.
The Film Society of Lincoln Center and The Museum of Modern Art have announced the lineup for the 45th New Directors/New Films, which will take place March 16-27. Having been previewed by Basil Tsiokos at What (not) To Doc and Daniel Walber at Nonfics, MOMA's Documentary Fortnight continues through the end of the month. Tsiokos also wrote overviews of the films at the upcoming Big Sky Documentary Film Festival and Croatia's ZagrebDox. Looking back at Sundance at Film Comment, Eric Hynes surveyed the festival's doc offerings, noting that "2016 was the most diverse survey, formally and stylistically speaking, that I've encountered in the decade-plus that I've attended the festival." Likewise in Artforum, Amy Taubin summed up her experience of the increasing quality of VR projects, many which were non-fiction.
Looking towards the nearing Oscars, our own Thom Powers and Raphaela Neihausen featured the doc short subject nominees in WNYC's Documentary of the Week segment, just as Don Steinberg did in The Hollywood Reporter. Evgeny Afineevsky has written a piece for indieWIRE outlining how he managed to capture history in the making for Oscar nominee WINTER ON FIRE, while Matthew Heineman, won a George Polk Award for his Oscar nominated doc CARTEL LAND.
Other coverage of docs in the press this week included a fantastic feature on legal murkiness of (T)ERROR in The New York Times Magazine thanks to Mattathias Schwartz, Mark Olsen's interview with filmmaker Robert Greene in The Los Angeles Times, and Katrina vanden Heuvel's review of WHERE TO INVADE NEXT in The Washington Post. Jessica Edwards' MAVIS! gleaned a pair of reviews from Peter Bradshaw at The Guardian and Elisa Adams in Little White Lies, and Douglas McGrath's BECOMING MIKE NICHOLS did the same via Brian Tallerico of RogerEbert.com and The Guardian's Charles Kaiser.
Filmmakers looking for a little help, you only have one more week to apply for IFP's Independent Filmmaker Labs. Those living in LA and looking for a little inspiration might want to consider attending the International Documentary Association's upcoming masterclass with doc filmmaker Ross McElwee on Saturday, March 12th. And, if you are currently wrapping up a doc production, DOC NYC's early bird submission deadline is March 4th. And at Vice's Motherboard, Gordon Quinn and Courtney Duffy wrote a fascinating piece on the Digital Millennium Copyright Act (DMCA) and how it has effected them as doc filmmakers.
A pair of worthy doc features has hit the net this week for free streaming, including Stanley Nelson Jr.'s THE BLACK PANTHERS: VANGUARD OF THE REVOLUTION, via Independent Lens, and the 1974 Kartemquin Films production VIVA LA CAUSA. In addition, Op-Docs published an interesting new short by Sarah Klein and Tom Mason titled HOW TO WIN AN ELECTION.
A perfect sign off this week seems to me to be Sean Axmaker's loving overview of the work of Robert Flaherty at Fandor's Keyframe. Until next week, if you have any tips or recommendations for the Memo, please contact me via email here, or on Twitter, @Rectangular_Eye.