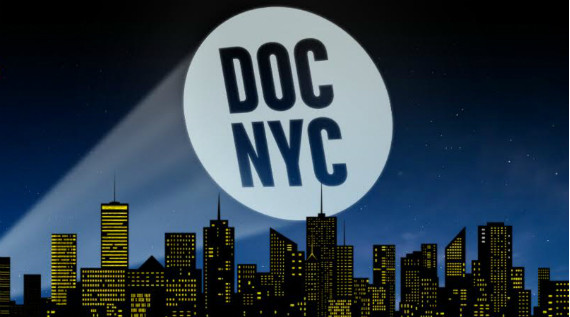 While the New York Film Festival rages on with the upcoming premiere of Paul Thomas Anderson's JUNUN this coming week and Jacob Bernstein's EVERYTHING IS COPY (which was reviewed by Steven Zeitchik in The Los Angeles Times and by Variety's Nick Schager) this past week, DOC NYC is gearing up for their own festivities, announcing a rebrand of their industry conference with DOC NYC PRO. The eight-day series of talks, panels, masterclasses, and professional development workshops was reported on by Realscreen's Kevin Ritchie. Speakers already scheduled to present at the already stacked event include Sheila Nevins, Jon Alpert, Abigail Disney, Kirby Dick, Justine Nagan, Simon Kilmurry and Dan Cogan.
Stephen Holden wrote a broad overview of the New York Film Festival for The New York Times, making special mention of Michael Moore's TIFF-premiered WHERE TO INVADE NEXT, which was just picked up for theatrical release this past week by ex-Radius heads Tom Quinn and Jason Janego and Alamo Drafthouse founder Tim League's still unnamed new distribution company. Jeremy Kay of Screen Daily broke the news, with subsequent reports coming in from Variety's Dave McNary and Brent Lang, as well as from Deadline's Patrick Hipes. The Guardian's Nigel M. Smith quoted Moore speaking at the press conference of his new film and why he didn't invade the UK for ideas as saying, "We don't have much to learn from the UK…The UK has in recent years started to look too much like us." Eric Hynes reviewed Moore's latest project (along with other TIFF Docs) for Film Comment, aptly observing that "Every interview is a setup, every scene is "a scene," and his every appearance contradictorily signifies both Liberal Crusader and Ugly American. We're invited to see these layers of artifice, and encouraged to feel and think more deeply because, not in spite, of them." In anticipation of the film, The Close-Up podcast released an in-depth conversation with the filmmaker recorded back in 2012.
As festival season rolls on, Oscar debate begins to heat up, as Peter Knegt's pair of pieces in indieWIRE on the likeliest doc candidates to go up for Oscars later this year. He pegs AMY as the front runner, but only head of THE HUNTING GROUND, CARTEL LAND, THE LOOK OF SILENCE and THE WOLFPACK by a smidge.
Last week here at Stranger Than Fiction we kicked of our Fall 2015 season with director Evgeny Afineevsky's WINTER ON FIRE: UKRAINE'S FIGHT FOR FREEDOM. If you missed the screening, you can now watch the post-screening conversation between Thom Powers and the filmmaker, or read Jeffrey Fleishman's rave in The Los Angeles Times. We also had a late addition to our Fall schedule, slotting in director Jennifer Peedom's Mount Everest climbing doc SHERPA on on November 5th. The film was, in addition to being selected as WNYC's Documentary of the Week, glowingly reviewed by Sheri Linden in The Los Angeles Times and Ken Jaworowski in The New York Times. Tomorrow we welcome directors Ellen Spiro and Phil Donahue with their intimate and transformational new feature, BODY OF WAR! Screening tickets and season passes are still available for purchase here!
Charlotte Cook, AJ Schnack, Laura Poitras and a whole host of FIELD OF VISION directors attended the world premiere of their shorts program at the New York Film Festival last week prior to the online release of their first two shorts Iva Radivojevic's NOTES FROM THE BORDER and Dustin Guy Defa's GOD IS AN ARTIST. For each film, the documentary outfit has posted an extensive interview with filmmaker and film critic Eric Hynes (here and here, respectively). Making the biggest impact at NYFF by far, FIELD OF VISION found themselves covered by Steven Zeitchik in The Los Angeles Times, indieWIRE's Emily Buder, Christopher Campbell at Film School Rejects, Nigel M. Smith of The Guardian, Filmmaker Magazine's Sarah Salovaara and Daniel Walber at Nonfics, each of whom raved about the project and look forward to the 40-50 new shorts to come over the coming year.
Theatrically, the doc making the most noise this week was Davis Guggenheim's HE NAMED ME MALALA, which went into limited release on Friday. The Los Angeles Times ran a pair of pieces on the film, Rebecca Keegan's review calling it a "moving portrait", and Sonali Kohli's feature on the response of local students to the film. The Washington Post published Sandy Cohen's piece on the Guggenheim's reaction to lensing the project, while Christy Lemire posted a rather lukewarm review of the film at RogerEbert.com, writing "you wish Guggenheim had dug even deeper to find out what really makes her tick." Jamie Maleszka, on the other hand, has posted an interview with the filmmaker at Nonfics, leading in with nothing but revealing praise – "Guggenheim levels an idealist's gaze and an unwavering curiosity on often the most gray of ethical and political quandaries. And he does so with true affection for his subjects."
Stanley Nelson's THE BLACK PANTHERS: VANGUARD OF THE REVOLUTION acted as the catalyst for conversation in Salamishah Tillet's article on the film's depiction of feminism and Cara Buckley's comparative piece which also draws on Scott Christopherson and Brad Barber's PEACE OFFICER, both pieces published in The New York Times. Michael O'Sullivan also wrote about PEACE OFFICER for The Washington Post. Similarly, Buckley returned to compare Louie Psihoyos' RACING EXTINCTION with Avi Lewis' THIS CHANGES EVERYTHING as both films attempt to make a greater impact on the world through social change. Lewis' feature was additionally reviewed by Variety's Joe Leydon.
Other doc reviews this week included Charlotte Keeys' endorsement of Eric Baudelaire's LETTERS TO MAX and Sophie Monks Kaufman's assessment of Colin Rothbart's DRESSED AS A GIRL at Little White Lies, Michael O'Sullivan's piece on Amy Berg's PROPHET'S PREY in The Washington Post, Scott Tobias' post on Anthony Wonke's BEING AP at Variety, as well as A.O. Scott's review of Ondi Timoner's BRAND: A SECOND COMING and Nicolas Rapold's warming regarding piece on Tim Grabham and Jasper Sharp's THE CREEPING GARDEN in The New York Times.
Down the pipeline there are always countless new docs in develepment, two of which received sneak peaks in the press this week. The New York Times' Mike Forsythe previewed Rupert Russell's documentary on the democratic Hong Kong Umbrella Movement, FREEDOM FOR THE WOLF, while Sergio wrote at length about yet another feature on Nina Simone for indieWIRE in Jeff Lieberman's THE AMAZING NINA SIMONE. In the same vein, Scott Macaulay took the time to speak with filmmakers immersed in IFP Film Week 2015 about their experiences, many of whom specifically took part in the Spotlight on Documentaries project forum, including Doug Block, Terence Nance, Nancy Schwartzman and many others.
I'll leave you this week with a trio of lists and a call for support. indieWIRE published "7 Great Documentaries About Life on the Internet", Anne Thompson listed Errol Morris' Top 10 program for November's International Documentary Film Festival Amsterdam and Paula Bernstein posted a list of 20 documentary filmmakers to follow on Twitter. And while those are all well and good, Christopher Campbell, founder of Nonfics, has posted a call for support on the site in an attempt to move away from paid ads and better the content being published by the outlet. You can now pledge your support, PBS style, via their newly launched Patreon page.
As usual, if you have any tips or recommendations for the Memo, please contact me via email here, or on Twitter, @Rectangular_Eye. I look forward to hearing from you!