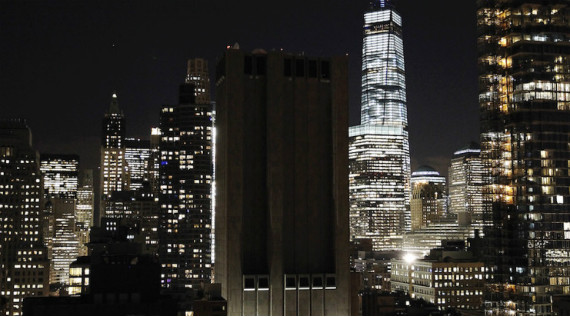 This past week, the folks over at The Guardian joined the growing chorus of critics proclaiming that we are currently in a golden age of documentaries with a solid list of examples to argue the point and filmmakers like Laura Poitras and Dawn Porter admitting that some of their favorites are fairly new films themselves. Even doc director Adam Curtis contributed his own spin on the conversation, though claiming that he believes SOUTH PARK to be the best ongoing documentary series. Though not directly, Gregg Kilday and Stephen Galloway's gathering of Ezra Edelman, Werner Herzog, Kirsten Johnson, Josh Kriegman, Raoul Peck and Roger Ross Williams for an extensive Hollywood Reporter round-table discussion seems to only help prove the point. Portions of this discussion can be read and partially watched at the link, but the full conversation is set to air on SundanceTV  on February 19, 2017. Likewise, Chris O'Falt's piece at IndieWire on how recent docs like 13TH, TOWER, I AM NOT YOUR NEGRO and more re-purpose archival footage for artistic means and Diane Haithman's short take on a trio of recent docs that take aim at the gun debate at Hollywood Reporter both continue to add fuel to this raging golden age fire.
Legendary doc helmer Frederick Wiseman was one of four diverse recipients of an Honorary Oscar from the Academy of Motion Picture Arts and Sciences' Governers Awards last week. As noted by Josh Rottenberg in The Los Angeles Times, "Wiseman was honored for his work illuminating various social, cultural and government institutions in renowned documentary films like TITICUT FOLLIES, HIGH SCHOOL, LAW AND ORDER, PUBLIC HOUSING and LA DANSE." In Wiseman's acceptance speech, which can be viewed in its entirety here, along with Rory Kennedy, Ben Kingsley and Don Cheadle's loving introductions, he stated matter of factly, "I think it's as important to document kindness, civility and generosity of spirit as it is to show cruelty, banality and indifference."
RIDM closed out last night after giving their Grand Prize for Best International Feature to Shengze Zhu for ANOTHER YEAR, while the Grand Prize for Best Canadian feature went to Carlo Guillermo Proto for RESURRECTING HASSAN and the People's Choice Award was bestowed upon Francis Legault for LE GOUT D'UN PAYS. Likewise, DOC NYC wrapped up a few days earlier, Mike Day's THE ISLANDS AND THE WHALES winning the Grand Jury Prize in the Viewfinders Competition, while Adam Irving's OFF THE RAILS won the Grand Jury Prize in the Metropolis Competition. Darah Hansen reported on the DOC NYC awards ceremony for Realscreen. A handful of reviews appeared in the wake of DOC NYC, including Michael J. Agovino's take on the closing night film CHASING TRANE: THE JOHN COLTRANE DOCUMENTARY at Village Voice, Jared Mobarak take on THE LURE at The Film Stage, Andrew Crump's Playlist review of THE BEEKEEPER AND HIS SON, as well as Lora Grillo's dual rave of THE PEARL and SUPERGIRL.
With the end of DOC NYC 2016 also came the end of this year's DOC NYC PRO conference. For Filmmaker Magazine, Audrey Ewell listed five takeaways she gleaned from doc editors from a morning manifesto, while at the same time Sophia Harvey reported on a panel of the best gear setups currently in use by doc filmmakers for No Film School. A great many of these panels and manifestos are currently available to stream via DOC NYC's YouTube channel.
As a great many did, it was with a heavy heart that I read Jon Pareles' New York Times obituary of the great Sharon Jones, the soulful front-woman of the Dap-Kings and resilient star of Barbara Kopple's MISS SHARON JONES, whom succumbed to pancreatic cancer on Friday at the age of 60. MISS SHARON JONES had the great honor of being featured at DOC NYC two years in a row, opening last year's festival and having been selected for this year's short list. You can listen to Barbara Kopple talk about working with Sharon Jones on episode 17 of Pure Nonfiction.
In more positive news, Laura Poitras and Henrik Moltke dropped a surprise new short doc called PROJECT X in tandem with The Intercept's revelatory story on the NSA's hidden in plain sight spy hub, Titanpoint. The film is currently screening as a surprise short before select docs at IFC Center prior to its online release. Though it serves as a sort of teaser for the extensive written report, Amy Taubin notes in her Artforum review of the short, "Even at a compressed ten minutes, the anxiety-producing visuals and rhythms of PROJECT X bring to mind two great spy thrillers of the 1970s, Alan J. Pakula's ALL THE PRESIDENT'S MEN (1976) and Sydney Pollack's THREE DAYS OF THE CONDOR (1975), both extraordinary for being specific to their time and prescient about the present moment." Jim Dwyer of The New York Times and Kate Erbland of IndieWire both logged additional takes on the news.
It was a relatively quite week for theatrical releases, with OFF THE RAILS, hot off of its DOC NYC Metropolis comp win, being selected as WNYC's Doc of the Week for its one-week engagement at Metrograph. Neil Genzlinger named it a NYT Critics' Pick, while Jen Chung featured the film over at Gothamist. Other films that gleaned some attention this week included UNCLE HOWARD (via Tom Roston at Doc Soup), BLOOD ON THE MOUNTAIN (via Nick Allen at RogerEbert.com), GIMME DANGER (thanks to Josh Slater-Williams at Little White Lies), PETER AND THE FARM (via Joshua Brunsting at Criterion Cast) and RAISING BERTIE (thank to Brian Tallerico at RogerEbert.com). Lonny Price's BEST WORST THING THAT EVER COULD HAVE HAPPENED also was selected at a NYT Critics' Pick by Stephen Holden, while Price himself turned up in a Q&A from NYFF posted over at FilmLinc by Mary Kate O'Toole. And lastly, director Sergei Loznitsa took part in an interview with Clara Miranda Scherffig for Fandor's Keyframe discussing his latest, AUSTERLITZ.
On the small screen, Discovery's space-aged docudrama MARS was the top pick this week. Though it received lukewarm press from Neil Genzlinger in the New York Times and Robert Lloyd of the Los Angeles Times, Robert Z. Pearlman published a lavish piece on the miniseries at Space.com. Tom Roston reports at Doc Soup that DirecTV has debuted a 30-FOR-30 clone series in RELIGION OF SPORTS, interviewing the series' executive producer, and director of several episodes, Gotham Chopra. And finally, Peter Keough of The Boston Globe celebrated Turner Classics' month long special series of great documentaries, hosted by Alec Baldwin.
I leave you this week with IndieWire's critic's poll on "How Filmmakers And Film Critics Need To Adapt In the Age Of President Trump." It's a much needed little read. As always, if you have any tips or recommendations for the Memo, please contact me via email here, or on Twitter, @Rectangular_Eye.