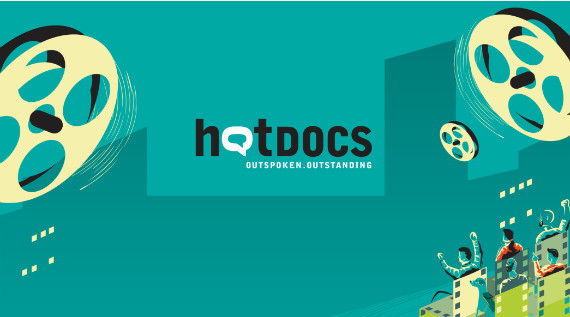 On Friday, the lengthy list of Hot Docs 2016 Festival award winners were announced. Among the winners was Aslaug Holm's BROTHERS, which was named the Best International Feature, while Mike Day won the Emerging International Filmmaker Award for THE ISLANDS AND THE WHALES and Nettie Wild's KONELĪNE: OUR LAND BEAUTIFUL took home the Best Canadian Feature Documentary Award. Getting at the heart of the festival, CBC's Peter Knegt asked six Hot Docs filmmakers why documentaries matter. On a similar wavelength, Katie Couric proclaimed in an article by Jeffrey Fleishman in The Los Angeles Times that she now sees documentaries are the new journalism.
Plenty of coverage for films that screened at Hot Docs came through the wire over the past week, including a piece celebrating the festival's Made in Australia program by Monica Tan in The Guardian, and a pair of reviews from Jason Gorber in POV Magazine for DE PALMA and PICKLE, as well as an interview with Joe Berlinger on his latest project, TONY ROBBINS: I AM NOT YOUR GURU. POV also published Jonas Jacobs' feature on director Min Sook Lee whose MIGRANT DREAMS screened in Toronto. At Realscreen, Kevin Ritchie interviewed Brendan J. Byrne about his film BOBBY SANDS: 66 DAYS, while Daniele Alcinii spoke with Deborah S. Esquenazi about her film SOUTHWEST OF SALEM. New York Magazine's Will Leitch called the ESPN series O.J.: MADE IN AMERICA a masterpiece and I had similar thoughts about the Ross Brothers' CONTEMPORARY COLOR at IONCINEMA.com. Running parallel to the main festival, the Hot Docs Forum saw filmmakers pitching projects throughout the week. Filmmaker Magazine's Whitney Mallett reported on the forum, as did Realscreen's Manori Ravindran, in two parts.
Hot Docs may have been the hot festival of the week, but it wasn't the only one found its way in the news. Amy Taubin had a wrap up of Tribeca in Film Comment, Daniel Walber posted a dispatch from the New York African Film Festival at Nonfics, Realscreen's Barry Walsh reported that AFI Docs has named Werner Herzog as their 2016 Charles Guggenheim Symposium Honoree this year, and Basil Tsiokos wrote a preview of DOK.fest Munich at What (not) To Doc.
Here at Stranger Than Fiction, we're prepping for tomorrow's screening of Rob Cannan and Ross Adam's THE LOVERS AND THE DESPOT at IFC Center, co-presented with the New York Film Academy. The screening will be followed by a special Q&A with Robert Boynton, author of "The Invitation-Only Zone". Tickets are still available here.
In quite a surprising news break from Nellie Andreeva at Deadline, Hulu has announced the launch of Hulu Documentary Films, a new production arm that will make its debut this fall with Ron Howard's THE BEATLES: EIGHT DAYS A WEEK. Vulture's E. Alex Jung and The Los Angeles Times' Meredith Blake also reported on the story. In related news, Bree Rody-Mantha published a piece at Realscreen that outlines a new partnership between Vice Media and ESPN in which "Vice Sports and ESPN Films will create a number of original, short-form series to run across both companies' properties."
Looking forward to the warmth of summer and the many releases in the pipeline coming in the months ahead, Kate Erbland previewed some summer releases for indieWIRE, noting Sundance favorites HOLY HELL and WEINER, as well as wrote a loving review of the TIFF title DARK HORSE. Over at Film Comment, Eric Hynes reviewed WEINER and ruminated on the topic of scripting documentaries in his excellent Make It Real monthly column. Looking at the current retrospective of Québec Direct Cinema at the Anthology Film Archives, Nick Pinkerton had a lengthy piece published in Artforum. In The New York Times, Ben Kenigsberg covered DOC NYC alumnus MAD TIGER, while Neil Genzlinger selected the STAR WARS behind the scenes doc ELSETREE 1976 as a NYT Critics' Pick. Josh Rottenberg of The Los Angeles Times also warmly regarded the film, while Kenneth Turan kindly reviewed RABIN IN HIS OWN WORDS. Looking back at Frederick Wiseman's immense career, Christopher Small had a lengthy conversation with the veteran filmmaker at Fandor's Keyframe. Lastly, Film Comment's Nicolas Rapold interviewed Roberto Minervini about his unflinching THE OTHER SIDE.
Those looking for new docs to watch would do well to check out Amy Berg's JANIS JOPLIN: LITTLE GIRL BLUE, currently streaming for free at PBS's American Masters. PBS is also celebrating Pacific Heritage Month by showing films like JIRO DREAMS OF SUSHI, CUTIE AND THE BOXER and THE ACT OF KILLING throughout the month. While it was screening alongside Dawn Porter's TRAPPED at Hot Docs this past week, Field of Vision posted Margaret Brown's THE BLACK BELT, which outlines racial voter discrimination in the US, online and published an interview with the filmmaker by Eric Hynes. Meanwhile, Op-Docs not only released Yuval Hameiri's I THINK THIS IS THE CLOSEST TO HOW THE FOOTAGE LOOKED, but announced that they'd be teaming with Hot Docs and Blue Ice "to commission a series of documentary shorts from African filmmakers to be showcased on the newspaper's Emmy-awarded digital forum."
Sadly, I must end on a tragic note this week, as Emmy- and Peabody Award-winning documentary filmmaker Nicolas Noxon has passed away at the age of 79. Akiva Gottlieb published a brief tribute to the man over at the International Documentary Association's homepage, while Daniel E. Slotnik wrote a piece on Noxon in The New York Times.
Until next week, if you have any tips or recommendations for the Memo, please contact me via email here, or on Twitter, @Rectangular_Eye.