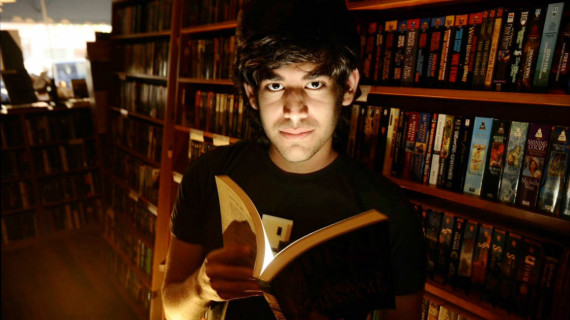 This week Hot Docs announced its lineup for 2014, with the Brian Knappenberger-helmed THE INTERNET'S OWN BOY: THE STORY OF AARON SWARTZ set to open the festival. At The Hollywood Reporter, Etan Vlessing reported on Hot Docs' lineup, as did Adam Benzine of Realscreen and the Indiewire site.
The Ekathimerini news site reported on the awards handed out at this year's Thessaloniki Documentary Festival, with ON THE EDGE OF THE WORLD from director Claus Drexel taking home the top foreign feature award. At his What (Not) to Doc blog, Basil Tsiokos provided an overview of the docs screening at this year's festival.
Writing for the New York Times, John Anderson profiled FINDING VIVIAN MAIER from directors John Maloof and Charlie Siskel. At Nonfics.com Dan Schindel penned a review of the film, giving it four stars.
In a piece for Sight and Sound Magazine's website, filmmaker and writer Robert Greene became the latest to weigh in on the debate over Joshua Oppenheimer's THE ACT OF KILLING and the work being shown at the True/False Film Fest. Writing for the same publication, Nick Pinkerton recapped his experience at T/F.
Michael Shapiro of the Press Democrat profiled the Sebastopol Documentary Film Festival, which opened on March 27.
Back at Realscreen, Adam Benzine shared a first look at DANGEROUS ACTS, the film by director Madeleine Sackler that follows the members of the Belarus Free Theater group.
In distro news, Manori Ravindran of Realscreen reported that Sundance award-winner RICH HILL from director Tracy Droz Tragos and Andrew Droz Palermo had reached a deal with PBS series Independent Lens and The Orchard for release in the U.S. Deadline also reported on the RICH HILL distribution deal.  Ravindran also reported that ADVANCED STYLE from directors Lina Pliopyte and Ari Seth Cohen would get distro in the U.K. courtesy of Dogwoof. Realscreen colleague Adam Benzine wrote that television show American Experience would give the Rory Kennedy doc LAST DAYS IN VIETNAM a theatrical release prior to its release on television.
Icarus Films announced that it had acquired North American rights for TOSCA'S KISS from director Daniel Schmid. Dave McNary of Variety reported that IVORY TOWER from director Andrew Tossi would get a theatrical release in the U.S. via Samuel Goldwyn Films. At Ion Cinema, Eric Lavallee reported that LAMBERT & STAMP had been acquired by Sony Picture Classics.
Back at Realscreen, Kevin Ritchie had the news that Jason Osder and Joshua Oppenheimer were heading projects among those selected to receive grants from the Sundance Institute Documentary Film program.
At his What (Not) to Doc blog, Basil Tsiokos provided a documentary overview of the Cleveland International Film Festival.
Realscreen's Kevin Ritchie had coverage of the Tribeca Talks related to docs going down this year.
In a piece for the Los Angeles Times, Hugo Martin reported that SeaWorld had not seemed to suffer financially, despite all of the press surrounding the film BLACKFISH. And in yet another piece, BLACKFISH director Gabriela Cowperthwaite shared with writer Amy Kaufman her feeling of ongoing responsibility to serve as the steward of her film.
Over at No Film School, Robert Hardy wrote on the effect that Google Glass could have on the practice of documentary filmmaking.
Adam Benzine of Realscreen reported that an arbitrator had ruled in favor of the filmmakers of THE QUEEN OF VERSAILLES, who had been sued by their subjects for defamation.
Realscreen colleague Barry Walsh interviewed Yves Jeaneau, the organizer behind the Asian Side of the Doc conference.
The UnionDocs Center for Documentary Art put out a call this week for applications to its filmmakers collaborative; you can find out information about the collaboration and apply here.
At Nonfics.com, Christopher Campbell shared a list of noteworthy docs hitting theaters this week. Campbell also had a post on the docs topping his home picks list.
John Monaghan of the Detroit Free Press talked with filmmaker Gary Gilson about his 1968 film about the fallout from the Detroit riots, DO YOU THINK A JOB IS THE ANSWER?.
In a piece for Indiewire, Max O'Connell interviewed JODOROWSKY'S DUNE director Frank Pavitch. Jordan M. Smith of Ion Cinema had his own talk with Pavitch, and also reviewed the film in a separate post. Smith also penned a review of the film DAMNATION from directors Ben Knight and Travis Rummel.
At Vice, filmmaker Steve Hoover detailed an experience in which he was attacked by a mob in the Ukraine while working on a film.
Writing for The Hollywood Reporter, Gary Baum reported that the Beverly Hills Police Department would release information on a murder investigation due to a request from doc filmmaker Ryan Katzenbach.
Scott Tobias of The Dissolve wrote a review of Rithy Panh's new film, THE MISSING PICTURE, which deals with the filmmaker's experiences in Cambodia under the rule of the Khmer Rouge. At the New York Times, Manohla Dargis also penned a review of THE MISSING PICTURE.
Writing for the DocGeeks blog, Emily Wright reviewed the new Errol Morris film about Donald Rumsfeld, THE UNKNOWN KNOWN. Writing for the Telegraph, Adam Higgenbotham spoke with Morris in a piece that explored the making of the film.
In a separate post at DocGeeks, Wright also provided an overview of the BFI Flare: London LGBT Film Festival.
In a piece for the Toronto Independent Film Examiner, David Voight interviewed filmmaker Steve James about his new film LIFE ITSELF. James was also interviewed by Peter Howell of the Toronto Star.
In the latest Bring Your Own Doc show on YouTube, host Ondi Timoner interviewed Margaret Brown, director of SXSW award-winning film THE GREAT INVISIBLE
At Moving Image Source, critic Eric Hynes issued a report on this year's True/False Film Fest.
Writing for Indiewire, John Andersen and Beth Hanna shared a list of the top 12 documentary film festivals in the world (along with the Full Frame lineup for this year).
In honor of his 200th Filmwax Radio podcast, interviewer Adam Schartoff landed doc filmmaking luminary Barbara Kopple for a conversation.
In Canada's POV magazine, Mira Burt-Wintonick, the daughter of the late filmmaker Peter Wintonick, remembered her father in a tribute.
Non-profit org Film Independent this week announced its documentary lab fellows for 2014, which provides a seven-week program for filmmakers with a project in post.
Over at Indiewire, Anthony Kaufman wrote a piece on the possible reasons for the disappointing box office showing for the well-regarded film BIG MEN from director Rachel Boynton.
In a post for Nonfics.com, Christopher Campbell shared a list of the top five documentaries he saw at this year's South by Southwest Film Fest.
That's it for this week. Please send any tips or recommendations for the Memo via e-mail here, or by Twitter to @GuerrillaFace. Thanks and have a great week!