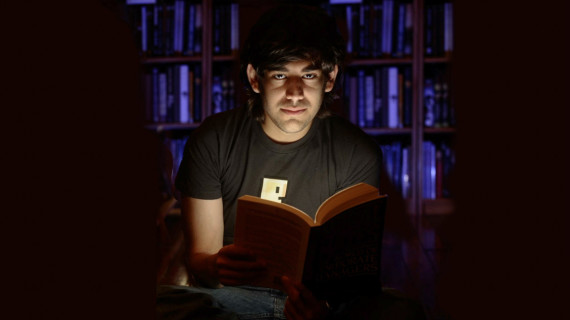 The Hot Docs film festival kicked off last week in Toronto. At the POV blog, Tom Roston shared 10 of his picks for the festival, while Adam Nayman of Canada's POV Magazine previewed the event. The Dork Shelf staff turned out its own guide to Hot Docs, and Basil Tsiokos provided an overview at the What (Not) to Doc blog. Jason Gorber of Moviefone had an interview with Joe Berlinger about his new film, WHITEY: THE UNITED STATES OF AMERICA V. JAMES J BULGER, and director Daniel Vernon was interviewed at the True/False blog about his film MIRACULOUS TALES. Adam Benzine of Realscreen interviewed Hot Docs Executive Director Brett Hendrie, as well as THE OVERNIGHTERS director Jesse Moss about his film. Realscreen's Manori Ravindran covered the screening of THE INTERNET'S OWN BOY: THE STORY OF AARON SWARTZ. Andrew Parker of Dorkscreen reviewed THE HOMESTRETCH, and Olivia Ward of The Toronto Star highlighted 10 films at the festival in search of justice.
At Realscreen, Kevin Ritchie reported that Marshall Curry had taken home the best doc feature prize at Tribeca for his new film POINT AND SHOOT. In a podcast, Tribeca's Jason Guerrasio interviewed Curry about his film, while John Anderson reviewed the film for Indiewire. Writing for Nonfics.com, Daniel Walber reviewed the film. Walber also reviewed VIRUNGA from director Orlando von Einsiedel. Eric Kohn of Indiewire also reviewed VIRUNGA. At The Hollywood Reporter, John DeFore reviewed 1971 from director Johanna Hamilton. And at Filmmaker Magazine, David Felix Sutcliffe interviewed Hamilton about her film. Back at the Tribeca blog, Jason Guerrasio interviewed D.A. Pennebaker and Chris Hegedus about their new film UNLOCKING THE CAGE. In a piece at Indiewire, Anthony Kaufman wondered if Tribeca would be better off completely abandoning fictional narrative films in favor of docs.
This week documentarian Michael Glawogger, perhaps best known for his "globalization trilogy" unexpectedly passed away from malaria while working on his latest film in Africa. At the New York Times, Douglas Martin penned an obit for the filmmaker. Manori Ravindran reported on the news at Realscreen, while Film Society of Lincoln Center programmer Dennis Lim remembered the filmmaker in a piece. Scott Roxborough of The Hollywood Reporter also reported on Glawogger's passing, and David Hudson of Fandor also gathered some writings about the filmmaker.
This week also saw the passing of filmmaker David Anker; Bruce Weber of the New York Times had an obit for the documentarian. And Annette Insdorf of Indiewire also remembered Anker.
In distro news this week, Realscreen's Adam Benzine reported that U.K. distributor Dogwoof had picked up international and U.K. rights for FINDING FELA from director Alex Gibney. Realscreen colleague Manori Ravindran reported that Morgan Spurlock would lead an effort to acquire and present theatrically and digitally a number of films this year, with Anne Thompson of Indiewire also covering the development. Manori Ravindran also had the news that Sony Pictures Classics had nabbed various rights for the film RED ARMY from Gabe Polsky.
At Nonfics.com, Christopher Campbell published a list of some of the docs hitting homes via various distro channels this week.
The Camden International Film Festival this week announced a new year-long fellowship as part of its Points North program. For more information check out their website here.
Over at the International Documentary Association (IDA) website, Peter Hamilton reported on the trend in China television favoring documentary programming over reality television.
Writing for the Huffington Post, Roque Planas reviewed the film WHO IS DAYANI CRISTAL.
Back at Realscreen, Manori Ravindron reported that the Steve James film LIFE ITSELF was headed to the Cannes Film Festival. Ravindron also had a piece in which she spoke with Ondi Timoner about the filmmaking process.
Regina Austin of the Docs & the Law blog had a piece on the use of sentencing videos as advocacy for criminal defendants.
The POV blog hosted a piece from Liz Nord on lessons that documentary filmmakers could learn from game designers. Nord also wrote a piece about the use of interactivity in new forms of journalism for the blog. And finally, Nord wrote on the interactive work at the Tribeca Film Festival, and whether it had the ability to impact viewers emotionally.
At Indiewire, FIVE STAR director Keith Miller wrote about his use of nonfictional elements in the making of his films.
Over at the Premium Beat blog, Clay Asbury had a piece on setting up a run-n-gun kit with the Blackmagic Pocket Cinema Camera.
Fernanda Rossi penned a post for the POV blog about working as the story doctor for Theresa Loong's film EVERY DAY IS A HOLIDAY.
At The Guardian, Tom Brook wondered whether social issue focused documentaries were not just preaching to the converted.
Joey Daoud of Filmmaker Magazine turned in a report on the new Panasonic GH4.
In a piece for The Rumpus, Gabrielle Gantz interviewed filmmaker and author Astra Taylor.
And at the Brooklyn Rail, Robert Greene spoke with Valentina Canavesio about his latest film, ACTRESS.
Buzzfeed writer Louis Peitzman had a quiz listing some 200 docs that viewers may have seen.
Writing for Reverse Shot, Leo Goldsmith reviewed MANAKAMANA from directors Stephanie Spray and Pacho Velez.
Jesse of Craft Truck had an interview with festival programmer (and STF artistic director) Thom Powers on festivals, distribution methods and documentary film in general.
Kevin B. Lee provided some running commentary on the film DAVID HOLZMAN'S DIARY and its lingering influence in a video hosted on Vimeo.
At the What (Not) to doc blog, Basil Tsiokos had an overview of the docs at this year's San Francisco International Film Festival. Tsiokos also had a preview of the Visions du Reel festival on his blog.
Finally, Sean Flynn of the MIT Open Doc Lab hosted an interview with Jeff Soyk, the art director and UX designer of the interactive documentary HOLLOW.
That's it for this week. Please send any tips or recommendations for the Memo via e-mail here, or by Twitter to @GuerrillaFace. Thanks and have a great week all!