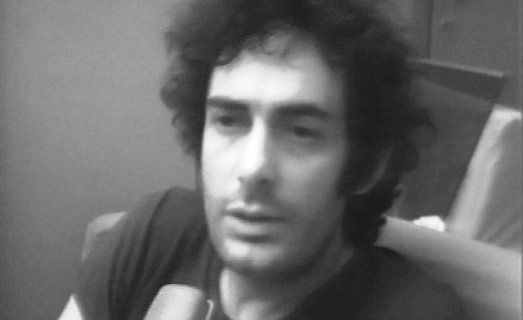 This week the first Art of the Real program at Lincoln Center kicked off. Writing for Artforum, Nick Pinkerton profiled the program, as did Jillian Steinhauer at Hyperallergic. The Brooklyn Rail republished a piece from Colin Beckett on Thom Andersen's non-fiction films, and Fernando F. Croce previewed the Art of the Real at Mubi.com. Writing for Film Comment, Max Nelson did the same, as did Paul Dallas of Indiewire. Daniel Walber of Nonfics.com had a write-up on the series, and Basil Tsiokos recapped the lineup in a post at his What (Not) to Doc blog. In a piece for Slant Magazine, Ela Bittencourt reviewed a handful of the films screening at Lincoln Center. In a piece for the Wall Street Journal, Steve Dollar profiled the film ACTRESS from director Robert Greene, which closes out the film series.
The PBS documentary show POV announced that it had expanded its digital documentary initiatives with a new co-producing funding mechanism as well as a call for short web-native docs. In a post for the Knight Foundation, POV Digital Director Adnaan Wasey explained the impetus behind the push for digital content. Paula Bernstein covered the development for Indiewire, while Kevin Ritchie pulled similar duties at Realscreen.
POV this week also opened up its call for entries for the 2015 season.
Writing for Indiewire, Anthony Kaufman wrote on why the Full Frame Documentary Film Festival remained relevant in a crowded festival marketplace. In a piece for Nonfics.com, Jesse Paddock named his top five films from this year's Full Frame. Over at the International Documentary Association (IDA) website, Angelica Das also submitted coverage of this year's fest.
In distro news, Kevin Ritchie of Realscreen reported that Oscilloscope Laboratories had acquired U.S. rights to the film PULP: A FILM ABOUT LIFE, DEATH AND SUPERMARKETS from director Florian Habicht. Eric Eidelstein of Indiewire also had the news. Dave McNary of Variety reported that Dana Ben-Ari's film BREASTMILK had been picked up by Cavu Pictures.
Christopher Campbell of Nonfics.com released his list of top home picks for the doc world. In a separate post, he also highlighted some of the docs hitting theaters this week.
At Realscreen, Adam Benzine reported on a new nature documentary being created for the Oculus Rift virtual reality platform titled CONQUEST OF THE SKIES.
In a blog post at POV, Emma Dessau interviewed the Karen Schmeer Editing Fellow Colin Nusbaum. POV is also hosting a doc chat on documentary equipment on Google Hangouts on Tuesday, April 15 at 12:30 p.m.
Indiewire reported that Amir Bar-Lev's HAPPY VALLEY had won top honors at the Sarasota Film Festival.
Tom Roston spoke with THE TRIALS OF MUHAMMAD ALI director Bill Siegel in a post for the POV blog. The film airs on the PBS show Independent Lens on Monday, April 14 at 10 p.m. EST, and will be available to watch online at the same time.
LA CAMIONETA director Mark Kendall was named one of the Guggenheim Fellows for 2014; his current project focuses on a small Swedish town in the arctic circle.
Back at Indiewire, Eric Eidelstein reported on the winners of grants from the San Francisco Film Society Documentary Fund.
At POV, Tom Roston highlighted the film FLEX IS KINGS, which showed at the Tribeca Film Festival last year and is currently in a limited theatrical run.
In his latest Filmwax podcast, Adam Schartoff spoke with director Liz Garbus.
Writing for the DocGeeks blog, Hazel Pfiefer reviewed NELSON MANDELA: THE MYTH & ME.
At the IDA website, Frako Loden profiled the masters program in social documentation at the University of California, Santa Cruz.
Beth Balaban of the Nonfiction Cartel interviewed doc filmmaker Riley Hooper.
The DOXA Documentary Film Festival released its 2014 film programming schedule, which can be viewed here.
Writing for the Chicago Reader, Ben Sachs interviewed filmmaker Usama Alshaibi about his work and latest film, AMERICAN ARAB.
David Kluft wrote a piece on whether doc filmmakers are protected by the First Amendment when lying to subjects for the Trademark and Copyright blog.
In a piece at MIT's Open Doc Lab, Arnau Gifreu Castells shared a new resource that could be used to understand interactive documentary.
Please send any tips or recommendations for the Memo by e-mail here, or via Twitter to @GuerrillaFace. Thanks, and have a great week!