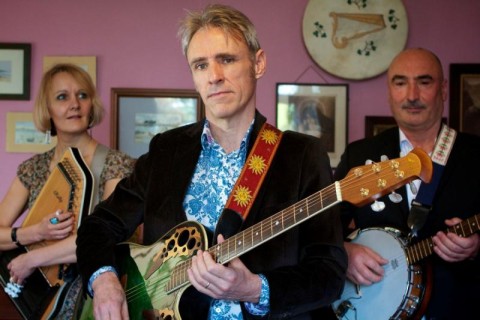 Michael Apted's UP series has crossed the half-century mark with it's latest installment, 56 UP, which had its theatrical release in NYC this week. Manohla Dargis of the New York Times handed the film an NYT Critics' Pick. Writing for Film School Rejects, Christopher Campbell named the UP series "as significant and necessary as any film series," partly due to longevity of the series. Leah Rozen at The Wrap concurred, calling the films "an amazing achievement." Early box office reports indicated that the film had done very well, earning $20,500 despite being released in only one theater.
In a piece penned for Hammer to Nail, director Robert Greene bemoaned the dearth of thoughtful criticism regarding "cinematic nonfiction film," and went on to name his favorite top 25 nonfiction films of 2012. Via Twitter, Greene later pointed to a post he had written back in 2010 that presented some ideas similar to those in his Hammer to Nail piece.
Filmmaker Magazine this week documented a great dialogue between directors Pamela Yates (GRANITO: HOW TO NAIL A DICTATOR) and Bernardo Ruiz, whose film REPORTERO, about the threat of violence faced by Mexican journalists, is set to screen on POV tonight.

Stranger Than Fiction kicks off its Winter Season tomorrow, Tuesday Jan. 8 at 8pm with Roman Paska's REHEARSAL FOR A SICILIAN TRAGEDY. Paska and actor John Turturro will be in attendance following the screening for an audience Q&A. You can find out more info and buy tickets here. Don't forget that you can get a season pass for $100, which gets you tickets for all eight films screening this season, along with free popcorn.
Year-end best of lists for 2012 also continued to make their way to the public in the new year. The Tribeca Film Institute's manager of documentary programming, Jose Rodriguez, shared his list on the Tribeca Film blog, naming SEARCHING FOR SUGAR MAN by Malik Bendjelloul his favorite. Over at the Documentary Blog, Jay Cheel shared his top 20, putting Bart Layton's THE IMPOSTER at the top. At the What (Not) to Doc blog, Basil Tsiokos presented an unnumbered list of his favorite docs of the year, while Christopher Campbell did the same on the Documentary Channel blog, organizing his picks in alphabetical order.
Maria Goodavage of the Independent Lens blog provided a break from all of the year-end lists by generating a tally of "fun, feel-good" docs that people could use to kick 2013 off on a positive note.
Kevin Ritchie of Realscreen reported this week on the plans to honor Chris Hegedus and D.A. Pennebaker for their 1993 film THE WAR ROOM, which followed the campaign of former President Bill Clinton during his first presidential race. The Cinema Eye Honors are set to take place in New York City on Wednesday, Jan. 9.
A Jan. 3 blog post from Kickstarter reported that $42.64 million had been pledged to documentaries via the crowdfunding platform between the end of April 2009 and the beginning on January 2013. Writing for Realscreen, Adam Benzine noted that that figure was millions of dollars more than had been pledged for fictional narrative films, underscoring just how important crowdfunding has become to nonfiction film.
Bill Stamets of the Chicago Sun-Times wrote up the films screening as part of the Stranger Than Fiction series (which is completely unrelated to this one) at the Gene Siskel Film Center in Chicago. Included in the screenings are several of French anthropologist Jean Rouch's works.
Back at the New York Times, Nicolas Rapold provided coverage of the New Yawk New Wave program set to screen at the Film Forum in January, which includes among its films a number of documentaries, such as JINGLE BELLS by D.A. Pennebaker and JANE by Hope Ryden and Pennebaker.
Adam Benzine of Realscreen reported that THE GATEKEEPERS by Droh Moreh had won best documentary honors from the Society of Film Critics. Jennifer Merin, writing for About.com, had details on the votes garnered by runners up THIS IS NOT A FILM and SEARCHING FOR SUGAR MAN.
THE ITVS Beyond the Box blog published two of three posts on the criteria that makes a good work-in-progress. The first gleaned advice on how to secure funding from director Shukree Hassan Tilghman, director of MORE THAN A MONTH, while the second came from AS GOES JANESVILLE director Brad Lichtenstein.
At the What (Not) to Doc blog over the past several weeks, Basil Tsiokos has dutifully provided a rundown of many of the docs set to screen at Sundance this year, and plans to profile all of them before the first film screens in Park City. Tsiokos in December also sent out a reminder for filmmakers to submit their works-in-progress to him to be highlighted on the blog.
Christopher Campbell, writing again for the Documentary Channel blog, wrote a piece on the documentaries nominated for a Writers Guild award.
The documentary community on Dec. 26 lost Irving Saraf, a director who won an Oscar for his 1991 film IN THE SHADOW OF THE STARS about the San Francisco Opera. Saraf, 80, had suffered from ALS. Our condolences go out to his family and friends.
Over at the International Documentary Association website, Cynthia Close provided coverage of the Festival International de Cine Documental de la Ciudad de Mexico (DOCSDF), which ran back in November. Also, Richard Shpuntoff had a report on Doc Buenos Aires and it's ongoing shift from strong European ties to ones based in North America.
Back in December, Jacob Harbard of the DocGeeks blog interviewed PARADISE LOST director Joe Berlinger on the trilogy.
The Harmony Institute's Ripple Effect blog took a look at the potential difference in effect resulting from non-fiction and fictional films, using Josh Fox's doc GASLAND and the recently released film PROMISED LAND as its subjects.
Writing for FastCompany's Co.CREATE blog, writer Hugh Hart examined the film CHASING ICE and the overall ability of docs to drive online activism for a cause.
The Big Sky Documentary Film Festival announced the selections for its 10th incarnation, set to take place Feb. 15-24 in Missoula, Montana.
And at Filmmaker Magazine, Joey Daoud shared his thoughts on the new Panasonic GH3, a Micro Four Thirds camera that seems intended to give DSLRs some competition for shoppers looking to shoot decent video at a price point of less than $2,000.
That does it for this week, but please continue to send tips and recommendations via e-mail here, or tweet them to @GuerrillaFace. Thanks, and have a great week everyone!