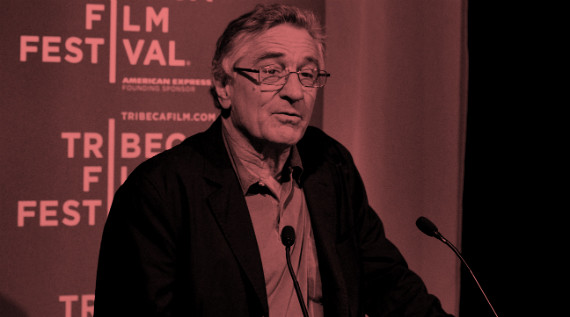 You probably already saw, but the biggest news on our radar this week is Stranger Than Fiction's own Spring Season schedule announcement (if you missed it, I urge you to read the announcement here). To celebrate 11 years of Stranger Than Fiction, hosted by Thom Powers and Raphaela Neihausen and presented by IFC Center, we've squeezed in extra films and special events to take our 8 week program up to 11 screenings. Tickets for Stranger Than Fiction screenings are $16 for the general public and $13 for IFC Center members. A Spring Season Pass, good for admission to all 11 events from April 5-May 31, is also now available for $99 ($80 for IFC members).
Elsewhere in there doc world, the Tribeca Film Festival came under fire after it announced that it would be showing a single screening of VAXXED: FROM COVER-UP TO CONTROVERSY, a film co-written and directed by Andrew Wakefield, a discredited British physician whose high profile 1998 report claiming that he'd discovered "a correlation between the measles, mumps and rubella (MMR) vaccine and autism and bowel disorders" was subsequently fully retracted. First, Laura June asked, "Why Is an Anti-Vaccine Documentary by a Proven Quack Being Taken Seriously?" in NY Magazine's The Cut. Salon's Mary Elizabeth Williams followed that by calling out the festival, reasoning that a "discredited doctor's documentary about 'the long-debated link between autism and vaccines' doesn't belong in respected festival." Then filmmaker Penny Lane, director of the new film NUTS! which highlights "just how easy it is to fall for a quack, especially one cloaked in the authority of a documentary film," wrote an open letter to the festival via Filmmaker Magazine asking them to reconsider for the sake of filmmakers everywhere. Kate Erbland of indieWIRE and Michael Hiltzik of The Los Angeles Times joined the chorus of outrage, each outlining the various through lines of dialogue between the press and the festival.
As it turns out, Robert De Niro himself, co-founder of the festival, selected the film for very personal reasons. In his public initial response to the backlash he was quoted by Pam Belluck and Melena Ryzik in The New York Times, "Grace and I have a child with autism, and we believe it is critical that all of the issues surrounding the causes of autism be openly discussed and examined. In the 15 years since the Tribeca Film Festival was founded, I have never asked for a film to be screened or gotten involved in the programming. However this is very personal to me and my family and I want there to be a discussion, which is why we will be screening VAXXED." Finally, after nearly a week of outcry, Stephanie Goodman of The New York Times reported that the film had been pulled from the festival. Following the announcement, Tom Roston wrote a poignant piece at Doc Soup titled, "Why We Hold Film Festivals to High Ethical Standards," summarizing that he's "greatly relieved that De Niro and Tribeca chose to reverse their decision. It's the right call."
Other festivals made headlines this past week as well, namely Toronto's Hot Docs, which released the remainder of its full schedule. indieWIRE's Kate Erbland reported on the announcement, outlining the breadth of this year's program. New Directors/New Films concluded last night, but A.O. Scott and Manohla Dargis noted their festival highlights in The New York Times, noting CAMERAPERSON, WEINER and LOST AND BEAUTIFUL as of special interest. Daniel Walber also attended the series and came away loving a trio of doc shorts, which he wrote about at Nonfics. Looking back a bit further, Michael Tully gave his thoughts on this year's SXSW at Hammer To Nail, while Blake Williams ruminated on the state of Sundance and Jay Kuehner gave a rundown of the 10th Punto de Vista Documentary Film Festival of Navarra, both for Cinema Scope.
Today, PBS released the schedule for the 29th season of POV. Beginning on Monday, May 23, this season will feature the primetime debuts of THE LOOK OF SILENCE, THE RETURN, PERVERT PARK, OF MEN AND WAR and many more.
As was previously announced, Al Jazeera America is scheduled to shut down on April 12, but according to Realscreen's Manori Ravindran they've managed to squeeze in one final doc production in the four part series THE LIMITS OF HOPE: INSIDE OBAMA'S WHITE HOUSE, directed by Paul Mitchell, Sarah Wallis, Delphine Jaudeau and Mick Gold, starting on April 7. For many in the doc world, the news of the network's shutdown is a very tragic event, as it has been home to a slew of A-list doc filmmakers, many of whom's films now float in legal limbo, as Anthony Kaufman has pointed out in his latest Reality Checks feature at indieWIRE.
There were a handful of theatrical releases that found their way into the press, including Randy Barbato and Fenton Bailey's MAPPLETHORPE: LOOK AT THE PICTURES, which Variety's Peter Debruge and The Los Angeles Times' Robert Abele both reviewed. Christopher Campbell at Nonfics gave some lovin' to CITY OF GOLD, while Daniel Walber admired BEHEMOTH at the same outlet. The newly opened Metrograph in NYC programmed a trio of Frederick Wiseman films, including HOSPITAL, which Richard Brody discusses in a brief new piece in The New Yorker. And in stride with the release of EVERYTHING IS COPY, director Jacob Bernstein was interviewed by Geoff Berkshire in Variety, as well as featured in a lengthy piece by Rebecca Keegan in The Los Angeles Times. And while Jenni Olson's latest, THE ROYAL ROAD, isn't yet available, Fandor's Conor Bateman wrote a piece on her work and crafted a new video essay out of some of her voiceovers.
After taking a couple months off, Field of Vision has returned with their spring season debut of Adam Dietrich, Varun Bajaj and Kellan Marvin's CONCERNED STUDENT 1950, which had its world premiere earlier this month at True/False Film Festival in Columbia, Missouri, where the events in the film took place, and is now available to stream online for free. At indieWIRE, Chris O'Falt outlined just how the Field of Vision team got involved with the production of this film, which began as a Mizzou student project. And I had the good fortune of attending True/False once again this year and sat down with AJ Schnack, one of the co-founders of Field of Vision, to discuss the streaming project and his latest film, SPEAKING IS DIFFICULT, which will soon appear be available to stream itself. My in-depth interview with Schnack can be found over at IONCINEMA.com.
I'll sign off this week with a quartet of miscellaneous finds that must be noted. First: Shelly Kraicer's feature on the recent work of Wang Bing in Cinema Scope. Second: Ivone Margulies' loving memorial to Chantel Akerman at Criterion. Third: Celluloid Liberation Front's claim of Ukrainian whitewashing in recent non-fiction works centering around the country at Sight & Sound. Fourth: Kathryn Bromwich, Killian Fox and Joanne O'Connor's list of 50 must see docs for The Guardian. I apologize for missing the memo last week, but I was celebrating me and my wife's anniversary. I'll be back as expected next week, so in the meantime if you have any tips or recommendations for the Memo, please contact me via email here, or on Twitter, @Rectangular_Eye.