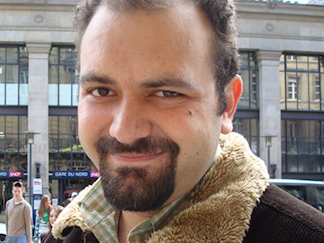 An independent filmmaker and producer, Nyrabia has produced films in Syria, most notably for the French-German television channel, Arté. He has also served on the jury of the Amsterdam, Tehran, Leipzig and Copenhagen documentary film festivals. Along with director Diana el-Jeiroudi, he was awarded the European Documentary Network award for their exceptional contribution to the development of documentary cinema.
After receiving a diploma in the dramatic arts from the High Institute for Theater in Damascus (1999), Nyrabia was first assistant to Oussama Mohammad on the award winning feature, Sacrifices (2002) and was cast in the male lead in Yousry Nasrallah's Gate of the Sun (2004). He was working with veteran documentary director Omar Amiralay on his new feature documentary before Amiralay untimely passing in 2011.
Nyrabia belongs to the emerging generation of Syrian filmmakers passionate about world cinema and passionate about freedom. We are extremely concerned by his arrest—filmmakers must be allowed to express themselves through their films, without fear of reprisal.