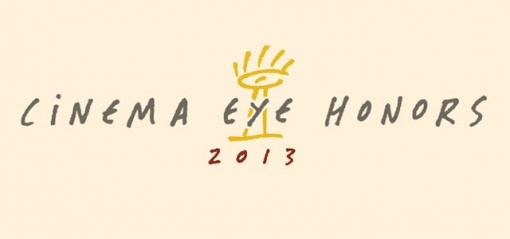 The Cinema Eye Honors Nov. 2 announced the nominees for its 6th Annual nonfiction film awards, with 31 features and five shorts earning nods from the organization. Five films were competing for the Outstanding Achievement in Nonfiction Filmmaking award: Emad Burnat and Guy Davidi's 5 BROKEN CAMERAS, Heidi Ewing and Rachel Grady's DETROPIA, Bart Layton's THE IMPOSTER, Matthew Akers' MARINA ABRAMOVIC THE ARTIST IS PRESENT, Jason Tippet and Elizabeth Mims' ONLY THE YOUNG and Malik Bendjelloul's SEARCHING FOR SUGARMAN. The awards are scheduled to take place Jan. 9 at the Museum of the Moving Image in New York City. Dana Harris at Indiewire put together an easily digestible rundown of all the awards categories and nominees, while Christopher Campbell—writing for Film School Rejects—took a closer look at many of the nominated films.
With New York City still suffering the aftereffects of Hurricane Sandy, a few writers paused to consider films that address the issue of climate change. Writing for SundanceNOW's Docutopia series, Anthony Kaufman provided a litany of docs that address the climate change issue, with Tom Roston doing the same over at the POV blog.
The DOC NYC festival, which runs Nov. 8-15, hopes to be part of the city's recovery from the storm. One of the festival's programmers, Basil Tsiokos, provided an overview of the festival's offerings at his What Not to Doc blog. In a separate post, he also delved into the "Get the Money" Doc-A-Thon panel discussion he helped to organize, which focuses on finding funding for your documentary film. You can find a list of all of the festival's films and events here.

This week Stranger Than Fiction is hosting the election night special GORE VIDAL: THE MAN WHO SAID NO, a film by Gary Conklin that takes a look at Vidal's 1982 run for a Senate seat in California. Conklin will be in person after the screening for a Q&A. You can find more information about the screening and purchase tickets here.
Doc production nonprofit Kartemquin Films this week announced that it was establishing the Diverse Voices in Docs program in partnership with the Community Film Workshop of Chicago, aimed at providing professional development workshops and mentoring services to filmmakers of color. For those in the Chicago area, the program is having a free, public kick-off event Nov. 8 at 6:30 pm at the Community Film Workshop offices.
Drafthouse Films secured U.S. distribution rights for THE ACT OF KILLING by Joshua Oppenheimer, a film that had a significant impact on audiences at the Toronto International Film Festival when it screened there. The film follows Indonesian death squad leaders who are asked to reenact their actions in various cinematic genres. Kevin Ritchie of Realscreen this week also had an interview with Oppenheimer, who touched on the reaction the film has garnered in Indonesia.
In other distro news, Oscilloscope Laboratories picked up North American rights for OMA & BELLA by Alexa Karolinski, while Kino Lorber snagged North American rights for AIN'T IN IT FOR MY HEALTH: A FILM ABOUT LEVON HELM by director Jacob Hatley. Austrian outfit Autlook inked a deal for global rights for THE PUNK SYNDROME by Jukka Kärkkäinen and J-P Passi.
And Angela Wattercutter of Wired Magazine had an interesting piece on the distribution model adopted by director Brian Knappenberger for his film WE ARE LEGION: THE STORY OF THE HACKTIVISTS about the group Anonymous. Knappenberger, in keeping with the spirit of Anonymous, opted to eschew a theatrical release in favor of selling the film DRM-free on his site, as well as by making it available on iTunes.
Again writing for the POV blog, Tom Roston shared notes from his attendance at the retrospective honoring documentarian Ed Pincus being hosted at the Film Society at Lincoln Center.
And at the International Documentary Association (IDA) website, Amanda Lin Costa had a great piece about various methods employed by filmmakers in creating doc content specifically for the web.
ITVS this week released the results of its 2012 digital survey, a document that takes a look at the digital developments in the last year, as well as the trends it sees coming in the near future.
Germany's DOK Leipzig festival, which ran Oct. 29- Nov. 4, this week announced its award winners, with director Tora Martens taking home the Golden Dove award for the film COLOMBIANOS. You can catch the full list of award winners here.
The Independent Lens team this week got a chance to interview Mette Heide, producer of the film SOLAR MAMAS. Heide spoke about the film's subjects and the hopes the filmmaking team has for the doc's potential impact.
Ondi Timoner's web show Bring Your Own Doc this week interviewed BROOKLYN CASTLE fimmaker Katie Dellamaggiore.
Jennifer Marin of About.com noted that the Margaret Mead Film Festival had set its schedule for Nov. 29 – Dec. 2.
The folks at the True/False Film Fest blog this week also paid tribute to the late Chris Marker with a look back at his varied career and works.
Writing for Filmmaker Magazine, Lauren Wissot penned an interesting piece about fictional films posing as documentaries, and argued for an expanded definition of documentary.
Also at Filmmaker Magazine, David Leitner wrote up the new Sony NEX-EA50H, and how its form factor (and relatively low price) was conducive to the needs of documentary filmmakers in particular.
Christopher Campbell has this week's theatrical releases, which includes Stacy Peralta's skateboarding doc BONES BRIGADE, among several others.
That's it for this week, but please email tips and recommendations here, or tweet them to @GuerrillaFace. Have a great week everyone!
Related Film