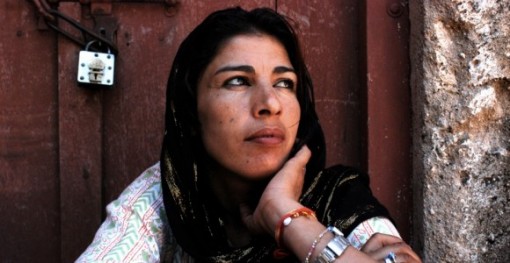 The third annual DOC NYC ended its run on Thursday, with the festival's award winners named just prior to a screening held that night of the new film THE CENTRAL PARK FIVE by directors Ken Burns, Sarah Burns and David McMahon. Writing for Movies.com, Christopher Campbell noted three films that screened at the festival made his must-see list for the year. And in his weekly Docutopia blog post, Anthony Kaufman took a look at some of the films at DOC NYC that investigate the notion of innocence lost. Kaufman also reflected on Jamie Meltzer's film INFORMANT, which won the festival's Viewfinders Grand Jury Prize.
On the POV blog, Tom Roston recapped a DOC NYC panel on cinematography that he led. Jay Fernandez, writing for Indiewire, wrote up a piece on DOC NYC's short list, the 10 films selected by programmers for doc fans to pay attention to in advance of awards season. Variety's Andy Barker also reviewed LA CAMNIONETA, the Mark Kendall-helmed film that screened at the festival.
The International Documentary Film Festival Amsterdam (IDFA) also swung into action on Nov. 14, spurring a decent amount of media coverage. Programmer and blogger Basil Tsiokos sent out the second installment of an IDFA overview on his What Not to Doc blog. Realscreen's Adam Benzine interviewed IDFA Forum head Adriek van Nieuwenhuyzen on the festival's annual pitch-fest and other topics. Benzine also penned a piece examining the number of films focusing on the Palestinian-Israeli conflict, an issue that has moved to the center of popular discourse given the renewed violence in Gaza.
On the Tribeca Film Institute's website, director Katrine Riis Kjær wrote a first-person piece about her film MERCY MERCY, which premieres at IDFA this year. Angelica Das wrote up her experience of the first two days of the festival for the Center for Social Media's website. And theDocGeeks website rounded up a bunch of capsule reviews of films screening at IDFA this year.
This week Stranger Than Fiction is back in action on Tuesday, Nov. 20 at 8pm at the IFC Center with a screening of Jonathan Caouette's film WALK AWAY RENEE, which follows the filmmaker as he moves his mentally ill mother across the country. Caouette will be at the theater following the screening for a Q&A. You can find more info and buy tickets here.
The film THE LAW IN THESE PARTS by director Ra'anan Alexandrowicz, about the separate legal systems used in Israel and the Occupied Territories, hit theaters this week. At The New York Times, Rachel Saltz reviewed the film, and Steven Erickson of Filmmaker Magazine interviewed Alexandrowicz for his publication. Anthony Kaufman also weighed in on the film given the recent strife in the Middle East.
Another testament to widespread impact the Middle East has had on the documentary world came when the Puma.Creative Impact Award was given to BUDRUS, a film about non-violent protests held by Palestinians that was directed by Julia Bacha. At Realscreen, Kevin Ritchie reported on the win.
Father-daughter filmmaker team Ken and Sarah Burns were kept busy this week. In addition to having their film THE CENTRAL PARK FIVE (which was made with David McMahon) screen at DOC NYC, Ken Burns made an appearance on The Colbert Report to talk about that film, as well as his latest PBS project, THE DUST BOWL. David Barron of the Houston Chronicle also scored a sit-down with Ken Burns on THE DUST BOWL, while Adam Schartoff got a chance to talk to the filmmaker about the famous "Ken Burns effect" for POV. Sarah Burns was also interviewed byFelicia Lee for The New York Times about the film THE CENTRAL PARK FIVE.
POV this week announced a call for entries for its second Hackathon, which is set to take place Jan. 12-13 in New York City. POV is on the hunt for "filmmakers with bold vision for web-based nonfiction projects, as well as developers and designers interested in flexing their Web muscles to create working prototypes on an intense deadline." Applications are due by Dec. 7. You can find a recap of the five prototypes that came out of the first Hackathon here.
POV is also still taking votes for its Greatest Documentary poll, with the show's voting algorithm putting the Maysles Brothers' GREY GARDENS in the pole position as of this writing. Director Marshall Curry weighed in on the discussion with a blog post about the Ross McElwee personal essay SHERMAN'S MARCH.
At Film School Rejects, Christopher Campbell made a great argument for why more docs are always better, even if they tackle the same subject.
Canada's POV Magazine previewed its winter issue this week by posting a piece from Sean Farnel about how documentary filmmakers can assume more control over their experience at festivals.
Chris Lee of the Los Angeles Times also wrote a detailed piece about the distribution model skateboarding legend and doc director Stacy Peralta used for his latest film, BONES BRIGADE: AN AUTOBIOGRAPHY.
At Realscreen, Adam Benzine reported that the Sheffield Doc/Fest had launched the Crossover Market, a new iteration of its MeetMarket funding event that would focus on digital and web-based products.
Also writing for Realscreen, Kevin Ritchie reported that director Morgan Spurlock had been tapped to helm a 3D concert film for the British boy band One Direction.
In distro news this week, Kino Lorber picked up U.S. theatrical rights for JASON BECKER: NOT DEAD YET, about the eponymous guitarist who was diagnosed with Lou Gehrig's disease. Also, Russell Cook of the Cine Vue blog had an interview with JASON BECKER director Jesse Vile.
At the Film Independent blog, Pamela Miller wrote about the troubles that documentary films lacking an obvious social issue focus sometimes face in finding funding.
Director Eugene Jarecki, whose film THE HOUSE I LIVE IN about the U.S.'s War on Drugs continues to earn plaudits, weighed in on the recent votes decriminalizing marijuana possession in Colorado and Washington in a piece for the U.K.'s Guardian newspaper.
Meanwhile, director Steve James talked about his film HEAD GAMES and spoke on the ongoing changes being made to the documentary rules for the Oscars in an interview with The Film Experience blog.
Jennifer Merin of About.com noted that the Why Poverty? series of eight films and a number of shorts was set to premiere on Nov. 23 on PBS affiliate stations.
Back at Filmmaker Magazine, Martha Early had a chance to pose five questions to CHASING ICE director Jeff Orlowski.
The MIT Open Documentary Lab this week launched its Moments of Innovation website, a great educational resource that traces the history of technological and formal leaps in the documentary world.
Filmmaker Magazine editor Scott Macaulay this week penned a piece about the hybrid films panel that was held at CPH: DOX
Writing for The New York Times, A.O. Scott reviewed Alex Gibney's latest film, MEA MAXIMA CULPA: SILENCE IN THE HOUSE OF GOD. And in a separate piece for the Times, Jeannette Catsoulis made HITLER'S CHILDREN a critic's pick for the newspaper.
That's if for this week. Please remember to email any and all suggestions for the Memo here, or tweet them to @GuerrillaFace. Thanks, and have a great week everybody!
Related Film