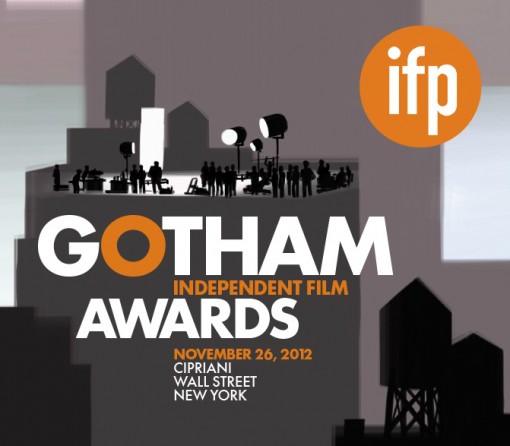 It was a bit of a slow week for doc news—although less so for those filmmakers nominated for by the Independent Filmmaker Project (IFP) on Oct. 18 for its annual Gotham Independent Film Awards. This year the docs earning nominations from the nonprofit were DETROPIA by Heidi Ewing and Rachel Grady; HOW TO SURVIVE A PLAGUE by David France; MARINA ABRAMOVIC: THE ARTIST IS PRESENT by Matthew Akers; ROOM 237 by Rodney Ascher; and THE WAITING ROOM by Peter Nicks. At the Documentary Channel blog, Christopher Campbell gave the nominees some consideration.
Stanley Kubrick, or at least films dissecting his work, seem to have seized some slice of the collective consciousness. This week author Chuck Klosterman wrote a piece on Ascher's ROOM 237, which analyzes the film THE SHINING, for Grantland, describing the film's effect on him as "obliterating my cranium." And Christopher Campbell this week reported that professor David Spodak was currently working on a documentary tiitled ANATOMY OF A FILM about another Kubrick film, PATHS OF GLORY.
The POV blog kept up a decent output this week, with Adam Schartoff interviewing Flaherty NYC programmer Jon Dieringer. Schartoff also had time to lob a few questions at director Jonathan Goodman Levitt over his new film FOLLOW THE LEADER and the interactive screening of the film that took place at this year's PaleyDocFest. Also, Tom Roston interviewed STF Artistic Director Thom Powers concerning his role as programmer of the SundanceNOW Doc Club.
This week Stranger Than Fiction will screen THE ATOMIC STATES OF AMERICA, the new film from directors Don Argott and Sheena Joyce, on Tuesday, Oct. 23 at 8pm at the IFC Center in Manhattan. The film takes the viewer on a journey to reactor communities around the country, and seeks to explore the truths and myths of nuclear power. For more information or to buy tickets, you can click here.
The folks at the Doc Geeks blog had wall-to-wall coverage of Alex Gibney this week, first reporting that Gibney had nabbed the Grierson Documentary Award at the London Film Festival for his film MEA MAXIMA CULPA: SILENCE IN THE HOUSE OF GOD. The following day the blogpublished an interview with Gibney about his latest film.
In distro news this week, Kevin Ritchie of Realscreen reported that Dogwoof picked up international and UK rights for the film VILLAGE AT THE END OF THE WORLD by Sarah Gavron and David Katznelson, and also that Lightning Entertainment acquired international rights for the Matthew Cooke film HOW TO MAKE MONEY SELLING DRUGS. Adam Benzine also reported that distributor Ro*co Films had partnered with The Bertha Foundation to bring a number of titles in its back catalog to iTunes.
At the Documentary Channel Blog, Christopher Campbell got a chance to speak with Ross McElwee, considered one of the progenitor's of the personal documentary, about his new film PHOTOGRAPHIC MEMORY as well as his career in filmmaking. The interview is split into two parts, with part one here, and part two here. And writing for Movies.com (and in advance of Halloween) Campbell also wrote a piece on documentaries in which costumes or masks play an important role for subjects.
At the Independent Lens blog, Brooke Shelby Biggs interviewed Macky Alston, director of the film LOVE FREE OR DIE, about his film and subject Bishop Gene Robinson. The film premieres on Independent Lens on Oct. 29.
In a guest post at Indiewire, documentary filmmaker Chanda Chevannes wrote about the important role that females play in the doc world, noting that many funding sources are headed by women.
The Sundance Institute this week named four films and composers to its Composers + Documentary Lab, which pairs a composer with a filmmaker, and then sends them to a residential retreat to work on sound design issues. The lab runs Oct. 26 – Nov. 1.
Back on Oct. 11, Oscar-winning filmmaker Kevin Macdonald was named the recipient of theCoutts Grierson Trustee's Award, which "recognises outstanding contribution to the art or craft of documentary making."
Media scholar Henry Jenkins on his blog continued to share with us pieces of the conversation between fair use proponents Patricia Aufderheide and Ellen Seiter. You can read part two here, part three here, and part four here.
For doc heads in New York City, there are a few events on the horizon of which you might want to take notice. First, the rarely seen film LOVE & DIANE by Jennifer Dworkin is screening at the Film Society at Lincoln Center today, Monday Oct. 22 at 7 pm. Lincoln Center will also play host to a Nov. 2-4 retrospective of the work of Ed Pincus.
At the AV Club, Nathan Rabin considered the fate Rodriguez, subject of the well-regarded SEARCHING FOR SUGAR MAN, would have befallen in a pre-Internet world, and raising some interesting questions regarding what effect the death of mystery might have on nonfiction storytelling practices.
Nick Newman at The Film Stage reported that actor-writer Jason Segel had moved to remake doc THE OTHER F WORD as a fictional narrative.
Angelica Das, writing for Center for Social Media's blog, penned a piece on the "living doc" LAND OF OPPORTUNITY, interviewing its director Luisa Dantas about the project's interactive web elements. Also on the blog last week was a post by Abigail Marivalli recapping a class she took with CALL ME KUCHU directors Katherine Fairfax-Wright and Malika Zhouli-Worral.
In this week's Docutopia, Anthony Kaufman muses on BESTIAIRE and the dichotomy splitting docs about animals that anthropomorphize them from those that don't.
And, of course, Christopher Campbell has this week's theatrical releases, which includes the filmLED ZEPPELIN: CELEBRATION DAY as well as a number of other films.
You can email tips for the Memo here, or tweet them to @GuerrillaFace. Have a great week everybody!
Related Film