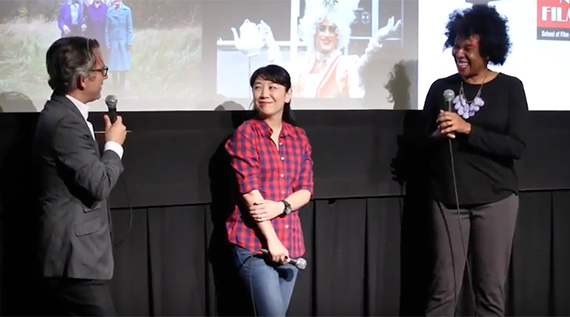 "Have I told you about my train film?"
–Albert Maysles
"It's not down in any map; true places never are."
–Herman Melville
A fitting farewell, Albert Maysles' last film, IN TRANSIT, follows the Empire Builder, an Amtrak passenger train stretching from Chicago to the Pacific Northwest. The three day journey is a moving panorama that rolls through, around, and with the ecological textures and manmade thumbprints of the United States. Towns and cities that mark the route are dwarfed by sweeping prairie fields, plains, rivers, and mountain ranges that keep time for passengers traveling to begin new lives, leave old stories, and for others, to take one last ride.
Directed by Lynn True and Nelson Walker, and produced by Erika Dilday, IN TRANSIT is a film Maysles pitched for thirty years, fueled by his love of trains. During the post-screening Q&A Dilday said, "He felt that there was this intimacy on the train. You're in this space that's so shared and so private yet so personal, and you have this ability to be so close to someone but know that the moment is fleeting, that this intimacy is going to disappear quickly, and that it allows strangers to become friends–he loved capturing that intimacy."
The spontaneity, intimacy, and trust that are the lifeblood of a Maysles film are harnessed by a spectacular acumen for editing. True culled 400 hours of footage from four to five cameras rolling at any given moment. A loving tribute as much as moving discussion, the post screening Q&A memorialized Albert and the love and connection he captured through his storytelling. True said, "For a Maysles kind of film it's not so much what the stories are but how they are shared and how they are told."
For children along for the ride, they are not moved to travel as much as they are to play and connect in whatever space they find themselves in. In a lovely nod to seizing the moment, a young boy declares, "Kids gotta have friends. If you ever meet someone you want to play with just ask it's as simple as that." For other passengers, it's about what moves them to travel. A student from China lit up from the glow of the mountains says, "I'm so small and nature's so big." For one young woman undaunted by uncertainty, the great affair is to move. She says, "What's scarier is never trying, never going anywhere."
One storyline that follows a young black man absorbed in conversation with "an elder who met Martin Luther King" plumbs the depths of pain and injustice. When the elder asks the young man what he might change about his past, he says, "I would change the denial of love I had. I'm tired of hurting." The elder encourages the young man to use his pain and hurt to help others as his way into love and healing, using it as a tool for empathy and a road to rebuilding strength. The elder says, "There is a spark of the human spirit that is not to be snuffed out and so much of the injustice in the world denies people to live out their purpose."
The conversations on the Empire Builder reveal what Walker calls a "moving confessional" as passengers contemplate their identity. A single biracial mother of four battles the manufactured, rigid identity society decides is hers. She says, "I am the stereotype. All these labels people throw at you." Another woman finds solace in the outlet the train provides, "It's just me on the train. I'm me. I'm not somebody's label."
The lives of the characters appreciating the precious time of their own impermanence run parallel to the life of the legendary director, a man True said was on a mission of discovery. This theme runs through the film, and is seen most profoundly in a passenger who sees his end coming. "And maybe I don't want to die without having a good look at the world. I want to take one more train ride. I know I'll never be out here again, so this has been a good trip."
---
Writing by Megan Scanlon. Megan works at the American University of Beirut. She has written for the DOC NYC blog and the Journal of Community Engagement and Scholarship. Megan was a prescreener for the Margaret Mead Film Festival, and is a volunteer at the Bronx Documentary Center and DOC NYC. Follow her on instagram and twitter @meganscanlon5
Videography by Joseph Schroeder, who has managed the production of highly acclaimed educational and informational programming for networks such as PBS, A&E and National Geographic for over a decade. Currently the production supervisor of The Independent Production Fund. Follow him on Twitter and see more of his work on his website.
Related Film