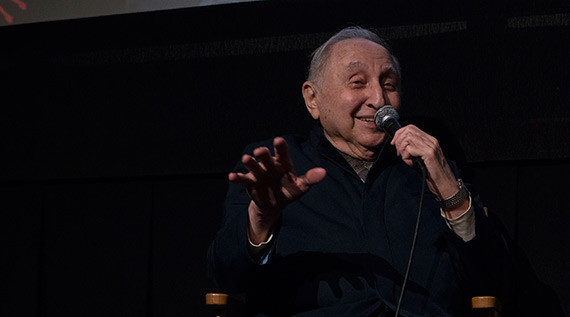 Seymour Bernstein is a brilliant pianist who never received fame to match his talent. He rose to notability in the 1960's, but retreated from the spotlight in 1977 to begin a career of composition and teaching to a loyal following of piano students. But in the film, SEYMOUR: AN INTRODUCTION, we learn that Bernstein is more than a musician, composer, and teacher; he is a sage and a poet.
In Tuesday's screening of Seymour, Bernstein watched the documentary among audience members who were wooed by his soothing disposition and deep philosophical meanderings.
Actor, Ethan Hawke, met Bernstein at a dinner party of one of his pupils, and a budding friendship developed. SEYMOUR is Hawke's documentary directorial debut, in which he paints an intimate portrait of Bernstein. There are scenes of Bernstein in his humble Upper West Side studio apartment where he has lived for almost 60 years. He converses over coffee with one of his long-time students about his early life, and he tells stories of his time served in the Korean War with tears in his eyes.
Hawke puts himself in the film, and we quickly realize that Bernstein is a mentor to him. It was Hawke who asked him to perform in a comeback recital, the first time in 37 years that he has performed publicly. Bernstein told the audience after the screening, "There's something about Ethan; you can't say 'no' to him."
During the Q&A session, Bernstein chuckled, "Have you ever heard of someone becoming a movie star at 88 years old?" Even at this ripe age, he is still incredibly articulate, funny, and charismatic. He entertained listeners with stories of his witch-like piano teacher as a young student, and of his two favorite pianos in the world, one in Hamburg, Germany and the other in the basement of Steinway & Sons in New York City.
Above all, Bernstein's responses made it clear that he has gained enormous fulfillment from his role as a teacher, "I've learned everything from my students." And his desire to mentor feels very sincere, "I want to help my students feel good about themselves," he said.
Bernstein ended the Q&A by stating what he feels is the point of the documentary, "The true essence of who you really are resides in your talent. You must find that talent, and take it into your life, so there is no separation between the artist and the world."
Stranger Than Fiction's Winter 2015 season runs from February 3rd to March 24th, taking place each Tuesday night at the IFC Center. The season features an eclectic mix of sneak previews and retrospectives, including appearances by filmmakers Marc Levin, Ian Olds, Liz Garbus and film subject Seymour Bernstein.
---
Writing by Maya Albanese, a New York City based multimedia reporter, writer, producer, and filmmaker covering social and environmental sustainability as well as innovation in the arts, food, and technology worlds. Maya has produced content for print, digital, and broadcast media, including The Washington Post, The Huffington Post, NBC Nightly News, The Today Show, GreenBiz.com, Fresh Cup, Coffee Talk, Heritage Radio and TellurideTV. In 2015, she is producing two documentary films and will receive a Masters degree with an emphasis in Documentary Filmmaking from Columbia University's Graduate School of Journalism. Twitter @mayaalbanese.
Videography by Steff Sanchez, a filmmaker and designer based in New York City. Twitter @steffsanchez.
Photography by Lou Aguilar, a photographer based in New York City. Twitter @Luberta.
Related Film