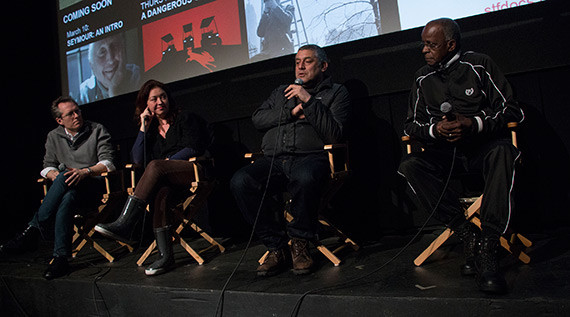 Nominated for best documentary feature at the Academy Awards in 1999, THE FARM: ANGOLA, USA is a powerful and intimate look inside America's oldest and largest maximum-security prison. At Tuesday night's screening, directors Jonathan Stack and Liz Garbus answered questions about their filming experience, and shed light on what drew them to the six prison inmates whose stories and struggles we follow in the documentary.
Thirty miles from the nearest town, Angola is a world in itself. A slave plantation turned into a prison at the end of the Civil War, its name is derived from the slaves who once worked its fields – most of which came from the African nation of Angola. At the start of the film, a disquieting statistic is thrown out: nearly 80 percent of those who enter will die at Angola. Furthermore, unsettlingly reminiscent of its past life as a plantation, 77 percent of the inmates at the Louisiana prison farm are African American.
One of the most impressive aspects of the documentary is the degree of access the filmmakers had. We receive an inside look at the interactions between George Crawford, a 22 year-old sentenced to life imprisonment for first-degree murder, and his brokenhearted mother. We are taken within Camp F, also known as "The Death House," hours before John Brown, a prisoner convicted of murder and robbery, is put to death. We see the crawfish and empty Dr. Pepper cans he consumed as his last meal. We are at the bedside of Logan 'Bones' Theriot, a man in prison for the murder of his wife, whose escape from prison comes in the form of death from lung cancer.
"It's not when you go, it's how you go," a severely underweight Theriot tells a group of prisoners who come to visit him at his deathbed in a particularly moving scene.
In the Q&A session following the screening, Stack and Garbus revealed that their access to Angola came from Wilbert Rideau, a former editor of The Angolite, the prison's magazine. Rideau was making a film about a new warden's first execution. When his cameraman suddenly died of a heart attack, he called up Stack.
Infatuated by Angola, Stack and Garbus decided to pursue making a long-form documentary. Stack said they looked for prisoners who could be archetypes on how to get out of prison when serving a life sentence – whether through parole, execution or death.
Also present at Tuesday night's screening was Eugene 'Bishop' Tannehill, a former Angola inmate who, convicted for murder, was going on his 38th year in prison in the film. After 51 years behind prison walls, he received a pardon and now lives in Brooklyn.
"It took a miracle for me to be sitting here tonight," Tannehill said after the film. That miracle? God.
Garbus and Stack said that one of the main takeaways they received after spending so much time at Angola was the amount of wisdom they came to find there.
"I learned so much about humanity and filmmaking," Garbus said. "Understanding the complexity of human behavior."
Stranger Than Fiction's Winter 2015 season runs from February 3rd to March 24th, taking place each Tuesday night at the IFC Center. The season features an eclectic mix of sneak previews and retrospectives, including appearances by filmmakers Marc Levin, Ian Olds, Liz Garbus and film subject Seymour Bernstein.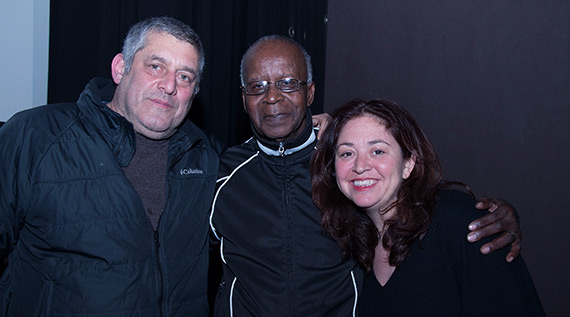 Directors Jonathan Stack (left) and Liz Garbus (right) with Eugene 'Bishop' Tannehill a subject of their film and former Angola inmate who received pardon after 51 years.
---
Jenna Belhumeur is a current student at Columbia's Graduate School of Journalism. After graduating from UCLA in 2013, she moved to Thailand for 8 months to teach English and backpack around Southeast Asia. After Columbia, Jenna hopes to report internationally for a major broadcast network or pursue her passion for video through long-form documentary production. Follow her on Twitter @jenna_bel and on Instagram @jennabel.
Videography by Steff Sanchez, a filmmaker and designer based in New York City. Twitter @steffsanchez.
Photography by Lou Aguilar, a photographer based in New York City. Twitter @Luberta.
Related Film