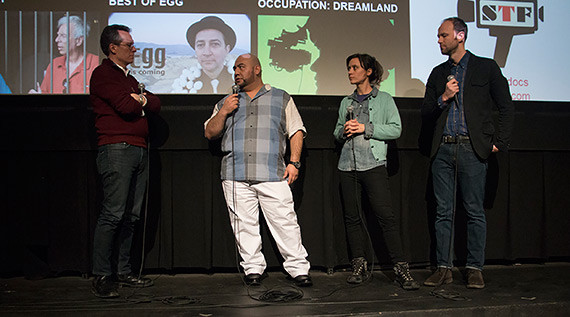 This post was written by STF blogger Jenna Belhumeur.
The knight in shining armor? A local sandwich maker. The dragon? Restaurant management. The princess trapped in the castle, i.e. the ultimate goal? Basic workers' rights.
Winner of DOC NYC's SundanceNow Audience Award and shown as a part of the Stranger Than Fiction documentary series, The Hand That Feeds opens with a simple scene: a worker counting a stack of bills, the fruits of his labor. "$290 for 60 hours," he says in Spanish.
In a classic underdog tale, Robin Blotnick and Rachel Lears' documentary follows Mahoma Lopez as he, alongside his undocumented immigrant coworkers, adopts the activist mentality to fight against unjust working conditions at a popular deli in New York's Upper East Side.
"If they don't respond to our demands, we'll escalate," Lopez articulates in Spanish.
Lopez's demands are simple: minimum wage, overtime, vacation days, safe working conditions and respect from managers known to fire employees for calling in sick. While immigrants are less likely to complain about working conditions for obvious reasons, Lopez decides to expose himself as an illegal immigrant to speak up on the issues faced by not only those at Hot & Crusty, but low-wage workers across all industries.
"You have to accept the reality and take the risk," Lopez said following Tuesday night's screening. "We need to show the issues immigrants are having."
Lopez teams up with the Laundry Workers Center, a young lawyer, and even a group of Occupy Wall Street protesters to go against all odds and form an independent labor union, his key to legally demanding benefits.
In the Q&A session following the film's screening, the directors stated their hope that the film provide a kind of organizing power for other workers in low-income jobs.
While the directors admitted that the chances of a fast-food restaurant actually forming an independent union and obtaining their first contract successfully is pretty unusual, they hope people takeaway from the documentary the importance of community support in these kind of campaigns. They've even started a Kickstarter campaign with the hopes that the film's dramatic take on important issues like immigration, economic inequality, and rising social unrest can be widely shared in theaters and communities throughout the United States.
Today, Lopez still works at the deli on 63rd Street and 2nd Avenue, though under much better conditions. And how has the experience of having a documentary made about him affected his own life?
Lopez smiles at the question.
"Right now I'm not only a deli man at Hot & Crusty, I'm a labor-organizer," he says.
Stranger Than Fiction's Winter 2015 season runs from February 3rd to March 24th, taking place each Tuesday night at the IFC Center. The season features an eclectic mix of sneak previews and retrospectives, including appearances by filmmakers Marc Levin, Ian Olds, Liz Garbus and film subject Seymour Bernstein.
Jenna Belhumeur is a current student at Columbia's Graduate School of Journalism. After graduating from UCLA in 2013, she moved to Thailand for 8 months to teach English and backpack around Southeast Asia. After Columbia, Jenna hopes to report internationally for a major broadcast network or pursue her passion for video through long-form documentary production. Follow her on Twitter @jenna_bel and on Instagram @jennabel.
Videography by Steff Sanchez, a filmmaker and designer based in New York City.
Related Film