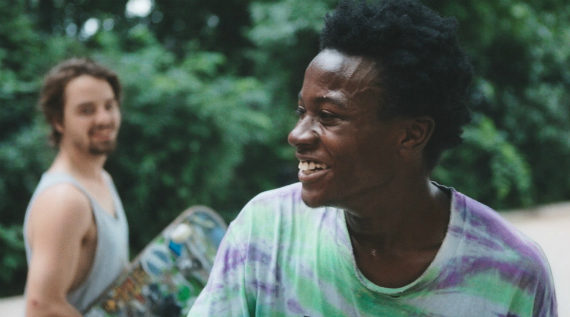 While I was away last week, the Toronto International Film Festival revealed an all-star lineup for its TIFF Docs program, including new works from Werner Herzog, Michael Moore, Errol Morris, Frederick Wiseman and Rithy Panh, just to name a few. This past week, the festival's Wavelengths program was unveiled and features experimental documentary from the likes of Wang Bing, Jodie Mack, James Benning and Roberto Minervini. And for doc professionals, the annual Doc Conference is set to kick off with a conversation between Werner Herzog and Pure Nonfiction host Thom Powers. The full schedule is available at the link.
In other festival news, the New York Film Festival announced not only its experimental Projections program, but also its Convergence slate, which centers around VR and interactive experiences, reports Kate Erbland of IndieWire. Deadline's Peter White reports that Sheffield Doc/Fest CEO and Festival Director Elizabeth McIntyre is to step down after three years in charge. Additionally, programmer and film critic Eric Allen Hatch has kicked off a new monthly column titled "Infinite Fest" in which he'll be "tackling the state of cinema as expressed by North American film festivals".
Bing Liu's Sundance Special Jury Prize winner MINDING THE GAP (my favorite film of the year thus far) has finally arrived via Hulu on Friday and has been near universally lauded by critics thus far. In The New Yorker, Richard Brody elegantly praises the film, writing, "…the skating sequences of his documentary "Minding the Gap" (which opens today in theatres and streams on Hulu) have a surging, gliding, soaring, joyously speedy energy that offers a hypnotic whirl and rush. Those images of skating, however, are merely the background and context for the film, and the diverting thrill that they offer is crucial to the film's substance. That substance—domestic trauma, systemic racism, and economic dislocation—is also the very stuff of society, and the near-at-hand intimacy gives rise to a film of vast scope and political depth." Critics from Matt Zoller Seitz at RogerEbert.com to A.O. Scott in The New York Times and Luke Hicks at Nonfics have all felt about the same in their warm reviews of the film. In promoting the film, Bing Liu himself has appeared in conversation with Vadim Rizov in Filmmaker Magazine, as well as with Alissa Wilkinson of Vox.
---