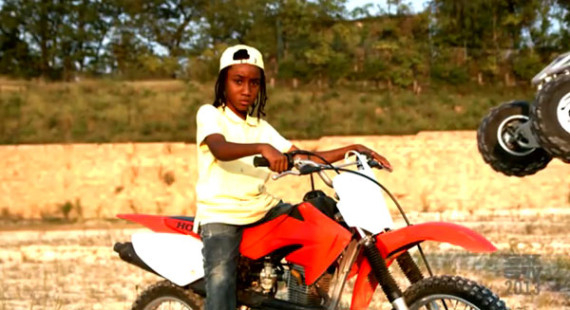 For someone mired in New York City's dark winter for far too long, South by Southwest holds the promise of warmer climes, reasonably priced barbeque and cold beer. This year–like any other–the festival's programmers have put together a selection of non-fiction work designed to entice any self-proclaimed fan of documentary out of the sunshine and into a darkened theater. Here are five films I think are worth waiting in line for.
THESE BIRDS WALK (Visions) Last summer Filmmaker magazine anointed the duo of Omar Mullick and Bassam Tariq as among the 25 new faces of indie film, and for good reason. The pair earned a mountain of press for their 30 Mosques in 30 Days documentary project and its user-generated offshoot, 30 Days of Ramadan. Mullick and Tariq banned both voiceover and talking heads in the making of THESE BIRDS WALK, a portrait of a young runaway living in Karachi, over which hovers the story of Pakistani humanitarian Abdul Sattar Edhi. The film comes to Austin fresh from a screening at the True/False Film Fest, where it built both buzz and a solid base of support among viewers. Watch the trailer; if there's a heart beating in your body I promise you will have goosebumps.
12 O'CLOCK BOYS (Feature Competition) Lotfy Nathan's directorial debut ostensibly follows the not-quite-yet teenager Pug as he seeks to align himself with an outlaw dirt bike gang that runs roughshod over the streets of Baltimore. But the clear subtext of 12 O'CLOCK BOYS is the dire economic and class divisions that drive Charm City's young bikers to define themselves oppositionally to the Baltimore police, along with pretty much any other established social institution. Nathan's film ends with a major catharsis for his subject, but probably not in the way you'd expect.
THE ACT OF KILLING (Festival Favorites) I could tell you that Joshua Oppenheimer's film relies on the Hollywood fantasies of Indonesian death squad members as a clever means of creating skewed simulacra of their crimes against humanity. Or I could just say that Werner Herzog, after seeing the film, wrote of it: "I have not come across a documentary as powerful, surreal and frightening in a decade." What else do you need to know?
MR. ANGEL (Documentary Spotlight) In a recent column for the New York Times, writer Stephen Petrow described the popular discourse about trans issues as a generation behind that of gays and lesbians. At first glance filmmaker Dan Hunt's profile of trans speaker, advocate and porn performer Buck Angel seems a radical place to start to shift that conversation. But Hunt's dedication (he spent six years filming Angel) and empathic approach proves to be both illuminating and deeply moving.
THE PUNK SINGER (24 Beats Per Second) Full disclosure: mostly I want to see this film because I once spoke to Kathleen Hanna without having any idea that I was speaking to Kathleen Hanna, and have lived with a sense of shame and regret since.  But if that's not doing it for you there's the fact that Hanna, in her roles as a member of seminal bands Bikini Kill and Le Tigre, served as a progenitor of the riot grrrl movement and advocate of the DIY ethos of the early 90s. Director Sini Anderson's film explores the musician and artist's career, and why she chose to withdraw from her public life beginning in 2005.