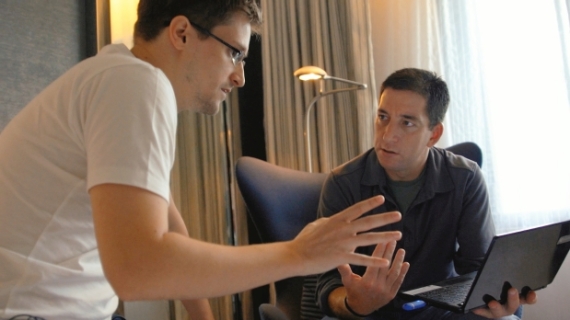 Here's my annual chat with Thom Powers—documentary programmer at the Toronto International Film Festival (TIFF) and SundanceNOW Doc Club, and artistic director of DOC NYC and the Stranger Than Fiction series—about the big documentary stories of 2014, and what we have to look forward to in 2015. Click here for our conversation from last year.
Rahul Chadha: What do you think was the one most important development in the doc world in 2014?
Thom Powers: I think the biggest thing that happened was the release of CITIZENFOUR. I can't think of another documentary that has had as much far ranging impact as that film. Not just the release of the film, but also the work that Laura Poitras did leading up to it, dating back to the initial revelation of Edward Snowden in 2013.
Chadha: When I was thinking about the big doc stories of this year, the two docs I thought about were CITIZENFOUR and BLACKFISH, just because I feel BLACKFISH is the rare film in which the "impact" it's had is easily quantifiable—there's been a lot of reporting on how terribly SeaWorld is doing now, and it's always attributed to BLACKFISH.
Powers: In that respect, I'd also point to THE INVISIBLE WAR, Kirby Dick's film, which is repeatedly invoked by politicians trying to pass legislation around sexual assaults in the military. I'll be very interested to see the follow-up to the film, THE HUNTING GROUND, that's going to be premiering at the Sundance Film Festival. To your point, I think it does reflect a degree to which documentaries are playing a critical role at the center of culture.
Chadha: This year DOC NYC scheduled a whole day of panels dedicated to short content. We talked a little about short content last year, I was wondering if you could update your ideas about the topic.
Powers: I think it's a growing area. A key player has been The New York Times, with their Op-Docs section that serves as a forum for independent filmmakers. But the regular New York Times video team produces short form video content of a high caliber every week. In the last year ESPN has expanded its short content. At the 2014 TIFF Doc Conference in September we had speakers from both of those companies—Jason Spingarn-Koff from the New York Times Op-Docs and Dan Silver from ESPN, and also an emerging player, Jed Weintrob, who oversees short form content for Conde Nast publications. In December, Conde Nast got a position on Apple TV under the banner "The Scene," where that short form content is being platformed. That's to say nothing of all the short form content that's on platforms like YouTube and Vimeo. What's significant here is that five years ago, for a doc maker to produce a short film, there were very few outlets. HBO has a special knack for acquiring Oscar nominated shorts. But there weren't too many other places to get your money back. Now, there are a lot more opportunities to get paid to do a short. And you see a lot of filmmakers repurposing some of their content from feature-length films into a short form.
Chadha: One of the interesting things about all of the outlets you mentioned is that they're cross-media platforms—the Times and Conde Nast come out of the print world and ESPN and Al Jazeera America have cable TV outlets. They're analogues to a traditional distributor—a large part of what they bring is marketing heft.
Powers: The New York Times, ESPN, Conde Nast and HBO for that matter, are all brands  that have millions of eyeballs being driven to them naturally. It's a different thing all together to place content on those sites as opposed to on a filmmakers own website.
Chadha: Sundance documentary head Tabitha Jackson gave a speech at DOC NYC this year calling for the strengthening of the artistic bent of documentary film that was widely discussed. What did you make of her speech? Continue reading…
---