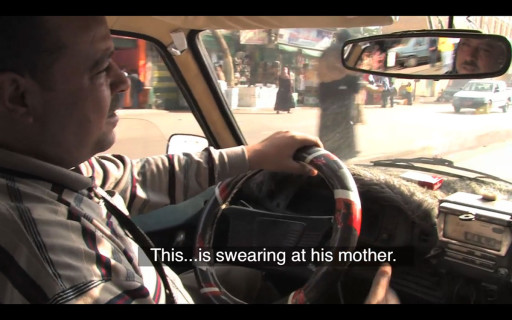 This week DOC NYC finished out it's fifth year. Writing for Indiewire, Ben Travers reported that CAIRO DRIVE, HOMME LESS and MIRROR IMAGE took home DOC NYC's jury awards this year, while THE HAND THAT FEEDS won the festival's audience award. Manori Ravindran of Realscreen also had coverage of the awards. Also at Indiewire, Anthony Kaufman took note of DOC NYC's emergence as a major documentary showcase. At the POV blog, Tom Roston covered Sundance Institute doc head Tabitha Jackson's DOC NYC keynote address calling for increased focus on artistic practice in documentary, while Scott Macaulay covered the speech for Filmmaker Magazine.  Paula Bernstein interviewed Jackson following her address. Writing for Nonfics.com, Daniel Walber shared six discoveries from the festival. VOD platform VHX shared a slideshow presented at the festival. Finally, Indiewire compiled all of their coverage on one DOC NYC news page, containing a host of links to recaps of panels and other events (definitely worth a browse.)
At Realscreen, Kevin Ritchie reported on this year's winners of the BRITDOC Impact Awards. The POV blog also recapped the winners. In a piece for Indiewire, director Joshua Oppenheimer shared his thoughts on the role of the documentary filmmaker and the idea of impact.
At the What (Not) to Doc blog, Basil Tsiokos provided an overview of the International Documentary FIlm Festival Amsterdam (IDFA) in two parts: part one and part two. Writing for Realscreen, Manori Ravindran covered an IDFA panel on the issues faced by female directors and other women in the doc world. Ravindran also spoke with festival head Ally Derks about the event. At the POV blog, Kel O'Neill spoke with IDFA DocLab head Casper Sonnen. Also, The D-Word documentary forum has a dedicated thread to the festival (registration and professional status required). And Inoo Kang spoke with Eline Jongsma about her immersive documentary project EMPIRE.
In distro news, Manori Ravindran reported for Realscreen that Magnolia Pictures International had picked up rights in several international markets for the Albert Maysles film IRIS.
At the New York Times, Ben Kenigsberg wrote about LITTLE WHITE LIE from director Lacey Schwartz. Also, Schwartz was interviewed by Adam Schartoff for a Filmwax Radio podcast.
Scott Macdonald wrote a great piece about the history of the intersection of documentary and avant garde filmmaking.
Writing for Nonfics.com, Christopher Campbell had some picks for films available on VOD and other home viewing platforms.
Back at Filmmaker Magazine, Scott Macaulay had five questions for Sam Green, the force behind the live doc THE MEASURE OF ALL THINGS.
At Adweek, Michelle Castillo took a look at documentary films that also function as "content" for brands that fund them.
Writing for Variety, Brett Lang made the case for why CITIZENFOUR deserved an Oscar nomination for best picture.
In a post at the Tribeca Film Institute website, Jason Guerrasio gathered advice from nine filmmakers about finding the perfect doc character.
Eric Kohn of Indiewire had a piece on FED UP being the most successful documentary of 2014.
In a piece for Realscreen, Manori Ravindran wrote on the awards winners at this year's CPH:DOX festival.
At the New York Times, Roslyn Sulcas spoke with Frederick Wiseman about his latest film, NATIONAL GALLERY. Also, NPR's Robert Siegel considered the film.
Writing for Filmmaker Magazine, filmmaker Luke Korem wondered if filmmakers should be friends with their subjects.
In a post at his Kino Eye blog, David Tames reviewed the Audio Technica BP4029 microphone.
Starting Dec. 2 I AM NOT A ROCK STAR from director Bobbi Jo Hart will be made available on VOD.
Canada's POV Magazine issued its latest doc digest for November.
Over at the Thompson on Hollywood blog at Indiewire, Ryan Lattanzio made the case for plaudits for the film EVOLUTION OF A CRIMINAL by director Darius Clark Monroe.
At Independent Magazine, Patrick Pearce considered the relationship between poetry and documentary film at this year's Montreal International Documentary Festival (RIDM).
Kartemquin Films' Jerry Blumenthal was remembered by Rick Kogan of the Chicago Tribune and Ben Sachs of the Chicago Reader.
Back at Filmmaker Magazine, Scott Macaulay covered the projects coming out of the latest POV Hackathon.
Please send tips and recommendations for the Memo via email here, or by Twitter to @GuerrillaFace. Thanks and have a great week.