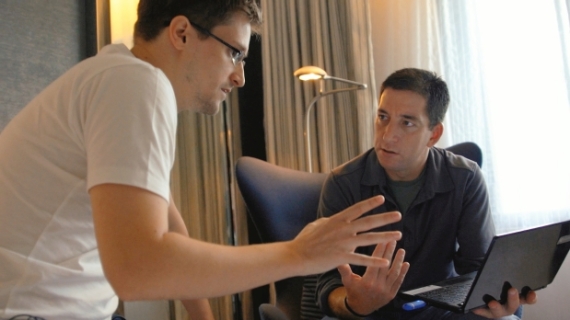 Here's my annual chat with Thom Powers—documentary programmer at the Toronto International Film Festival (TIFF) and SundanceNOW Doc Club, and artistic director of DOC NYC and the Stranger Than Fiction series—about the big documentary stories of 2014, and what we have to look forward to in 2015. Click here for our conversation from last year.
Rahul Chadha: What do you think was the one most important development in the doc world in 2014?
Thom Powers: I think the biggest thing that happened was the release of CITIZENFOUR. I can't think of another documentary that has had as much far ranging impact as that film. Not just the release of the film, but also the work that Laura Poitras did leading up to it, dating back to the initial revelation of Edward Snowden in 2013.
Chadha: When I was thinking about the big doc stories of this year, the two docs I thought about were CITIZENFOUR and BLACKFISH, just because I feel BLACKFISH is the rare film in which the "impact" it's had is easily quantifiable—there's been a lot of reporting on how terribly SeaWorld is doing now, and it's always attributed to BLACKFISH.
Powers: In that respect, I'd also point to THE INVISIBLE WAR, Kirby Dick's film, which is repeatedly invoked by politicians trying to pass legislation around sexual assaults in the military. I'll be very interested to see the follow-up to the film, THE HUNTING GROUND, that's going to be premiering at the Sundance Film Festival. To your point, I think it does reflect a degree to which documentaries are playing a critical role at the center of culture.
Chadha: This year DOC NYC scheduled a whole day of panels dedicated to short content. We talked a little about short content last year, I was wondering if you could update your ideas about the topic.
Powers: I think it's a growing area. A key player has been The New York Times, with their Op-Docs section that serves as a forum for independent filmmakers. But the regular New York Times video team produces short form video content of a high caliber every week. In the last year ESPN has expanded its short content. At the 2014 TIFF Doc Conference in September we had speakers from both of those companies—Jason Spingarn-Koff from the New York Times Op-Docs and Dan Silver from ESPN, and also an emerging player, Jed Weintrob, who oversees short form content for Conde Nast publications. In December, Conde Nast got a position on Apple TV under the banner "The Scene," where that short form content is being platformed. That's to say nothing of all the short form content that's on platforms like YouTube and Vimeo. What's significant here is that five years ago, for a doc maker to produce a short film, there were very few outlets. HBO has a special knack for acquiring Oscar nominated shorts. But there weren't too many other places to get your money back. Now, there are a lot more opportunities to get paid to do a short. And you see a lot of filmmakers repurposing some of their content from feature-length films into a short form.
Chadha: One of the interesting things about all of the outlets you mentioned is that they're cross-media platforms—the Times and Conde Nast come out of the print world and ESPN and Al Jazeera America have cable TV outlets. They're analogues to a traditional distributor—a large part of what they bring is marketing heft.
Powers: The New York Times, ESPN, Conde Nast and HBO for that matter, are all brands  that have millions of eyeballs being driven to them naturally. It's a different thing all together to place content on those sites as opposed to on a filmmakers own website.
Chadha: Sundance documentary head Tabitha Jackson gave a speech at DOC NYC this year calling for the strengthening of the artistic bent of documentary film that was widely discussed. What did you make of her speech?
Powers: I thought it was very welcome to the ears of the filmmakers, particularly her line, "The lingua franca of non-fiction filmmaking should be the language of cinema and not the language of grant applications." Foundations are a key funding source for doc makers, but typically foundations focus on very issue-driven films. The more nuanced a film is, the harder it is to fit into the language of grant funding. The Sundance Institute is serving filmmakers in a multitude of ways. Clearly giving them money is a great one. But there are also labs that take place in the summer. To me, one of the most exciting things coming out of the Sundance Institute in the last few years is the Artists Services initiative, which helps filmmakers devise ways to maximize their independence in the distribution of their films. The grant-making and labs will always be limited in the number of films they can select, but Artists Services is serving as a kind of think tank to serve many others.
Chadha: Going back to CITIZENFOUR, it was premiered in such an unusual way, and upon its release by RADiUS seemed to shake up the Oscar race. I was wondering if I could just get your take on how all of that happened.
Powers: The year ended with the sensation of Sony being hacked over THE INTERVIEW. That might overshadow the risks that everyone involved with CITIZENFOUR was taking, possibly running up against the interests of our own government. It was only last April when Laura Poitras and Glenn Greenwald returned to the United States to receive the George Polk Award, followed by the Pulitzer Prize. Until then there was speculation as to whether they could be subpoenaed or arrested. I think everyone who got behind CITIZENFOUR, starting with Participant Media, and then RADiUS and HBO—where the film will air this year and reach an ever wider audience—it was a gutsy move on behalf of everyone. Over the summer I had been in talks with those teams to try to show the film at the Toronto International Film Festival. I would have loved to, but the film didn't get finished until a couple days before it showed at the New York Film Festival. Those conversations were conducted off the internet, face-to-face, which indicates the amount of caution taken to make sure the film wasn't derailed before reaching the public.
Chadha: Last year you made some waves by calling for the establishment of an organization that could provide some sort of legal defense or help for independent documentary filmmakers. Its need is underscored by the fact that Poitras was recently sued by someone for allegedly profiting off of the release of state secrets. Do you think there's been any progress on that front?
Powers: I said it last year in our conversation, really as a kind of wish. But later I heard from Pat Aufderheide, who is based at American University's Center for Media & Social Impact and is a key mover behind the effort to change Fair Use policy in the documentary world by writing a major report with the legal scholar Peter Jaszi. Pat told me this year that she used our conversation to help win the support of a funder to look further into this issue. It's hard to say where it will go. But I continue to think that as independent documentary filmmakers are taking on the greater burden of investigations and going up against powerful interests, they're going to increasingly be put under legal pressure. The case against Poitras goes to show you that even a harassment suit can have a chilling effect on filmmakers that have slim resources to fight that kind of thing.
Chadha: You've taken pains to program repertory doc films, dedicating the most recent season of Stranger Than Fiction to the films of Chris Hegedus and D.A. Pennebaker. You also made some of the Robert Drew collection available through SundanceNOW Doc Club. What's your motivation in programming these films? Do you think the history of documentary film is too often overlooked?
Powers: One thing led to another. Last winter I suggested to D.A. Pennebaker that we show MONTERREY POP, simply because I hadn't seen it on a big screen in a long time. He got enthused by the idea and pulled together several of the original crew members on the film—cinematographers, editors and others. You couldn't help but observe that a gathering like that might not take place ever again. Most of these people are in advanced years. Several had traveled from afar.  It was a really special night and I wanted to do more of it. That's what gave rise to the Pennebaker/Hegedus retrospective in the fall. We did eight nights of Pennebaker/Hegedus films, and still left behind a lot of significant films that we didn't have room for. After the lineup was already locked in place, I was able to find a 35mm print at the Academy of Motion Picture Archives of a film Pennebaker made in 1961 with Drew Associates called DAVID, which is about a trumpet player named David Allen as he goes through recovery for drug addiction at a treatment house in Santa Monica, California. We showed it at DOC NYC. It had never been released on any kind of home video format and still has yet to be digitized. So when we released 10 films out of the Drew Associates Collection on SundanceNOW's Doc Club, DAVID isn't among them. Although I hope in the future we can get that up there. These experiences really reminded me how much really important documentary work is not accessible right now. It's going to take some effort to make them more accessible. During the Stranger Than Fiction retrospective last fall there was an article in The New York Times about Pennebaker and Hegedus trying to find a home for their archives. There's still a shortage of institutions that can really take on that kind of project.
Chadha: The doc world lost a lot of big doc names this year, including Robert Drew, William Greaves, Malik Bendjelloul—
Powers: —Michael Glawogger, Harun Farocki, Robert Gardner, Ed Pincus. Some of those people like Robert Drew and Robert Gardener had reached an age that we should all be so lucky to live. And some were tragic early losses, like Malik and Michael Glawogger. We've reached a point where the early pioneers of modern documentary—and in that group I should include Wolf Koenig, a Canadian filmmaker who also passed away this year—are a passing generation. That brings an added sense of urgency to take stock of filmmaking from that era, and ensure its future. Thankfully the Drew Associates collection is in the good hands of Robert Drew's daughter-in-law Jill Drew, who has taken it upon herself to devote time and resources to manage it. Not every filmmaker has such a strong steward.
Chadha: The Serial podcast seemed to demonstrate a clear demand for sequential nonfiction storytelling that unfolds over a longer period of time than two hours. You talked about serialized documentary in our conversation last year. What lessons do you think the success of Serial holds for documentary filmmakers, and what are the prospects of that kind of work for documentary?
Powers: Last year I was predicting a rise of serial documentary film, and apparently I was ahead by at least one year. For me, one of the more anticipated events coming in the early part of 2015 is Andrew Jarecki's six-part series on HBO called THE JINX about Robert Durst. Already you can see lines being drawn around that story. There was a long article in the Times a couple of days ago by Jim Dwyer interviewing Robert Durst's brother Douglas Durst, who declined to be interviewed for the documentary. Given Andrew Jarecki's experience with CAPTURING THE FRIEDMANS and his proven dedication to dive deep into a complex story, I have high expectations.
Chadha: This year the British Film Institute's Sight & Sound released a critic's poll of the best documentaries of all time. What did you make of the list?
Powers: Every week someone is making some new list about something, so I was unprepared for how much effort they undertook to solicit viewpoints from filmmakers and specialists from around the world. It's worth a digital subscription to Sight & Sound to access their library. In response to that poll, though, they shared it with Mark Cousins, who is known for his 15-hour history of cinema called THE STORY OF FILM. In 2013, I had Mark as a guest at TIFF showing a follow-up called THE STORY OF CHILDREN AND FILM. He was vowing that would be his last film in that vein. But when Sight & Sound shared with him the documentary poll results, he got drawn back in, embarking on a new project called DEAR JOHN GRIERSON. He felt the poll skewed toward a Western documentary canon and was weak at representing documentary-making in other parts of the world. Rather than talk about it, he's supplying the evidence in DEAR JOHN GRIERSON. He put 30 minutes of the work-in-progress on the BFI website, which I found thrilling to watch.
Chadha: The other thing I noticed about that list is that out of the top 10 films, the most recently made was Agnes Varda's THE GLEANERS AND I from 2000. I was wondering what you thought about the age of the top 10 films.
Powers: That seems justified to me. If you're going to pick films that have some claim to posterity, you'll have a little bit of distance behind them to really assess whether they've withstood the test of time.
Chadha: Were there any books that came out this year that you thought were especially relevant to documentary?
Powers: One standout is "Werner Herzog – A Guide for the Perplexed: Conversations With Paul Cronin." This book expands on the previously published book "Herzog on Herzog," but fills out a lot of Herzog's career that's happened since the original's publication. There's something quotable almost on every page. I have to give a lot of credit to Paul Cronin for his scholarship in print and the films he's made about Amos Vogel, Haskell Wexler and Peter Whitehead. For years, Paul has been working on a film that had the working title A TIME TO STIR about Columbia University in 1968 when student groups took over the buildings and clashed with police. Paul showed a work-in-progress version of this in 2008 at TIFF. Scott Foundas described it as the best film he saw at Toronto that year, and it wasn't even finished. It's a major piece of history and I look forward to its completion. Another terrific book I read this year is Mark Harris' "Five Came Back: A Story of Hollywood and the Second World War," about the Hollywood filmmakers who got involved making documentary films in World War II—Frank Capra, John Ford, John Huston, William Wyler and George Stevens. It's a great read. Lastly, a third recent book I'd recommend is the anthology "Killer Images: Documentary Film, Memory and the Performance of Violence" that was co-edited by Joshua Oppenheimer. I'm not sure how he had time to do this between making THE ACT OF KILLING and THE LOOK OF SILENCE. But somehow he pulled together a collection of essays that reflects on how documentaries deal with violence.
Chadha: Looking forward to 2015, are there any particular films that are on your radar for the coming year?
Powers: There are a number of films that were previewed at fall film festivals headed for release in 2015. They include two films that made the Oscar Short List based on qualifying runs in the fall. One is SALT OF THE EARTH by Wim Wenders and Juliano Salgado about photographer Sebastião Salgado. The second is TALES OF THE GRIM SLEEPER from Nick Broomfield that digs into the legacy of a Los Angeles serial killer. Those two films will see wider release in 2015 from Sony Pictures Classics and HBO, respectively. Other films hitting theaters this year include Joshua Oppenheimer's follow up to THE ACT OF KILLING called THE LOOK OF SILENCE. A documentary by Ethan Hawke called SEYMOUR: AN INTRODUCTION about a concert pianist turned piano teacher named Seymour Bernstein who is a delightful character to spend 90 minutes with. Also SUNSHINE SUPERMAN, about the pioneer of BASE jumping, Carl Boenish. Lastly, the film that was the opening night of this year's DOC NYC and will later be released by Sundance Selects, DO I SOUND GAY? featuring memorable interviews with Dan Savage, David Sedaris, Tim Gunn and others.
Chadha: Do you have any final thoughts about the year or anything else?
Powers: Right now I'm working on a new crowd-aggregated article that follows up on the piece I published last year "Distribution Advice for 2014." This year I'm asking filmmakers to talk about strategies for career sustainability. That remains a very tough issue. You can have great success by documentary standards—winning awards, getting a distribution deal—and still face great difficulty earning a living. Filmmakers have endlessly been at the mercy of a small number of gatekeepers holding the purse strings at foundations, broadcasters or equity funds that can only support a few dozen filmmakers each year. But a wonderful thing has happened. Instead of giving up, filmmakers by the hundreds—or thousands—have become even more entrepreneurial and inventive in how they get projects finished and reach audiences. If we pull their collected wisdom together, documentary making can continue to thrive.