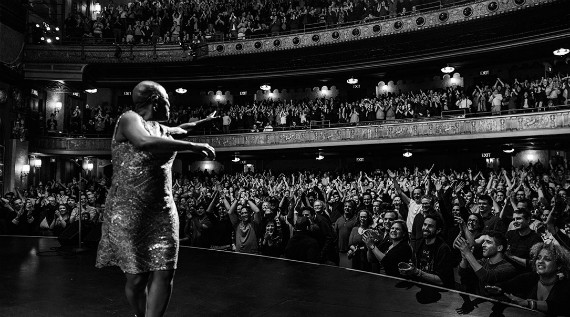 Following the rather shocking news that Michael Moore would debuting his previously unannounced new film WHERE TO INVADE NEXT at this year's Toronto International Film Festival, Thom Powers and the TIFF gang have revealed the entire TIFF Docs program which no consists of a staggering 31 films. The slate includes a wealth of music based docs such as Barbara Kopple's MISS SHARON JONES!, Morgan Neville's THE MUSIC OF STRANGERS: YO-YO MA AND THE SILK ROAD ENSEMBLE, Kahlil Joseph's THE REFLEKTOR TAPES, which was previewed by Hugh McIntyre at Forbes, and a new film shot by Sydney Pollack titled AMAZING GRACE on Aretha Franklin's record of the same name. The film received a pair of previews thanks to Steven Zeitchik at the LA Times and Flavorwire's Jason Bailey. Also included in the lineup is IN JACKSON HEIGHTS, by Fredrick Wiseman, who was interviewed this week about the film by David Ehrlich at Little White Lies.
Thom Powers himself spoke about the docs at TIFF this year with Realscreen's Kevin Ritchie, as well as with David Poland on his Youtube interview series DP/30. Writing for indieWIRE, Laura Berger also surveyed the non-fiction offerings at the fest, as did Tom Roston at Doc Soup, Gregg Kilday at The Hollywood Reporter, Michael Cieply for The New York Times and Matt Goldberg at Collider. While TIFF Docs harbors the majority of non-fiction films at the festival, two new programs offer a few surprises including Alan Zweig's HURT: THE STEVE FONYO STORY, which screens as part of the new Platform competition reports Realscreen's Daniele Alcinii, and Morgan Neville's KEITH RICHARD: UNDER THE INFLUENCE, which will play in the new television sidebar, Primetime, reports Jeremy Egner in The New York Times.
Ambulante California, an nontraditional roving film festival that calls to mind the travelling festival project put together by actress Tilda Swinton and filmmaker Mark Cousins back in 2009, has also announced their documentary stuffed lineup according to Kate Erbland at indieWIRE. Carolina A. Miranda of the LA times attempted to explain why Diego Luna and Gael Garcia Bernal, the festival organizers, have decided to stay away from utilizing traditional movie theaters for their Ambulante screenings. Also on the topic of festival lineups, Basil Tsiokos previewed the doc offerings at this year's Sarajevo Film Festival at What (not) To Doc.
---