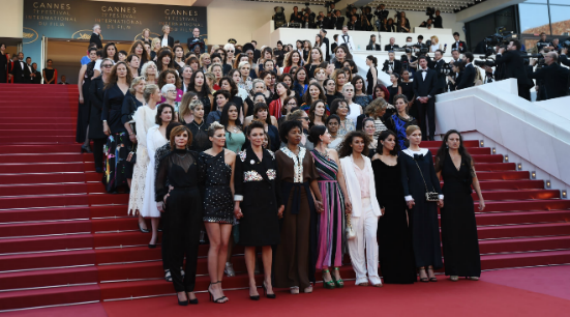 We've been without a Monday Memo for the past couple weeks as I was out of town scoping out this year's edition of Hot Docs (see my festival wrap-up over at Nonfics) and the 4th annual Nitrate Picture Show in Rochester, where a 100 year old print of an obscure silent short doc called OUR NAVY was screened and this year's closing night 'Blind Date with Nitrate' was none other than Robert Flaherty's astonishing 1934 doc, MAN OF ARAN. Suffice to say, I've had a lovely, though immensely busy couple weeks away. Now, on to the news!
Though Hot Docs has now come and gone, last week they revealed their award winners in Hind Bensari's WE COULD BE HEROES, which won Best International Feature, and Yuqi Kang's A LITTLE WISDOM, which took home the Best Canadian Feature Doc Award, while Alan Bogarin and Jonathan Bogarin was awarded the Emerging International Filmmaker Award for 306 HOLLYWOOD. Meanwhile, Michael Del Monte's TRANSFORMER won the Audience Award, just nosing out Matthew Shoychet's THE ACCOUNT OF AUSCHWITZ and Morgan Neville's WON'T YOU BE MY NEIGHBOR?.
Currently, Cannes is in progress and the biggest news coming out of the most prestigious film event of the year is the 5050×2020 campaign, which saw 82 actresses, directors, agents, and other film industry women gathered on the red carpet to bring attention to gender inequality in the film industry. "Since the launch of the Cannes Film Festival, only 82 films directed by women have been honored by an official selection in competition, compared to 1,645 films directed by men, a ratio of less than five percent", reported Rebecca Keegan in Vanity Fair. In that same vein, it seems a perfect moment to share that a new feminist film journal called MAI has published their first issue online.
Tomorrow night at IFC Center, our 2018 Spring Season of Stranger Than Fiction continues with Kate Novack's intimate fashion portrait THE GOSPEL ACCORDING TO ANDRÉ, with Novack and her producer Andrew Rossi on hand for a live post-screening Q&A! Tickets are still available for purchase here.
In other festival news, the Sundance Institute's John Cooper announced last week that Kim Yutani is the Sundance Film Festival's new Director of Programming. "Yutani will lead the curation of film, media, and off-screen programming at both the Sundance Film Festival and other year-round public platforms and programs that showcase and elevate independent storytellers and artists. She was formerly Senior Programmer at the Festival, and will report directly to Festival Director John Cooper." Additionally, the Film Society at Lincoln Center unveiled the 29th Human Rights Watch Film Festival lineup, which runs June 14-21 and opens with Alexandria Bombach's ON HER SHOULDERS.
The IDA Documentary Awards 2018 call for entries is now open to any documentary, non-fiction or factual program completed and/or been broadcast or publicly released between January 1, 2018 and December 31, 2018. July 9 is the final deadline for submissions. The Center for Media and Social Impact announced on Friday that Matthew Cipollone has been the awarded the First CMSI Jeffrey Tuchman Social Justice Documentary Award at the AU School of Communication's Visions Awards for Student Filmmakers. At Realscreen, Kelly Anderson reported that "PBS is recognizing the work of acclaimed documentary filmmaker Stanley Nelson by awarding him with the Beacon Award. Formerly known as the Be More Award, the honor is bestowed upon individuals whose work, leadership and service have inspired and enriched the nation."
While on the topic of PBS, "POV announced the launch of POV Shorts, a brand new broadcast initiative aimed at making POV and public broadcasting a premiere destination for short-form nonfiction storytelling…Audiences can expect a highly-curated slate of fresh and relevant character-driven films covering a wide range of subject matter."
The Hollywood Reporter broke the news that TV anchor and journalist Meredith Vieira has unveiled Meredith Vieira Productions (MVP), a new initiative to fund the development of documentary projects directed by women. And at Film Independent, Anthony Ferranti outlined the basics of how to choose the right equipment for nonfiction filmmaking.
There was no single standout theatrical release this week, but a handful of useful pieces cropped up on various recent releases. Over at MUBI's Notebook, Phil Coldiron ruminated on Nathaniel Dorsky's ARBORETUM CYCLE, Christopher Llewellyn Reed reviewed RBG for Hammer To Nail, Craig Hubert looked at BOOM FOR REAL: THE LATE TEENAGE YEARS OF JEAN-MICHEL BASQUIAT for Hyperallergic, The New Yorker's Richard Brody and RogerEbert.com's Godfrey Cheshire both took on FILMWORKER, Jason Zinoman reviewed ALWAYS AT THE CARLYLE in The New York Times, and Bob Mondello unpacked MOUNTAIN at NPR.
I leave you this week with a piece by Tom White in which he asked a handful of doc educators, "What five documentaries do you strongly advise that your students watch as they embark on their filmmaking careers?" The enlightening responses were published over at IDA. Until next week, if you have any tips or recommendations for the Memo, please contact me via email here, or on Twitter, @Rectangular_Eye.