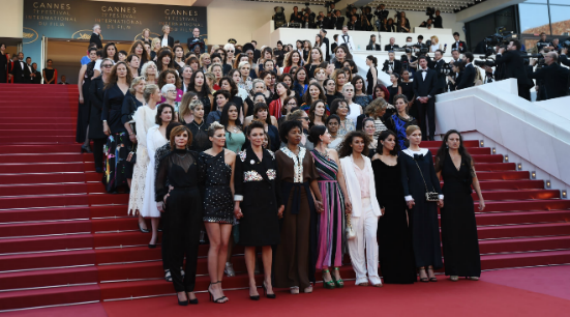 We've been without a Monday Memo for the past couple weeks as I was out of town scoping out this year's edition of Hot Docs (see my festival wrap-up over at Nonfics) and the 4th annual Nitrate Picture Show in Rochester, where a 100 year old print of an obscure silent short doc called OUR NAVY was screened and this year's closing night 'Blind Date with Nitrate' was none other than Robert Flaherty's astonishing 1934 doc, MAN OF ARAN. Suffice to say, I've had a lovely, though immensely busy couple weeks away. Now, on to the news!
Though Hot Docs has now come and gone, last week they revealed their award winners in Hind Bensari's WE COULD BE HEROES, which won Best International Feature, and Yuqi Kang's A LITTLE WISDOM, which took home the Best Canadian Feature Doc Award, while Alan Bogarin and Jonathan Bogarin was awarded the Emerging International Filmmaker Award for 306 HOLLYWOOD. Meanwhile, Michael Del Monte's TRANSFORMER won the Audience Award, just nosing out Matthew Shoychet's THE ACCOUNT OF AUSCHWITZ and Morgan Neville's WON'T YOU BE MY NEIGHBOR?.
Currently, Cannes is in progress and the biggest news coming out of the most prestigious film event of the year is the 5050×2020 campaign, which saw 82 actresses, directors, agents, and other film industry women gathered on the red carpet to bring attention to gender inequality in the film industry. "Since the launch of the Cannes Film Festival, only 82 films directed by women have been honored by an official selection in competition, compared to 1,645 films directed by men, a ratio of less than five percent", reported Rebecca Keegan in Vanity Fair. In that same vein, it seems a perfect moment to share that a new feminist film journal called MAI has published their first issue online.
Tomorrow night at IFC Center, our 2018 Spring Season of Stranger Than Fiction continues with Kate Novack's intimate fashion portrait THE GOSPEL ACCORDING TO ANDRÉ, with Novack and her producer Andrew Rossi on hand for a live post-screening Q&A! Tickets are still available for purchase here.
---