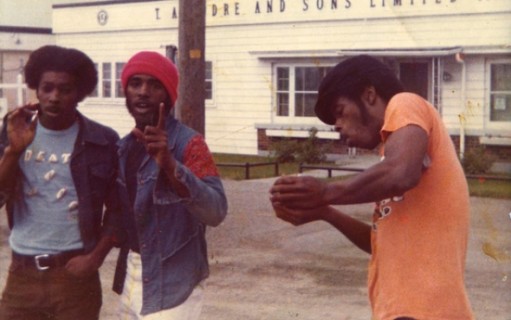 The film A BAND CALLED DEATH about Detroit's proto-punk band Death from directors Jeff Howlett and Mark Covino hit theaters this week. Elisabeth Greenbaum Kassom interviewed Howlett and Covino for the International Documentary Association's website, while Ben Edmonds covered the film for the Detroit Free Press. Jared Mobarak reviewed the doc for The Film Stage, while Eric Kohn wondered if a comparison between the film and SEARCHING FOR SUGAR MAN was apt at Indiewire. Mallika Rao of the Hufffington Post also spoke with Howlett and Covino about their film.
Writing for Realscreen, Adam Benzine covered the awards handed out at the first AFI Docs, with the Audience Award going to THE NEW BLACK from director Yoruba Richen. Ian Sandwell also had coverage of the festival's awards in a piece for Screen Daily. Basil Tsiokos had coverage of the marriage of the festival and Washington politics in a piece for Indiewire, and provided additional coverage at his What (Not) to Doc blog. Ann Hornaday had news on the festival's start for the Washington Post, and Patricia Aufderheide of American University's Center for Social Media recapped a panel discussion she participated in on fair use issues.
In distro news, Adam Benzine of Realscreen reported that Sundance award-winner CUTIE AND THE BOXER from director Zachary Heinzerling was picked up by Dogwoof for UK theatrical distribution. His Realscreen colleague Kevin Ritchie reported that Sundance Selects had acquired North American rights for THE PUNK SINGER, Sini Anderson's profile of musician and artist Kathleen Hanna. Benzine also had the news that Oscilloscope Laboratories had picked up North American rights for OFF LABEL, from directors Michael Palmieri and Donal Mosher.
Benzine stayed busy this week, also reporting that Hot Docs was seeing some changes at the top, with Executive Director Chris McDonald moving to the newly created position of president, and Brett Hendrie replacing him in his old role. Etan Vlessing also covered the news for The Hollywood Reporter.
On the interviews front, Lauren Wissot spoke with one of PUSSY RIOT: A PUNK PRAYER directors Maxim Pozdorovkin. Joëlle Pouliot of DocGeeks spoke with the team behind the film PLOT FOR PEACE. At the POV blog, HOMEGOINGS director Christine Turner spoke with viewers during a social screening of her film. And in a Filmwax podcast, Adam Schartoff spoke with Penny Lane and Bryan L. Frye, the forces behind OUR NIXON, along with Adam Pogoff and Jay Sterrenberg of the Meerkat Media Collective on their new film BRASSLANDS.
The Camden International Film Festival is on the hunt for applicants to its Points North pitch program. Program director Sean Flynn writes: The pitch is a unique opportunity to connect with key funders, broadcasters and distributors in an intimate setting on the picturesque coast of Maine. Past delegates include heavy hitters from HBO, POV, ITVS, Sundance Institute, Discovery, BBC, ARTE and more. Selected projects receive accommodations, a travel stipend, 2 VIP passes to the festival and an intensive pitch training session. Awards include a $1000 cash prize, $10,000 Modulus Studios Finishing Fund, $3000 scholarship to the Maine Media Workshops and three consultations with the Tribeca Film Institute. The deadline is August 9.
In reviews, Mark Kermode of the Guardian considered the well-regarded Joshua Oppenheimer doc THE ACT OF KILLING THIS WEEK, while Andy Webster took on MAGIC CAMP from director Judd Erlich at the New York Times. Writing for Ion Cinema, Jordan M. Smith reviewed Matthew Cooke's HOW TO MAKE MONEY SELLING DRUGS, as did Christopher Campbell at Film School Rejects. Stephen Holden of The New York Times bestowed GIDEON'S ARMY from director Dawn Porter with one of its Critics' Picks, while Alan Scherstuhl wrote up the film at the Village Voice. And David DeWitt reviewed THE SECRET DISCO REVOLUTION from director Jamie Kastner, also for The New York Times.
In a piece for Indiewire, Anthony Kaufman took on Travis Wilkerson's LOS ANGELES RED SQUAD: THE COMMUNIST SITUATION IN CALIFORNIA. Kaufman also turned out his Docutopia piece for the SundanceNOW blog on filmmaker Jem Cohen's HALLUCINATIONS OF THE REAL.
In addition to all of that, Kaufman also had three pieces on interactive documentary for Indiewire: one that questioned the size and makeup of audiences, one with nine things interactive producers would do well to keep in mind and one on the pros and cons of interactive storytelling.
Back at the International Documentary Association, Lisa Hasko put together a list of 2013 summer grant opportunities.
At the What (Not) to Doc blog, Basil Tsiokos had an overview of the docs screening at this year's FID Marseille in France and also at Karlovy Vary in the Czech Republic.
At Indiewire, Fariha Roisin penned a wrap up of the Human Rights Watch Film Festival as a guest blogger.
Katie Van Syckle came up a list of her picks for the summer's best docs at Rolling Stone.
At the Truly Free Film site, Andrew Einspruch broke down the complex nature of direct distribution.
The Tribeca Film Institute named the six recipients of its New Media grants this week. Kelly Anderson had coverage of the grant announcement for Indiewire.
Finally, Christopher Campbell had this week's notable theatrical releases in a post at the Documentary Channel blog.
That's it for this week. Please e-mail any tips or submissions here, or via Twitter to @GuerrillaFace. Have a great week everyone!