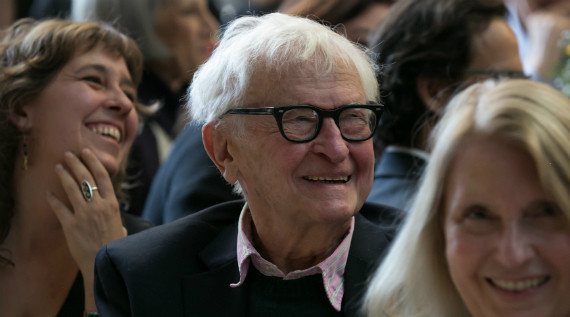 Last week I said I'd be skipping the Monday Memo until next week due to the fact that I'd be at True/False Fest all weekend, but despite being thoroughly drained from the incredible films I took in and festivities I took part in, there is yet news that must be addressed, albeit briefly. As I'm sure you've heard by now, Albert Maysles, a documentary pioneer whose work includes such classics as GREY GARDENS, SALESMAN and GIMME SHELTER, passed away late last Thursday night, just after it was announced that IN TRANSIT, what will now be his final film, will have its world premiere next month at the Tribeca Film Festival. Word spread like wild fire both on Twitter and through the various Qs throughout True/False Friday morning. During the festival's celebratory March March through downtown Columbia, MO, filmmakers took to the streets with portraits of Maysles and film stills from his monumental oeuvre pinned to their jackets in tribute to their fallen hero.
Mourning the loss, articles revealing the news of his death and detailing the filmmaker's life and career showed up at The New Yorker in a loving piece by Richard Brody, in an article by Matt Schudel in the Washington Post, the New York Times thanks to Anita Gates, as well as at The Dissolve in an obituary by Keith Phipps. For Slate, Charles Loxton wrote a piece on the filmmaker's passing, while Matt Zoller Seitz wrote up a list of 8 things about Al over at RogerEbert.com. For this week's Indiewire Podcast, Eric Kohn and Anne Thompson discuss why Maysles mattered. Christopher Campbell also paid tribute and passed along the statement released from the Maysles Documentary Center over at Nonfics.
Maysles died just prior to the theatrical rerelease of GREY GARDENS, which Alex Simon of The Huffington Post had recently interviewed him about. Andrew O'Hehir had also reported on the film's restoration for Salon, while Katey Rich of Vanity Fair released a 2001 Phone Call Between Little Edie of GREY GARDENS and Maysles earlier in the week. Just prior to boarding a plane to True/False and hearing the news of Maysles passing, Farihah Zaman had submit an article on GREY GARDENS to The Talk House.
Over the years, Al Maysles was a guest of and mentor to Stranger Than Fiction and it is with great sadness that we must say our goodbyes. Our conversations with Al about SALESMAN and GREY GARDENS can be viewed at the links.
This week is rare in that we hosting a double header with SEYMOUR: AN INTRODUCTION playing tonight at 8 pm, while A DANGEROUS GAME will screen Thursday at 8 pm, both at the IFC Center with post-screening Q&As, as usual.
As I've already mentioned, this year's exquisite edition of True/False has wrapped. Prior to the fest, Basil Tsiokos previewed the films on offer at What (not) To Doc, while Fandor's David Hudson kept a roundup of coverage coming out of Columbia throughout the weekend, including my pair of daily diaries from my first visit over at IONCINEMA.
Hot Docs announced their second wave of Special Presentation titles that include fest favorites such as WHAT HAPPENED, MISS SIMONE? by Liz Garbus and Heddy Honigmann's AROUND THE WORLD IN 50 CONCERTS. Tribeca Film Festival also announced their 2015 doc competition lineup which includes world premieres of Ivy Meeropol's INDIAN POINT, Nick Berardini's TOM SWIFT AND HIS ELECTRIC RIFLE and Leah Wolchok's VERY SEMI-SERIOUS. In addition, the parallel running Tribeca/ESPN Sports Film Festival released their lineup with titles like Jeff Tremaine's ANGRY SKY, Spike Lee's THE GREATEST CATCH EVER and Bent-Jorgen Perlmutt's HAVANA MOTOR CLUB all finding their own world premieres.
Last week Grantland featured Errol Morris, all day, every day. Over the course of Errol Morris Week, six ESPN-funded shorts were released, including THE SUBTERRANEAN STADIUM, THE HEIST, THE STREAKER, BEING MR. MET, MOST VALUABLE WHATEVER, and CHROME. The series sparked from his involvement in making a commercial for the sports conglomerate. Morris's history of directing commercials was detailed in an article by Mike Powell as part of Grantland's celebration, as was a piece by Wesley Morris on the filmmaker's unique style of onscreen interrogation and Alex Pappademas's lengthy interview with the man himself.
Being that I'm trying to keep it short this week, I'll end here with a few memories of Al visiting and sharing memories of SALESMAN and GREY GARDENS not likely to be forgotten anytime soon.
Until next week, if you have any tips or recommendations for the Memo, please contact me via email here, or on Twitter, @Rectangular_Eye. I look forward to hearing from you!