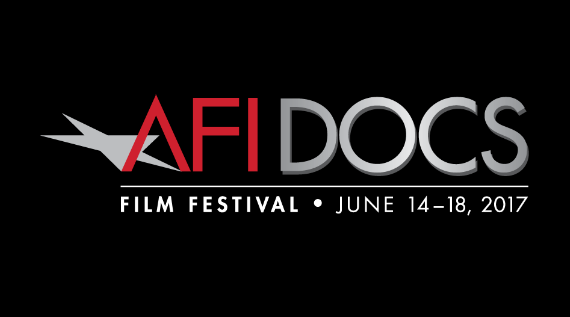 A week has passed since the curtains closed on Hot Docs 2017, but coverage of the festival continues to roll in. Both Anthony Kaufman and Anne Thompson reported on the twenty projects that were proposed to funders and broadcasters at the Hot Docs Pitch Forum for IndieWire, noting their favorite projects of prior iterations (STRONG ISLAND, BILL NYE: SCIENCE GUY) and promising projects from this year's edition (Elan and Jonathan Bogarín's 306 HOLLYWOOD, Robert Greene's BISBEE '17), while Corey Atad's festival dispatch turned up at Vice and my report on the under-covered highlights of the festival was published over at Nonfics.
Tel Aviv's19th annual Docaviv and Ecuador's EDOC (Encuentros del Otro Cine) are both currently underway, as Basil Tsiokos reminds at What (not) To Doc, but stateside doc lovers have their attention focused on the fact that AFI DOCS (running June 14-18) and the LA Film Festival (June 14-22) have revealed their 2017 lineups. Meanwhile on the other side of the globe, the Sydney Film Festival (running June 7-18) also announced their 2017 program.
After taking home the Special Jury Prize for inspirational documentary filmmaking, Amanda Lipitz's STEP is getting a sneak peak screening tomorrow at IFC Center as part of our spring season! Director Lipitz will be on hand for a live post-screening Q&A. Tickets for the event are on sale here.
Stranger Than Fiction alumnus GET ME ROGER STONE debuted on Netflix on Friday, gleaning a generally warm reception from critics. In The Atlantic, Sophie Gilbert calls the film "a thorough and entertaining primer into how American politics got so ugly, not to mention a crucial window into the mentality of the unorthodox 45th president," while at Vox, Alissa Wilkinson notes that "the single most useful insight of Get Me Roger Stone is that men like Stone are driven not so much by ideology as by an overweening thirst for power and celebrity, propelled by absolute antipathy for their enemies." Owen Gleiberman of Variety, Godfrey Cheshire of RogerEbert.com and Gwilym Mumford of The Guardian had similar thoughts, though Manohla Dargis of The New York Times was less enthused, signing off sourly, but reasonably, "On Friday, GET ME ROGER STONE will do its part to extend Mr. Stone's reach and his brand, both of which seem as unbounded as he does."
Timothy Marrinan and Richard Dewey's BURDEN, about the late Los Angeles-based artist Chris Burden, arrived in NYC theaters last weekend and garnered a loving feature by Carolina A. Miranda in the Los Angeles Times upon its LA release on Friday. Marrinan and Dewey were also interviewed about their project by Akiva Gottlieb for IDA. Other theatrical coverage this past week included Keva York's review of DAVID LYNCH: THE ART LIFE at 4:3 and Andrew Karpan's take on BANG! THE BERT BERNS STORY for Nonfics. Writing at length for Film School Rejects, Angela Morrison also looked the Netflix nonfiction series HOT GIRLS WANTED.
Sheila Nevins, producer and president of HBO Documentary Films, appeared once again on Pure Nonfiction, this time discussing her new memoir
"You Don't Look Your Age…and Other Fairy Tales." And on the latest episode of The Close-Up, you can listen to last year's NYFF Live: Documentary Panel featuring Film Society Executive Director Lesli Klainberg with filmmakers Fisher Stevens, Alexis Bloom, Adam Schlesinger, Linda Saffire, Amit Madheshiya, and Shirley Abraham.
Filmmakers may want to take note that POV's 2018 Call for Entries is now open. You can submit your film for consideration here. Also note Noah Berlatsky's excellent piece in The Chronicle of Higher Education on how "Fair Use Too Often Goes Unused".
Interesting, two new big name hats have been thrown into the nonfiction filmmaking ring. Deadline's Mike Fleming Jr. reports that Oscar winning director Steve McQueen (12 YEARS A SLAVE) is set to direct a bio-doc on the life of rapper Tupac Shakur, while Eric Kohn reported that Oscar winning screenwriter Mark Boal and Megan Ellison of Annapurna Pictures "has signed on as executive producers of the Israeli documentary DEATH IN THE TERMINAL by Tali Shemesh and Asaf Sundry.
I'll leave you this week with a bit of tragic news from IndieWire's Anthony Kaufman that Fandor is shifting its cinephilic focus more toward mainstream entertainment, and in doing so, it has gone ahead and shut down its Keyframe blog, an essential, brilliantly curated resource for film news. I'm still mourning the loss. Until next time, if you have any tips or recommendations for the Memo, please contact me via email here, or on Twitter, @Rectangular_Eye.