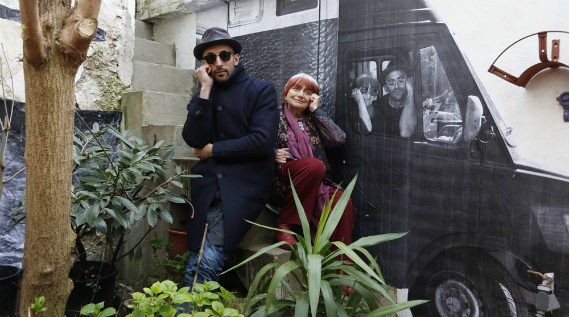 Just two days prior to our THE GLEANERS AND I screening at IFC Center in celebration of Agnès Varda's 89th birthday (tomorrow – featuring a live Q&A with Varda fan and fellow filmmaker Kirsten Johnson), the tireless film essayist, along with her newfound friend in French street artist J.R., has won the third L'Œil d'or (Golden Eye Award) for best documentary for VISAGES, VILLAGES. The film has garnered quite a critical response thus far, with Owen Gleiberman proclaiming this week that "she's the world's most ageless filmmaker," raising the bar from her previous thrift-shop docs THE GLEANERS AND I and THE BEACHES OF AGNÈS, At Film Comment, Amy Taubin concurred, "In her magnificent, groundbreaking, nearly 60-year career, this is one of her most profoundly personal and exuberantly populist works."
As Cannes wrapped up, the IndieWire staff listed their top 10 films of the festival and included VISAGES, VILLAGES among them. Two other docs made the cut – Eugene Jarecki's THE PROMISED LAND, and Emmanuel Gras' MAKALA, which received a L'Œil d'or special mention and won the Critics' Week Nespresso Grand Prize. Sarah Ward of Screen Daily admired Jarecki's film, noting that "It's an engaging, informative and impassioned journey," while both Boyd van Hoeij of The Hollywood Reporter and IndieWire's Michael Nordine felt a bit lukewarm on Gras'. Meanwhile, Wendy Mitchell covered "a Cannes Doc Day panel of documentary experts discussing the challenges and opportunities of making non-fiction films in the 'post-truth' era" for Screen Daily.
In other film festival and award show news, Carol Nahra of Docs on Screens spoke with Sheffield Doc/Fest's new Director of Film Programming, Luke Moody. Andreas Møl Dalsgaard and Obaidah Zytoon's THE WAR SHOW, Thorsten Schütte's EAT THAT QUESTION – FRANK ZAPPA IN HIS OWN WORDS, Ron Howard's THE BEATLES: EIGHT DAYS A WEEK – THE TOURING YEARS, Erza Edelman's O.J.: MADE IN AMERICA each took home awards from this year's FOCAL Awards, "which recognizes the best use of footage in productions across all genres, and the researchers and archivists behind them," reports Daniele Alcinii at Realscreen. And at Deadline, Michael Cieply predicts a major shift in doc filmmaker Academy of Motion Picture Arts and Sciences membership next month.
A pair of highly anticipated nonfiction films reached audiences this past weekend in Amir Bar-Lev's Grateful Dead doc LONG STRANGE TRIP and Lucy Walker's troubled Cuban music doc BUENA VISTA SOCIAL CLUB: ADIOS. Daniel M. Gold named Bar-Lev's film a NYT Critics' Pick, while Will Dana wrote a loving feature for the New York Times. Steve Smith listed ten things he learned from the film for Rolling Stone, as Glenn Kenny lavished it with praise at RogerEbert.com, Sheri Linden did the same for LA Times, and Julia Raeside followed-suit at The Guardian. Amir Bar-Lev also spoke with Zach Baron about his musical epic for GQ.
A few months back, just after it was pulled from Sundance, Anne Thompson and Graham Winfrey wrote at length about the troubled handling of Walker's BUENA VISTA SOCIAL CLUB: ADIOS at IndieWire. So, it is no surprise to find that upon its rather quiet release while Walker herself was serving as a L'Œil d'or juror in Cannes, the film is gleaning wildly mixed reviews. Glenn Kenny named it a NYT Critics' Pick, while Judy Cantor-Navas of Billboard, Landon Palmer of Nonfics, Matt Zoller Seitz of RogerEbert.com and Mike D'Angelo writing for A.V. Club each felt Walker's film fell short of success.
Other release coverage that came in this past week included a pair of publications from Christopher Llewellyn Reed at Hammer To Nail in a review of RISK and an interview with MOTHERLAND director Ramona Diaz. Additionally, Brian Seibert gave Linda Saffire and Adam Schlesinger's ballet doc RESTLESS CREATURE: WENDY WHELAN a positive review in The New York Times. Last week, Ryan White's seven part Netflix series THE KEEPERS started to make waves via word of mouth, but this week it's made a real world change with Beatrice Verhoeven of The Wrap reporting that "The Baltimore Police Department has launched an online form for people to report sexual offenses related to Netflix's new docuseries,THE KEEPERS." Sarah Midkiff wrote how this change came about over at Refinery29.
Last Tuesday "The Independent Filmmaker Project (IFP) announced today the ten documentaries selected for the 2017 IFP Filmmaker Labs, IFP's annual yearlong fellowship for first-time feature directors." On that same wavelength, filmmakers may want to take note that IDA and NYFA are hosting a day long workshop titled VR 101 for Documentary on June 10th at the New York Film Academy. Additionally, this Friday is DOC NYC's Late Submission Deadline, so send them your doc this week if possible!
I'll leave you this week with some super weird news: Seth Gordon's beloved THE KING OF KONG is being adapted to become a stage musical, according to William Carroll of Little White Lies. Until next week, if you have any tips or recommendations for the Memo, please contact me via email here, or on Twitter, @Rectangular_Eye.